TV
Watch: Alex Trebek's influence on pop culture, beyond 'Jeopardy!'
Trebek's classic visit to Boston for "Cheers" was just one of many memorable appearances for the "Jeopardy!" host, who died Sunday.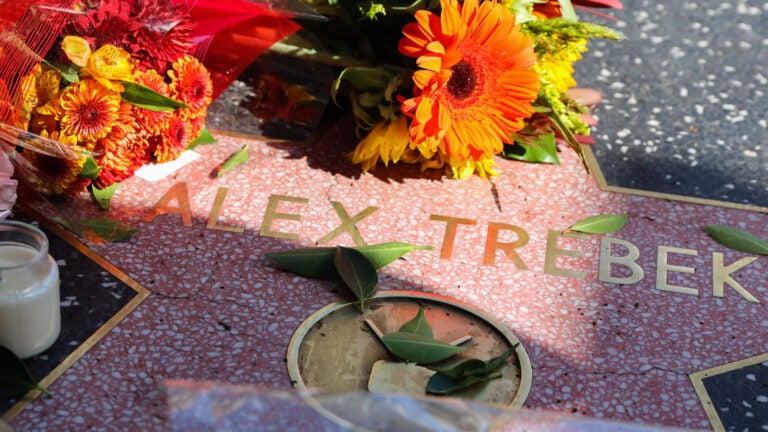 I'll take "TV Icons Who Permeated Pop Culture" for $600, Alex. Alex Trebek, who died Sunday at 80, was a household name during his 37 years as the unflappable host of "Jeopardy!" And in that time, his soothing voice and authoritative presence spread far from the show and into our cultural lexicon: in late-night comedy, in animated children's shows, in movies like the first "Charlie's Angels" reboot and in sitcoms, including "Seinfeld." Here are some of his most memorable appearances outside of "Jeopardy!," fictional or otherwise.
'Saturday Night Live': During Will Ferrell's seven years on "Saturday Night Live," his impression of Trebek was one of his most recognizable characters. Ferrell's portrayal was not so much a caricature as it was an exaggeration of the strait-laced, no-nonsense sensibility that "Jeopardy!" viewers have come to admire about Trebek. The real Trebek stopped by for Ferrell's last show as an "SNL" cast member in 2002: "And so this was," he declared as he entered for the end of the sketch, "the final Jeopardy!"
'The Simpsons': In the 1997 episode "Miracle on Evergreen Terrace," Marge appears as a contestant on "Jeopardy!" scrambling to come up with thousands of dollars. (There's a lengthy explanation for why the family needs the money — it starts with Bart burning down the family Christmas tree.) Marge ends the show in the negatives, prompting an annoyed Trebek, who voices himself, to ask her to pay up.
'The X-Files': Trebek, in his once-signature mustache, wears a mysterious hat as "Man in Black #2" and confronts Fox Mulder (David Duchovny) in a 1996 episode. "He didn't say it was Alex Trebek," Dana Scully (Gillian Anderson) later recalls. "It was just someone that looked incredibly like him." (Reader: It was him.)
'Baywatch': Trebek guest starred as himself — here, an overboard fisherman in need of rescuing — in a 1998 episode of this lifeguard drama. He was brought ashore by a fellow Alex (Mitzi Kapture), who also happened to be an aspiring "Jeopardy!" contestant. The new connection to Trebek renders the lifeguard ineligible to appear on the show — so instead, Trebek returns at the end of the episode with some late-'90s "Jeopardy!" parting gifts.
'How I Met Your Mother': In a 2010 episode of this sitcom, Trebek appeared as the host of "Million Dollar Heads or Tails," a fictional game show with prize money that hinges not on trivia but on a coin flip. His role, in a way, was a nod to the character Robin's (Cobie Smulders) overwhelming pride for her Canadian nationality — Trebek was born in Ontario — and he is thrilled to learn that Robin, whom he meets when she auditions to be the show's official coin flipper, has the same heritage. He came back to the show in 2013 for a special within the episode on Robin's Canadian pop-star alter ego.
'Orange Is the New Black': Trebek appeared as himself on this Netflix show in 2018. Uzo Aduba, who plays Suzanne, hallucinates Trebek hosting "Jeopardy!" in her prison cell. After Piper, played by Taylor Schilling, answers a clue with "Where is Alex?" Trebek responds, "Here, bitch."
'Cheers': In the 1990 episode "What Is … Cliff Clavin?," "Jeopardy!" takes the show on the road to Boston, where Cliff (John Ratzenberger) bets his entire $22,000 on Final Jeopardy! and loses it all. "As long as you didn't do anything foolish like wager everything," Trebek says, "you're a cinch winner."
'Beverly Hills, 90210': Trebek hosted a dream-sequence version of "Jeopardy!" starring Clare Arnold (Kathleen Robertson), whose fantasy about Brandon Walsh (Jason Priestley) manifested as an episode of the game show in 1995. Categories included "Minnesota Studs" and "Hot Guys."
'RuPaul's Drag Race': After RuPaul appeared on "Jeopardy!" in 2018 to read some drag-related clues, Trebek in turn made an appearance on "Drag Race" to lend a hand with the competition's in-house game show, "Snatch Game."
Get Boston.com's browser alerts:
Enable breaking news notifications straight to your internet browser.