TV
Ben Affleck tries (and fails) to settle Jimmy Kimmel and Matt Damon's 'feud'
During a discussion with Affleck about his new movie "Air," Kimmel welcomed Damon via a malfunctioning video call.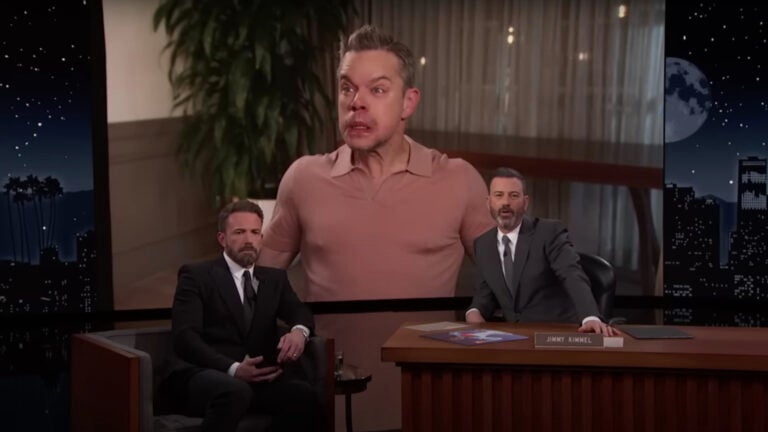 While chatting with Jimmy Kimmel about his new movie "Air" Tuesday night, Ben Affleck made a seemingly reasonable suggestion to the late-night host: Why not interview the star of the film, Matt Damon?
"I understand you have your feuds … Matt is a friend of mine, my best friend, and he's brilliant in it," Affleck told Kimmel. "Honest to God, it would mean a lot to me if you would just ask him one question about the movie. He worked really hard on it. I can get him on the phone."
What followed was yet another chapter in the decades-long faux feud between Damon and Kimmel, as the frenemies once again sniped at each other on-air.
With Damon appearing on-screen behind the pair, Kimmel asked the Cambridge native a legitimate question about "Air," the upcoming biopic about how Nike executive Sonny Vaccaro (Damon) brokered an industry-changing apparel deal with Michael Jordan.
As Damon began his answer, the video feed started to cut out, leaving Damon frozen with ludicrous facial expressions. Then came the "accidental" video filters, giving Damon a mohawk, high-top fade, and eventually turning the actor into a hot dog.
"I knew you were going to pull something dumb like this," Damon said. "You are such a child, I'm so sick and tired of dealing with your s***."
As it turns out, Affleck recently stoked the embers of an actual longstanding feud Kimmel is involved in with former late-night host Jay Leno.
Kimmel and Leno have been outspoken about their dislike of each other for years, with Kimmel frequently criticizing Leno for taking back "The Tonight Show" from Conan O'Brien and attempting to force Kimmel back to the 12:30 time slot at ABC so Leno could host in the network's 11:30 window.
As Kimmel recalled on Tuesday's show, when he and his wife Molly went to Affleck and Jennifer Lopez's Christmas party last year, he ended up in an "uncomfortable" conversation with Leno and his wife Mavis at the front door.
"We're talking, and it's a little bit uncomfortable, and all the sudden you go, … 'Don't you guys have like a feud or something?'" Kimmel said. "And we stood there in shock and then you left."
Affleck said that he considered it "payback" for all the shenanigans Kimmel had pulled involving him and Damon over the years.
"I thought it would be fun," Affleck responded. "You get two little fish of a different color and you put them in a bowl. Have fun!"
Newsletter Signup
Stay up to date on all the latest news from Boston.com