TV
'The Office' reboot might actually be happening
'The Office' creator Greg Daniels is reportedly moving forward with a reboot of the beloved NBC sitcom.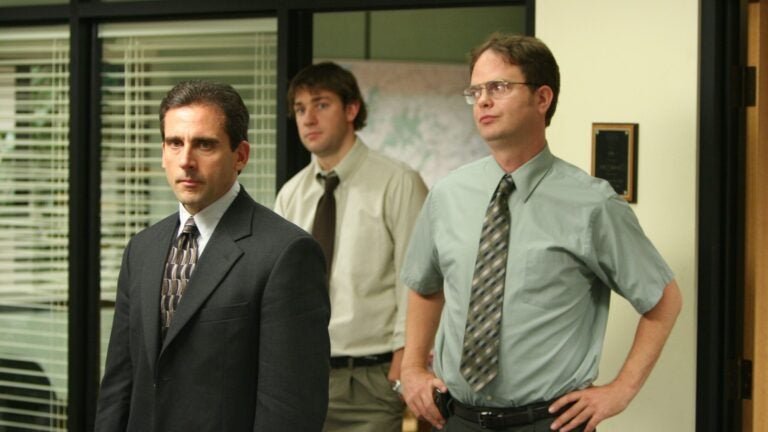 Amidst news of the WGA reaching a tentative agreement with Hollywood studios on a new contract, a side note buried in a newsletter from Puck News about the historic deal diverted everyone's attention with news of a rumored "The Office" reboot.
As part of a larger paragraph describing how studios have held off on announcing major projects during the dual WGA and SAG-AFTRA strikes, Puck included a single, off-hand sentence: "Greg Daniels is set to do a reboot of 'The Office', for instance."
There are no other details about the proposed reboot. Representatives for Daniels, the showrunner who developed "The Office" for American audiences, did not return a request for comment.
Many principal cast members of "The Office," which ran on NBC for nine seasons from 2005 to 2013, have expressed interest in potential reunions or reboots of the show in the past.
Newton native John Krasinski, for example, said he'd "absolutely" take an opportunity to revisit his character Jim Halpert, and famously reunited much of the cast for an episode of his pandemic-era web series "Some Good News."
Cambridge native Mindy Kaling, who served as a cast member, writer, and producer, called Daniels a "genius" and said that as long as he was involved, she would be as well.
"If [Daniels] were to be in charge of it, I can't imagine that I wouldn't want to help out in some way, or write," Kaling said during an appearance on "The Talk." "And I feel like probably the rest of the cast feels the same."
The most notable holdout on talk of any potential "The Office" reboot or reunion is Acton native Steve Carell, who left the show at the conclusion of Season 7. Carell has stated in several interviews that he didn't think he would participate in a reunion, telling Time he "never thought of it as a good idea."
"I think it existed in that time and with those people and it felt right," Carell told the magazine. "There was something so special about it, and I guess it's an odd way to put it, but I love it too much to ever want to do it again. It's too special to me in my heart in that period of time."
If an interview Daniels gave with Collider in 2022 is any indication, fans shouldn't necessarily expect Michael, Jim, Pam, Dwight, and all their other favorite characters to show up in this rumored "The Office" reboot anyway.
"I can't tell whether fans would want more of it, and when I say more of it, I don't think it would be the same characters." Daniels said. "I think it would just be sort of like an extension of the universe, you know what I mean, like the way [The] Mandalorian is like an extension of Star Wars. But I don't know if that would be something people would want or not, it's hard to tell."
Newsletter Signup
Stay up to date on all the latest news from Boston.com