Weather
Snowstorm results in school, museum, restaurant closings
You'll want to check social media or call ahead before heading out on Thursday.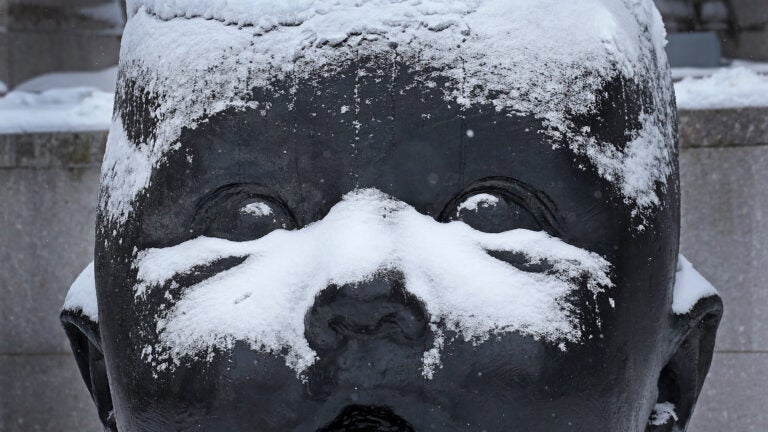 The National Weather Service has issued a blizzard warning for parts of Massachusetts until 7 p.m. on Thursday. Boston schools, as well as many other school districts across the state, began announcing school closings on Wednesday night.
Museums across the city, such as the Museum of Fine Arts, the Boston Children's Museum, the Institute of Contemporary Art, the Museum of Science, and the JFK Library, posted their Thursday closures on social media.
Due to the snow storm, the Museum is closed today, Thursday, January 4. Stay warm out there and we'll see you again soon!Pictured: "Country Doctor (Night Call)," about 1933–1939, Horace Pippin.

Posted by Museum of Fine Arts, Boston on Thursday, January 4, 2018
Due to inclement weather, the Museum will be closed Thursday, January 4….stay safe! pic.twitter.com/tAv310w4aH

— BostonChildrenMuseum (@BosChildMuseum) January 4, 2018
The ICA will be closed tomorrow due to inclement weather. BUT post-storm, don't miss #HitoSteyerl's Liquidity, Inc. which explores themes of weather, water, and much more. On view now at the ICA. https://t.co/MXKsnVt7py #bosarts #icaboston #bombcyclone #snowday pic.twitter.com/IR1Noh6BdF

— The ICA/Boston (@ICAinBOSTON) January 3, 2018
Due to severe weather conditions impacting the area, the Museum of Science will be closed tomorrow, January 4. We hope you all stay safe and warm! ❄️ pic.twitter.com/4MrMAFswhS

— Museum of Science (@museumofscience) January 4, 2018
Due to the expected snowstorm to hit the Boston area, the JFK Library will be closed on January 4th. pic.twitter.com/fmN0Z0Gnp2

— JFK Library (@JFKLibrary) January 4, 2018
Shopping areas have announced Thursday closings as well, including ones in Wrentham, Merrimack, New Hampshire, and many of the stores at MarketStreet Lynnfield.
Wrentham Village Premium Outlets will be closed today, January 4th, due to the snow storm. pic.twitter.com/mr10g107DN

— Wrentham Village PO (@wvpremoutlets) January 4, 2018
Due to inclement weather the center will be closed today and will reopen on Friday at 10am. pic.twitter.com/hErGQF8lFu

— Merrimack PO (@MerrimackPO) January 4, 2018
If you were hoping to ice skate during the snowstorm, you can't do it on the Boston Common Frog Pond. The rink announced its closing on Twitter, even adding a haiku.
Notice! Frog Pond closed all day Thursday, January 4th.
Forecast Nor'Eastah
Blankets of white over ice
Our shovels await#frogpond #haiku@BostonParksDept pic.twitter.com/WpbiyDFHQD

— Frog Pond Boston (@FrogPondBoston) January 3, 2018
And if you wanted to visit the penguins at the New England Aquarium, you're also out of luck.
The Aquarium will be closed Thursday, January 4, due to the winter storm.

— New England Aquarium (@NEAQ) January 3, 2018
Area libraries and book stores have closed down as well. The Boston Public Library, Brookline Library, Cambridge Public Library, and Brookline Booksmith are all closed. Porter Square Books will close at noon.
All Boston Public Library locations are closed 1/4, due to the inclement weather. Visit https://t.co/aEmxHyVrSA to borrow e-books & audiobooks, stream TV shows & movies, & more. pic.twitter.com/jokoWlgwoj

— BostonPublicLibrary (@BPLBoston) January 3, 2018
All Library locations will be closed on Thursday, January 4, 2018, due to the impending snow emergency. We anticipate regular hours on Friday, January 5, 2018. pic.twitter.com/AZoT9nmv4f

— Brookline Library (@brklib) January 3, 2018
We'll be closing at noon tomorrow, but our website is always open. Use the coupon code BOMBCYCLONE18 to get 15% off an online purchase. http://www.portersquarebooks.com/

Posted by Porter Square Books on Wednesday, January 3, 2018
Need to stock up on food and treats? You'll want to call ahead or check social media before you go. Places like the Boston Public Market, and restaurants like No. 9 Park are closed, the latter due to frozen pipes. Union Square Donuts will be closed at its Somerville and Boston Public Market locations, but will remain open at its Brookline location.
The #BostonPublicMarket will be CLOSED tomorrow (Thursday, January 4th) due to extreme weather conditions. We will reopen on Friday at 8am. Stay safe and warm everyone!

— Boston Public Market (@BosPublicMarket) January 3, 2018
Due to frozen pipes, we will be closed for both today and tomorrow. We apologise for any inconvenience this may cause. Please call us at 617.742.9991 for more information.

Posted by No. 9 Park on Wednesday, January 3, 2018
https://www.facebook.com/UnionSquareDonuts/photos/a.335855913201997.78816.292099824244273/1545525125568397/