Arts
Kogei-Kyoto makes its American debut with a show at Boston's Society of Arts + Crafts
The 13-year-old artists group promotes traditional Japanese craftsmanship in a new movement.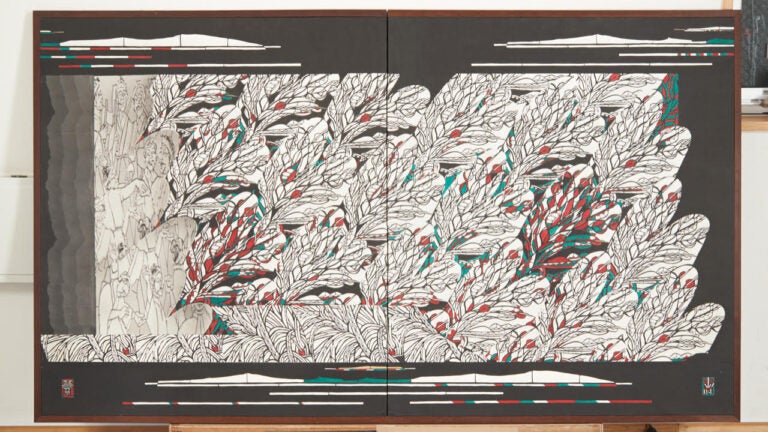 This September, the Society of Arts + Crafts' two-month-long Kogei-Kyoto at SA+C Boston: Contemporary Innovators in Japanese Arts and Crafts brings the work of the artist collective, Kogei-Kyoto, to Boston for its first exhibition in the US.
Co-presented by the Japan Society of Boston, and part of a citywide celebration of the 60-year relationship with Boston's sister city, Kyoto, cultural events such as traditional tea and incense ceremonies, kimono demonstrations, and Japanese culture workshops will accompany the exhibition.
Since forming in 2006, this is Kogei-Kyoto's third exhibit outside of Japan and will include over 60 pieces from 30 artists.
"Kogei- Kyoto was born out of a group of specific artists in Kyoto who wanted to make sure the form was recognized," explained William Thrasher, a Wellesley-based independent curator of Japanese art and craft, who assisted in editing the exhibition catalogue and has curated Japanese exhibitions for other local museums, such as the Art Complex Museum in Duxbury and the Fuller Craft Museum in Brockton.
"They didn't invent the word, it's been around in popular modern use since the beginning of the 20th century," he continued. "It follows on from the Mingei folk art movement, which focused on craftspeople making everyday objects. But Kogei is a much smaller movement and this group is highly focused on Kyoto."
Similar to the American Arts and Crafts movement, or other folk arts, mingei and kogei arose from necessity, particularly in rural communities, where a farmer and his family would learn to craft what was needed.
"Japan has a strong agrarian background and kogei is rooted in that. Farmers would need a pot, so they would take clay from the ground and learn how to mold it and fire it. This was very difficult for a farmer who was struggling to grow food," said Thrasher.
Yet, partly due to Shinto principles of a universal spirit residing in every object, and a cultural belief that what you do in your daily work connects with the emperor, that farmer would not just throw a pot, it had to be exquisite.
"The belief is that it is a privilege and your work must include your best efforts," Thrasher said. "It's not unrelated to Shakers and their ideas that the work they do honors god."
So the farmer became a craftsperson, or even an artist. Along with exquisite handmade utilitarian items, there are conceptual creations on display. All of the works in the exhibition, plus additional items in the Society of Arts + Crafts on-site store, are for sale.
"There are items that have function, and some are non-functional," said Thrasher. "There are ceramics, textiles, metal and wood work, lacquer work, and glass making.
"Glasswork," he added, "is the newest of the craft mediums to make an impact in the past two decades. It's mostly younger artists who have no blinders on and struck out in this new direction."
Kogei, however, remains steeped in tradition and part of that is an underlying deep connection to nature. Works often incorporate images of animals, textures reminiscent of, say, trees, or patterns recalling waves.
"Nature is very prominent in Japanese art. But Kyoto has four distinct seasons and nature has a very big impact on the artists there. They are inspired by what they see from their windows," said Thrasher, adding: "It's hard to put into words, but there are certain tweaks of color and of form that are clearly Kyoto."
(Tuesday, Sept. 10 to Sunday, Nov. 10; Society of Arts + Crafts, Boston; free; all ages)