Events
10 things to do in Boston this weekend
BosTen is your weekly guide to events and cool happenings in and around Boston.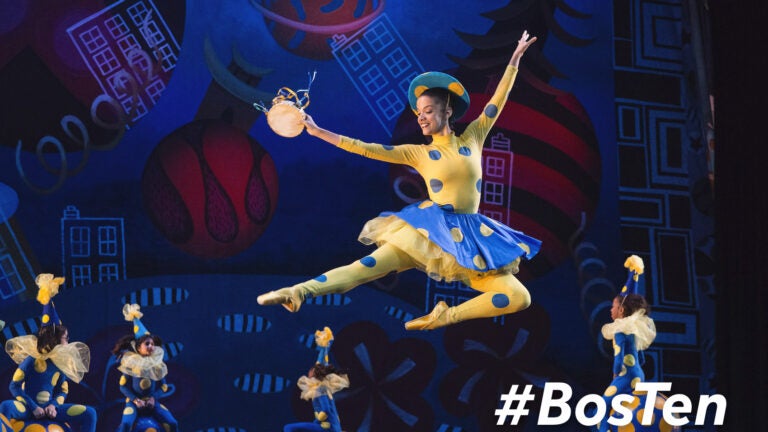 Skip Netflix this weekend — here are 10 ways to get out of your home and not be bored in the city. If you'd like BosTen delivered to your inbox every Thursday, click here. Want more things to do? Check out our events calendar at boston.com/events. You can also learn even more about awesome events around Boston by joining the BosTen Facebook group.
Help us make our events coverage even better: As a loyal BosTen reader, we value your opinion about the way we cover things to do in Boston and beyond. If you have a few minutes to spare, please consider taking this quick survey.
Leave the kids at home this Thursday when you visit Boston Children's Museum for a holiday-themed edition of its regular Boston Grownups Museum events. Don your ugliest sweater to win prizes, decorate a gingerbread cookies, sip on boozy hot chocolate, fly across the floor of the sock skating rink, or simply enjoy the small pleasure that comes from enjoying a kid-dominated space without any kids around for once. (Thursday, Dec. 19 from 6:30 p.m. to 9:30 p.m.; Children's Museum, Boston; $30; 21+)
Harlem trap rapper A$AP Ferg was last in Boston in 2018, when the A$AP Mob fixture played House of Blues as part of his Mad Man tour. On the heels of his fifth release in six years, August's "Floor Seats," the MC will be back at House of Blues this Thursday with Murda Beatz and MadeinTYO. (Thursday, Dec. 19 at 7 p.m.; House of Blues, Boston; $30-$50; all ages)
More than 150 dancers will take the stage starting this Thursday to present Anthony Williams' holiday show, which is set in Boston. Featuring an array of dance styles and jumping between Tchaikovsky's classic Nutcracker compositions and the rhythms of artists like Duke Ellington, the show offers a new take on a time-honored tale. (Thursday, Dec. 19 through Saturday, Dec. 28 at various times; Boch Center Shubert Theatre, Boston; $29 and up; all ages)
You can dance and you can jive while having the time of your life at Gimme Gimme Disco, a '70s dance party inspired by the music of Swedish supergroup ABBA. Whether you're looking for a king or simply getting in the swing, you'll feel the beat from the tambourine at Brighton Music Hall this Thursday. Just remember that while ABBA's titular Dancing Queen is only 17, Gimme Gimme Disco is an 18+ event. (Thursday, Dec. 19 at 9 p.m.; Brighton Music Hall, Boston; $10 and up; 18+) 
Take your gingerbread house decorating to the next level at 75 Chestnut in Beacon Hill. Along with a candy buffet and all the gingerbread construction materials needed to build a spectacular house, you'll also be able to enjoy a two-course lunch at this Beacon Hill haunt. (Friday, Dec. 20 through Tuesday, Dec. 24 at various times; 75 Chestnut, Boston; $75 for adults, $60 for children; all ages)
'90s kids may find it hard to believe, but it's been more than 20 years since brotherly trio Hanson captured teen hearts nationwide with the release of "MMMBop" in April 1997. Isaac, Taylor, and Zac Hanson are all grown up now, but they can still work a crowd into a frenzy, which they'll prove at House of Blues on Friday. (Friday, Dec. 20 at 7 p.m.; House of Blues, Boston; $39-55; all ages)
More than 200 chorus members and 16 dancers will let loose during the Boston Gay Men's Chorus annual extravaganza "A Super Gay Christmas." Along with festival renditions of traditional carols, the show's musical selection includes "Funky that Hall," a spin-off of the Christmas classic "Deck the Halls," and "A Disco Santa," a play on "Noel" made famous by Village People. (Friday, Dec. 20, Saturday, Dec. 21, and Sunday, Dec. 22 at 8 p.m.; Jordan Hall, Boston; $25 and up; all ages)
Is "Die Hard" a Christmas movie? Or is it merely a movie that takes place around Christmas? Ultimately, any day is a good day to watch this 1988 Bruce Willis classic, regardless of whether you consider John McClaine's quest to rid Nakatomi Plaza of terrorists in time to reconcile with his wife for the holidays as Yuletide cinema. Ditch the ho-ho-ho and mistletoe for a yippee ki-yay at the Coolidge Corner on Saturday. (Saturday, Dec. 21 at 11:59 p.m.; Coolidge Corner Theatre, Brookline; $13.25; rated R)
For the 36th consecutive year, Chabad Downtown Boston will celebrate the first night of Hanukkah on Boston Common by lighting New England's tallest menorah. There will also be a live music ensemble, treats and warm beverages. (Sunday, Dec. 22 at 4 p.m.; Brewer Fountain on the Boston Common, Boston; free; all ages)
The night before Christmas, Jewish guys and girls of legal drinking age head to the annual MatzoBall, a giant singles dance. Brought to you by the Society of Young Jewish Professionals and sponsored by Jewish dating app J-Swipe, it promises to be one part courtship, one part party. (Tuesday, Dec. 24 from 9 p.m. to 2 a.m.; Royale, Boston; $40-75; 21+)