Arts
The First Night lineup includes music, ice skating, and more
Enjoy more than 12 hours of activities before the evening's finale welcomes 2020 with a bang.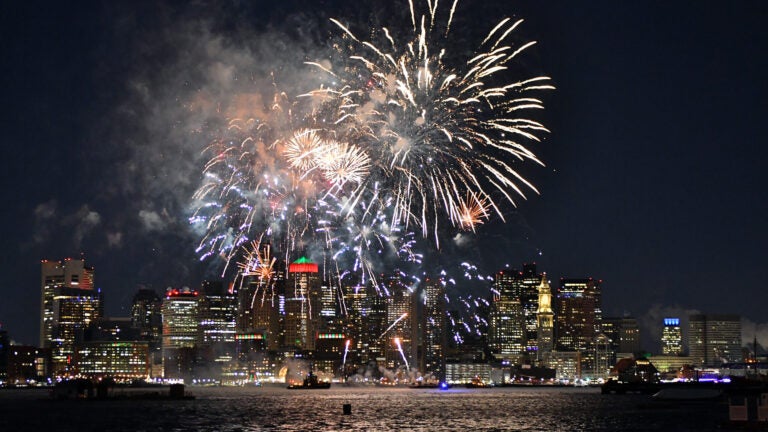 First Night Boston has been a fixture of the city's New Year's celebrations for more than four decades.
This year, between 11:45 a.m. on Dec. 31 and 12:30 a.m. on Jan. 1, you can attend an array of activities and performances by comedians, dancers, musicians, and puppeteers. The festivities culminate with a midnight fireworks show over the harbor.
Check out the schedule below and make a note of which events — all free, by the way — you don't want to miss.
Main Events
6 p.m. Opening Ceremony and People's Procession from Copley Square to Boston Common
6 p.m. Frog Pond Skating Spectacular Presented by The Skating Club of Boston on the Boston Common
7 p.m. City of Boston's Family Fireworks by the Mugar Foundation on the Boston Common
12 a.m. Midnight Fireworks Presented by Boston Harbor Now on the Boston Inner Harbor
Commonwealth Salon
12 p.m. Dancing Buns Studios (Dance classes)
1:30 p.m. Drumming About You
2 p.m. Drumming About You
2:30 p.m. Drumming About You
3 p.m. Drumming about you
3:30 p.m. Drumming About You
4 p.m. Drumming about you
Rabb Lecture Hall
12 p.m. Responders (Musical performance)
1:15 p.m. Improv Boston
2:30 p.m. Improv Boston
3:45 p.m. Improv Boston
Newsfeed Café
12 p.m.The Stephen Bates Quartet
1 p.m. The Stephen Bates Quartet
2:15 p.m. Neptune's Car (Musical performance)
3:15 p.m. Jesse McKellar (Musical performance)
4:15 p.m. Boston Youth Chamber
McKim Exhibition Hall
1 p.m. GBCCA: Arts & Crafts and Cultural Performances
Guastavino Room
12 p.m. Boston Sax Quartet
1 p.m. Boston Sax Quartet
12 p.m. Chu Ling Dance Academy (Dance performances)
1:30 p.m. Puppet Showplace Theater
2 p.m. Puppet Showplace Theater
2:30 p.m. Puppet Showplace Theater
3 p.m. Puppet Showplace Theater
3:30 p.m. Puppet Showplace Theater
11:45 a.m. Dempsey Sisters (Musical performance)
12:20 p.m. Sweet Harmony (Musical performance)
1 p.m. Elliot Wren (Musical performance)
1:20 p.m. BAND, Inc. (Musical performance)
2 p.m. Amber Ais (Musical performance)
2:20 p.m. Morningbird (Musical performance)
3 p.m. Jonah Bencal (Music performance)
3:20 p.m. Paco (Musical performance)
4 p.m. Sam Chetkin (Musical performance)
4:20 p.m. Sensation (Musical performance)
5 p.m. Sol y Canto (Musical performance)
5:20 p.m. Vocal Revolution (Musical performance)
6:30 p.m. Maddi Ryan (Musical performance)
7:30 p.m. Alli Haber (Musical performance)
8:10 p.m. Daniel Laurent (Musical performance)
8:30 p.m. GreenLight Jazz Orchestra
9:10 p.m. Liz Bills (Musical performance)
9:30 p.m. Najee Janey (Musical performance)
10:10 p.m. Savasha (Musical performance)
10:30 p.m. Sons of Levin (Musical performance)
11:30 p.m. Copley Countdown with Single By Sunday
12 a.m. Midnight Pyrotechnics and Light Show
4 p.m. First Night Organ Concert
3 p.m. The King of Instruments
6:30 p.m. Pipes and Pops Concert
8 p.m. Pipes and Pops Concert
4 p.m. New Year's Eve Concert with Vere Hill
1 p.m. Handel and Haydn Society Emancipation Proclamation Concert