Arts
10 things to do in Boston this weekend
BosTen is your weekly guide to events and cool happenings in and around Boston.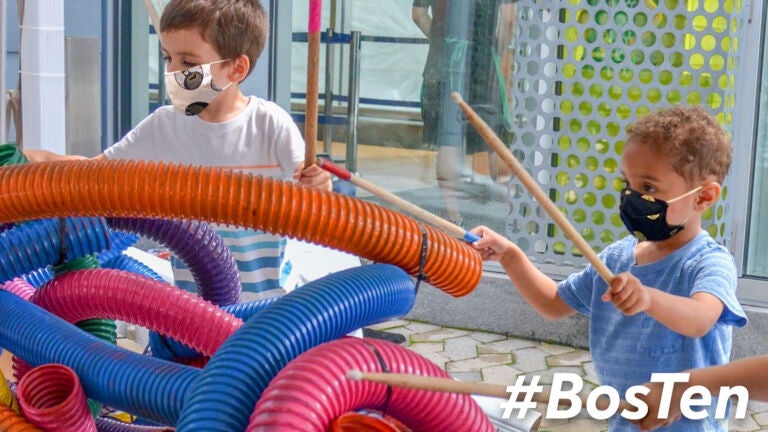 While more and more Massachusetts businesses and cultural institutions are reopening as COVID-19 vaccination efforts continue, many residents are still staying home due to the coronavirus pandemic. With that in mind, this week's BosTen offers a mix of in-person and virtual things to do in Boston this weekend. Have an idea about what we should cover? Leave us a comment on this article or in the BosTen Facebook group, or email us at [email protected].
The Crane Estate's annual Roaring Twenties Lawn Party isn't until next weekend, but you can get a jump on the early 1900s musical experience this Thursday at the Trustees' weekly Castle Hill Picnic Concert series. Beantown Swing Orchestra will be performing from 7 p.m. to 9 p.m., while gates open at 5 p.m. for exploring the grounds and picnicking.
If you've been looking for a reason to go back to the theaters but remain unmoved by caped crusaders and other recycled intellectual property, you might consider "Stillwater," a new thriller-drama starring Matt Damon in theaters this weekend. Directed by Tom McCarthy ("Spotlight"), Damon plays an Oklahoma man who travels to France, where his daughter Allison (Abigail Breslin, "Little Miss Sunshine") has been imprisoned for five years for a murder she claims she didn't commit. As our review of the movie makes clear, "Stillwater" isn't a perfect film. But it nevertheless offers a refreshing change of pace in a movie landscape dominated by superheroes, sequels, and cinematic universes.
This Friday, the Boston Children's Museum is staying up past your bedtime for its annual Summer of Play Carnival. Besides all of the regular Children's Museum attractions, stop by for carnival games, live music, and performers, a classic carnival food menu, and prizes for every child.
International travel may not be in the cards for you this summer, but with the help of Curds & Co., Brookline's venerable cheese shop, we can all go to Sicily. On Saturday, the shop is hosting two events at the newly launched Charles River Speedway. The first, held from 1 p.m. to 4:30 p.m., will feature cheese plates and glasses of wine available for purchase, with arancini from fellow Brookline business Cobble, and treats from other Speedway vendors. The second is a Tour of Sicily through a guided wine tasting, hosted by food and wine journalist Marco Scapagnini. For $45, ticket holders can enjoy two glasses of wine, cheese, and pairings. Satisfy your Italian wanderlust, then check out the rest of the Speedway — perhaps a trip to Notch Brewing is in order?
Everett distillery Short Path recently released a new amaro, and it wants to celebrate its creation with an Italian Summer Smash party on Saturday. Guests can stop by on a first come, first serve basis from noon to 11 p.m. and enjoy Italian-inspired cocktails and negroni flights, with both indoor and outdoor seating available. Hungry? Deep Cuts Deli will pop up from 2 p.m. to 7 p.m. with their always excellent sandwiches, and bottles of Short Path's newest amaro are available for purchase. Bonus: The distillery's patio is dog-friendly!
This Saturday, Lamplighter Brewing is teaming up with Brato Kitchen for everything beer and brine at the third edition of its Picklefest. Along with a homemade pickle bar, you'll be able to snack on fried pickle grilled cheeses, kimchi fritters, pickle brined crispy chicken, and more fermentation goodness. The 21+ event runs from 3 p.m. to 9 p.m. and is first-come, first-serve.
Film buffs will definitely want to check out the 150 documentaries, shorts, and features at the 30th Woods Hole Film Festival, an eight-day celebration of everything cinema that kicks off on Saturday. This year's fest has both in-person screenings at venues in Woods Hole, Falmouth, and Cotuit, as well as a number of films streaming online through Aug. 7.
Sipsmith Gin has teamed up with the Seaport's Woods Hill Pier 4 to create a gin-centric pop-up bar by the waterside restaurant. Through Saturday, the bar will open from 5 p.m. to 9 p.m. with cocktails like Boston Tea Party (Sipsmith London Dry gin, peach honey shrub, earl grey, lemon, bubbles) and Dear Prudence (Sipsmith Strawberry Smash gin, English cucumber, lime, mint, creme de violette, soda), plus build-your-own gin and tonics that allows imbibers to select their gin, fruit, and botanical. Enjoy your summer sipper with some stellar views.
After taking the year off in 2020, the Somerville Flea is back, bringing the best of Somerville's artisans, creatives, and vendors to Davis Square this Sunday from 10 a.m. to 4 p.m. Stop by to peruse an always bountiful selection of vintage items or find the perfect handcrafted gift.
Forget arts and crafts. Inman Eats & Crafts is where you'll find some of the Cambridge neighborhood's best bites and makers all in one place. Hosted by the East Cambridge Business Association, the street fair will take place on Sunday from 1 p.m. to 4 p.m., and will feature samples from local restaurants like Atwood's Tavern, BISq, Highland Fried, Hot Chix, Puritan & Co., and more, plus eclectic shops and talented artisans. To participate, purchase your $20 ticket here, which includes Inman Bucks that can be exchanged for food samples.
Need weekend plans?
The best events in the city, delivered to your inbox.