Beer
Harpoon's Dogtoberfest returns for third year
The annual event benefits animal-related causes.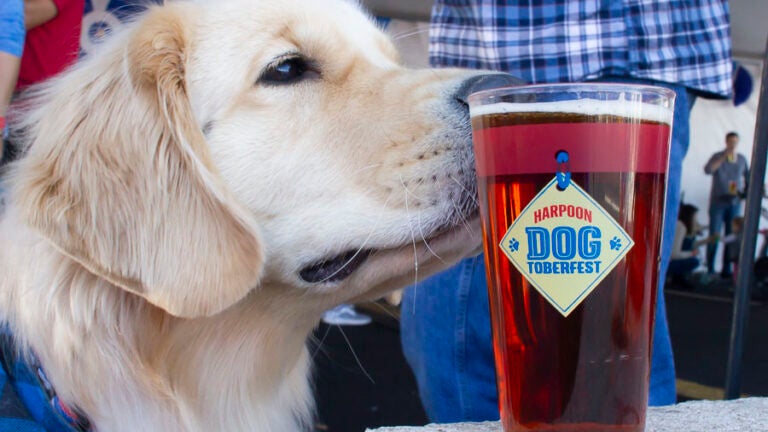 Even your dog could probably use a beer right about now.
Luckily, Harpoon's two latest releases of beers include one Dogtoberfest brew for you, and one for your dog: an alcohol-free peanut butter lager called Bow Wow Brew. The libation is a limited-edition release as part of the third-annual Harpoon Dogtoberfest celebration.
Normally held in early October, Dogtoberfest sees Harpoon's Seaport parking lot transformed into a dog-friendly beer garden complete with a one-mile fun walk/run and dog costume contests. This year, instead of saying "cheers" in person, Harpoon is moving the celebration online. The brew bash, which is on Oct. 4, encourages participants to trot a one-mile fun run/walk with their dogs, and post pictures for a "Festminster Dog Show" online, with prizes by Wellness Natural Food for Pets awarded throughout the day. Proceeds benefit the Kenary Brain Tumor Research Fund at Dana-Farber Cancer Institute, the MSPCA, and the Lucy Mackenzie Humane Society, which is a no-kill animal shelter in Vermont.
Participants register online by September 28, and choose either to "Sit, Stay, Play" for $35 to receive a "wag bag" of treats and race gear in the mail, or can opt for the $40 "Fetch and Retrieve" option and pick up their goodies at Harpoon's Boston or Windsor, Vermont brewery. The pick-up package includes a four-pack of the new Dogtoberfest beer, which will be available in stores in late September, and a container of its canine companion, Bow Wow Brew.
But this new brew is much more than cracking a cold one and pouring it in a dog dish.
"Despite what we watched in 'Turner and Hooch,' if you give a dog a beer, it's gonna get pretty sick," said Adam Gibney, who's been a brewer at Harpoon since April 2018 and is the mastermind behind both beers.
Dogs are allergic to hops and alcohol, so Bow Wow's recipe involved some tweaks. Gibney made a wort — the liquid that's the base of all Harpoon's beers — with barley malt, and then added a generous helping of peanut butter powder, a version of Harpoon's house yeast that's been boiled to make it dog-friendly, and then a bit of the lactobacillus bacteria, which lends a tangy taste to some fermented foods.
"Dogs actually like the sour component of lactobacillus," he said.
The Bow Wow Brew looks like a beer, with a rich amber color and a frothy head. More importantly, though, it passed the taste test from many canine connoisseurs. Harpoon first experimented with dog beers at last year's Dogtoberfest, serving a pumpkin ale and a peanut butter lager head-to-head in dog dishes throughout the grounds. Pups of Harpoon employees lent their palettes, and the peanut butter lager won the best in show.
For all the trial-and-error around the dog beer, the new Dogtoberfest beer for humans is a pretty traditional interpretation of an Octoberfest brew, with a bit more of a hoppy kick than normal German light lagers. "It's a lager that we've been lagering and sitting on for a full month," Gibney added. "And we put biscuit malt into it to kind of give it a fun twist."
The label of each bottle also showcases a picture of an adoptable dog that's looking for their forever home.
Get Boston.com's browser alerts:
Enable breaking news notifications straight to your internet browser.