Events
10 things to do in Boston this Opening Day weekend
BosTen is your weekly guide to events and cool happenings in and around Boston.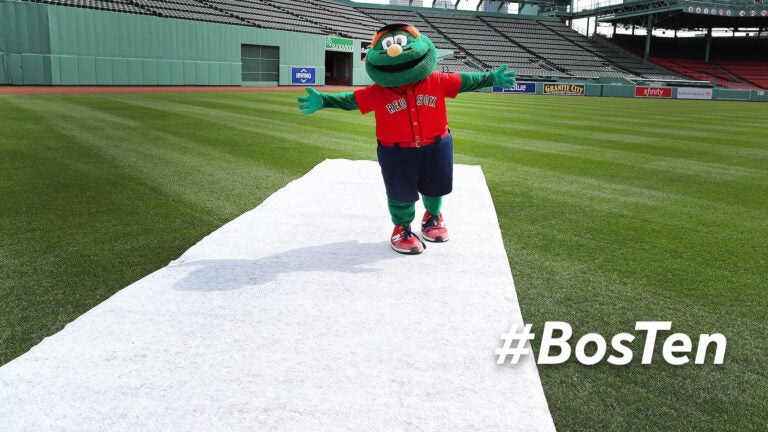 While more and more Massachusetts businesses and cultural institutions are reopening as COVID-19 vaccination efforts continue, many residents are still staying home due to the coronavirus pandemic. With that in mind, this week's BosTen offers a mix of in-person and virtual things to do this weekend. Have an idea about what we should cover? Leave us a comment on this article or in the BosTen Facebook group, or email us at [email protected].
Grab a beer at the recently reopened Trillium Fenway
To coincide with Opening Day, Trillium Fenway will reopen to the public at 11 a.m. on Thursday — and there's plenty of outdoor seating to enjoy while sipping on your favorite suds outside. The beer garden will have a full draft list available, plus Taqueria el Barrio will be serving tacos, nachos, and bowls on site (Remember: You'll need to order food if you want to drink). Trillium Canton will also reopen on April 1, while Trillium Fort Point is scheduled to reopen on April 2.
Soak in Opening Day from Fenway Park-adjacent patios
So you don't have tickets to the game. The next best thing? Eating and drinking on one of the recently-opened patios at sports bars and restaurants around Fenway to revel in the game day vibes. Game On will throw open its garage doors, inviting guests to enjoy a live DJ and Sam Adams-sponsored giveaways on the patio. Hit up the Lansdowne Pub or Loretta's Last Call for their street-side patios, or visit Cask 'n Flagon's expansive outdoor seating area for burgers and wings. Tasty Burger's outdoor patio and takeout window opens at 11 a.m. — be sure to try the new totchos, or nacho-style tater tots. And Citizen Public House & Oyster Bar will open early at noon, with reservations currently available for its patio and parklet. 
Help bring Cheeky Monkey Brewing Co. out of hibernation
Lansdowne Street's Cheeky Monkey Brewing is having its own Opening Day of sorts: After months of hibernating, it's reopening on April 1. Starting at noon, the brewery will welcome guests back to its Fenway digs for craft beer, bites, and games. Play a few rounds of shuffleboard or ping pong, sip on a pint of Sour Batch Kehd, and tuck into a katsu chicken bao while rooting for our home team playing just across the street.  
Dine al fresco in the North End
While Boston got an early start date to patio season, launching its Outdoor Dining Pilot Program on March 22, the North End needed a little more time (you may remember it got off to a rocky start last year). As of Thursday, patio season has officially launched in the North End — stop by Bricco, Ducali, Lucia's, Mare Oyster Bar, Quattro, and others for a glass of wine, a plate of calamari, and al fresco vibes.
Sip gin drinks with the Boston.com cocktail club
Following a whiskey-heavy March, the Boston.com cocktail club will be going light and aromatic this week with Hendrick's Gin. Swing by at 7 p.m. on Thursday to watch host Jackson Cannon (The Hawthorne, Eastern Standard) and guest Ashley Sullivan (Salt) teach you how to make two cocktails that use Hendrick's: a Southside and a Ritual Gin and Tonic. Attending the Zoom is free, and you can purchase a kit with all the ingredients you'll need here. Proceeds from the event benefit Off Their Plate.
Learn about the importance of adult friendships with Jeff Kinney and Billy Baker
Maintaining friendships during a pandemic is a difficult but important endeavor, something Globe reporter Billy Baker knows all too well. After writing a widely read Globe magazine story on the difficulty of building and maintaining adult male friendships, Baker has written a new book on the subject, titled "We Need to Hang Out." Baker and "Diary of a Wimpy Kid" author Jeff Kinney will host a free online discussion about the importance of balancing work, family, and friendship this Thursday at 6 p.m.
Watch Stephen Colbert raise money with Banned in Boston
For 25 years, Banned in Boston has brought together local personalities for a variety show to raise money for the non-profit Rehearsal For Life, which uses improv workshops to help young people strengthen their interpersonal skills and face life's challenges. This year, event chair Faith Soloway is going in a different direction, writing a full-fledged musical for the fundraiser. Soloway, who collaborated with her sibling Joey Soloway on his Emmy-winning series "Transparent," has lined up a solid cast of characters for the musical, including Stephen Colbert, a friend of Soloway's from their Second City days in Chicago. Registration for the show, which begins at 7 p.m. on Thursday, is free, but organizers are requesting guests pay what they can to raise money for Rehearsal For Life.
Stream "What About Bob?" on Amazon Prime
With warmer weather bringing thoughts of long weekend vacations in the future, now is a great time to revisit "What About Bob?," the Bill Murray and Richard Dreyfuss black comedy that celebrates its 30th anniversary next month and arrives on Amazon Prime April 1. When the neurotic Bob (Murray) follows his fame-seeking new therapist Dr. Leo Marvin (Dreyfuss) to his Lake Winnipesaukee vacation home, the former begins to experience psychological breakthroughs while the latter slowly unravels.
Listen to some jazz by the river with Creative Music Series
If you'd like to catch some real live music after a year of Zoom concerts, head to Watertown this Saturday at 4 p.m. for the Creative Music Series, held outdoors at Veteran's Memorial park. This week's concert will have a jazzy vibe, with performances from local musicians Glynis Lomon, Eric Zinman, Matt Crane, and Ellwood Epps. The concert is free and no registration is required.
Hunt for the golden egg with The Trustees
Charlie Bucket had his golden ticket, and this weekend at The Trustees' Long Hill public garden in Beverly, your child could find the golden egg. Bunnies have hidden a shiny prize somewhere in the garden, and it's up to the best and brightest egg hunters to find it. The hunt will take place on both Saturday and Sunday at noon, and tickets are available on the Trustees' website.
Get Boston.com's browser alerts:
Enable breaking news notifications straight to your internet browser.