Books
What you need to know about the 2020 Boston Book Festival
Events will be live streamed throughout October.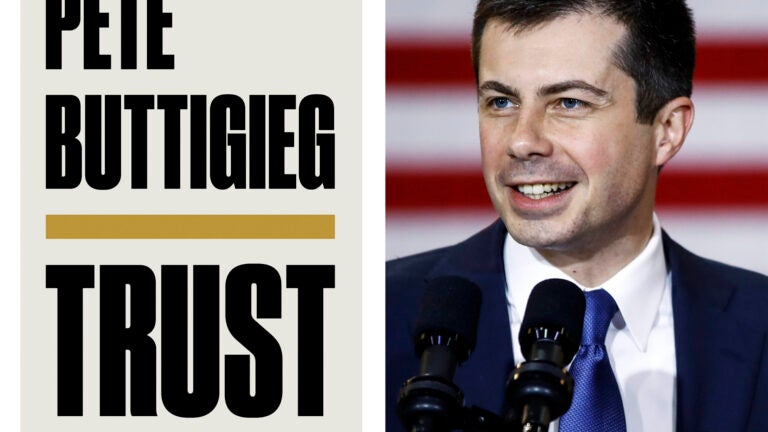 Don't close the book on 2020 just yet. The much-anticipated Boston Book Festival (BBF) returns for its 12th season of promoting a culture of reading and ideas through its lineup of award-winning authors, illustrators, and educators.
With virtual events running through October 25, headliners include American cartoonist Jerry Craft and 2013 Pulitzer Prize playwright Ayad Akhtar, as well as a timely dialogue with former Democratic presidential candidate and South Bend, Ind. Mayor Pete Buttigieg.
On October 9, Buttigieg will engage in a livestream discussion of his new book, "Trust: America's Best Chance." As part of Boston Globe's Op-Talk event series, he will speak with the Globe editorial page editor, Bina Venkataraman, about the importance of regaining trust in our institutions and each other.
"With the presidential election drawing near, we're thrilled to have Mayor Pete join the BBF this year and offer his perspective on the current political atmosphere," said BBF executive director Norah Piehl.
Buttigieg's third book employs a blend of history, political philosophy, and memoir to show how trust has been destroyed by a confluence of forces. To confront today's challenges (think climate change, racial justice, and now, the coronavirus pandemic), he contends that we must create, repair, and deepen networks of trust.
"I wrote this new book not only to provide a deeper look at how much we rely on trust—but also to invite all of us to recognize our own potential role in replenishing such a vital, unseen, powerful, and needed resource," Buttigieg recently tweeted about the title.
"So many Americans feel the country has lost its compass and its capacity to respond to crisis," said Venkataraman. "As we barrel toward the November election, this conversation will probe whether the perspective Mayor Pete offers from the country's heartland can provoke voters to think about what kind of America they want to build, at the polls and after election day."
Buttigieg's Op-Talk joins a long list of the BBF's most anticipated events in an all-new format this year. In response to the pandemic, the festival timeline has expanded from its traditional single in-person weekend to three weeks of virtual sessions—most will be live streamed on Crowdcast and archived, some pre-recorded on Vimeo. "We're even partnering with Boston Neighborhood Network Media and C-SPAN BookTV to air some of our programs on television," said Piehl.
Attendees will also enjoy three outside activities—an exhibition/installation based on the At Home Boston community writing project collaboration with the Globe, and two Story Walks for kids.
"By hosting events over the course of a month rather than a single weekend, and, in the case of the Story Walks, by spreading them across a whole neighborhood, we don't anticipate a critical mass of people that would risk violating social distancing," explained Piehl, noting the current programming is in place to mitigate COVID-19 risk.
The new structure also lends itself to a wider audience than in prior years. "A lot of folks are excited to attend the festival although they've moved away from Boston," said Piehl. "We've also been able to include presenters from all over [the globe]."
In addition to Buttigieg's livestream, festival highlights include The Color of Innovation: Women of Color in Tech on October 14; Fiction at the End of the World on October 23, a convergence of fiction and current events in a conversation between relevant novelists; and Illustrator Draw-Off on October 20, an interactive drawing challenge between middle-grade graphic novel artists. The BBF also carries on the tradition of printing complementary copies of the One City One Story winner (2020's Grace Talusan's short story "The Book of Life and Death," which will be discussed on October 16) for pickup at Boston area bookstores and libraries.
(Boston Book Festival: Oct. 4 to Oct. 25; virtual and various locations; free, but donations are welcome; all ages; bostonbookfest.org)
Register for Boston Globe's Op-Talk with Pete Buttigieg on October 9 at 1 p.m. EDT at globe.com/trust.
Get Boston.com's browser alerts:
Enable breaking news notifications straight to your internet browser.