COVID
Your guide to Memorial Day weekend during the pandemic
All the questions you have about celebrating Memorial Day weekend during the coronavirus, answered.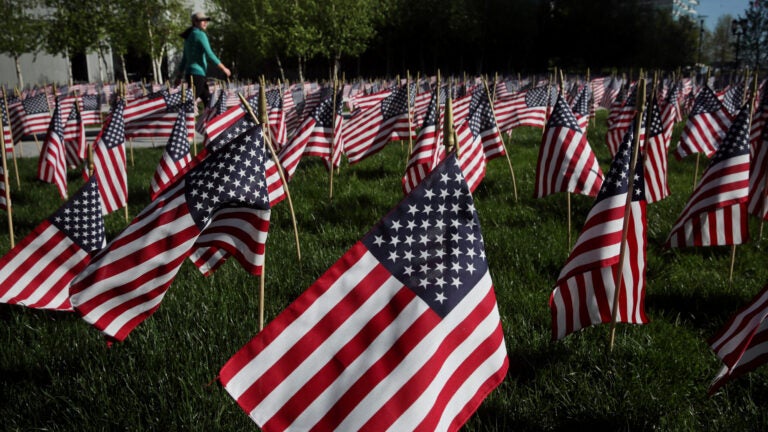 As he wrapped up his press conference announcing the start of the state's four-phase reopening plan, Gov. Charlie Baker was asked what advice he had for residents hoping to celebrate the long Memorial Day weekend.
Baker acknowledged the importance of the day, noting that communities often hold ceremonies at cemeteries and "other sacred ground" to honor military personnel who died serving the U.S. Nevertheless, he urged residents to be "smart" and "vigilant," regardless of what activities are planned.
"People need to continue to use their heads on this stuff," Baker said, "and to recognize and understand that we're still in the middle of this virus, that it's not gone away, that we still have positive tests every single day in Massachusetts."
Nevertheless, many will have questions about what can and can't be done this weekend amid the coronavirus pandemic. Here's what you need to know.
Can I safely host a Memorial Day weekend party or barbecue?
Even as the state reopens portions of the economy, Gov. Baker's March 23 order prohibiting gatherings of 10 or more people remains in effect, meaning any party you want to host must be a small one. Additionally, any gathering that involves people you don't live with should involve social distancing of at least six feet. If you're planning to gather in a public space, masks or face coverings must be worn when social distancing isn't possible.
Joseph Allen, an assistant professor of exposure assessment science in the Department of Environmental Health at Harvard T.H. Chan School of Public Health, said in a conference call for media members that a socially distant gathering may feel awkward, but is an acceptable Memorial Day weekend activity provided you limit it to a small network of people.
"It may feel funny or awkward at first, like a physical-distance barbecue," Allen said. "But there's nothing like seeing friends face to face and hopefully share a couple laughs in this really stressful time."
Are visits to cemeteries allowed?
As a holiday that honors military members who died while serving the U.S., people often pay visits to cemeteries on Memorial Day. Due to the coronavirus, however, many cemeteries have reduced or eliminated visitation hours, especially ones that traditionally attract a lot of foot traffic. 
Mount Auburn Cemetery, for example, is currently closed to the public and has only allowed family members to visit graves of loved ones between 4 and 7 p.m. Its annual Service of Commemoration, a memorial service traditionally open to the public, is also canceled. However, the cemetery is expanding family visitation hours for Memorial Day weekend, opening for family members from 1 to 7 p.m. from Saturday through Monday. 
To avoid any complications, it's a good idea to contact the specific cemetery you want to visit before showing up.
Can I go to the beach on Memorial Day weekend?
Beaches in Massachusetts will officially reopen to visitors on Memorial Day itself: Monday, May 25. (Beaches are currently open for transitory activities like walking and jogging.) If you go, it's important to know that a number of things will be different when you're there. 
Gatherings of 10 or more people will not be allowed, and masks or face coverings must still be worn when social distancing isn't possible. Visitors should also maintain at least 12 feet of distance between towel/beach blanket areas, and will not be able to play organized games like football, volleyball, or spikeball. Changing room facilities will also be closed, though bathrooms will be open with social distancing measures in place.
You can read a full list beach rules and regulations here.
If you're planning on traveling to Cape Cod beaches, you'll likely find a "pretty muted" Memorial Day weekend, according to State Senator Julian Cyr, who represents Cape Cod, Nantucket, and Martha's Vineyard and serves on the Cape Cod Reopening Task Force. 
"Beach access on Cape Cod broadly has not been restricted during the duration of the pandemic, is not restricted now, and will not be this weekend," Cyr said.
Barnstable town manager Mark Ellis also said that people have been "very good" about social distancing.
What other traditional Memorial Day activities have been impacted?
Unfortunately, most Memorial Day activities have been canceled or made virtual due to the pandemic. Mount Auburn's aforementioned Service of Commemoration has been canceled, as have Memorial Day parades across the state. 
Additionally, a relatively new but quickly beloved Memorial Day tradition will not be taking place this year: Since 2010, the Massachusetts Military Heroes Fund has placed more than 37,000 flags on Boston Common to commemorate every Massachusetts service member who has given their life since the Revolutionary War. This year, however, the flags won't be placed. The organization asks that supporters participate in a "Virtual Flag Garden" instead, displaying any flags available on front lawns and placing this printable flag graphic in windows over the weekend.
What will the weather look like Memorial Day weekend?
Dave Epstein's Memorial Day weekend forecast calls for great weather throughout. Friday will bring summer-like temperatures. Saturday, Sunday, and Monday will bring highs in the 60s for most of the state, with little-to-no chance for rain for the majority of the state.