Entertainment
Take a sneak peek at Boston's 'Friends' 25th anniversary pop-up
It will be there for you starting this week.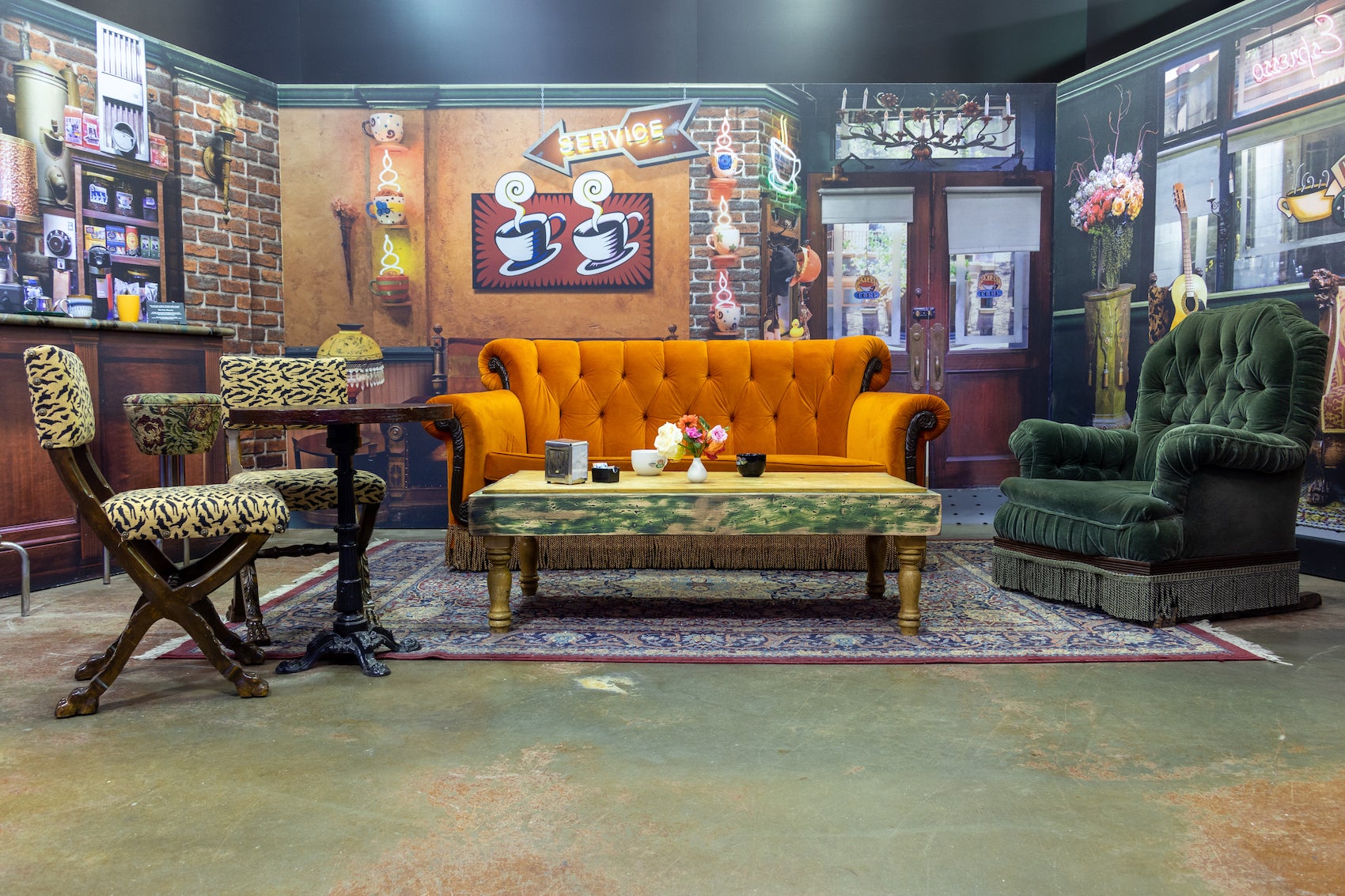 As you round a corner, the music begins.
"So no one told you life was gonna be this way (*clap* *clap* *clap* clap*)."
That earworm by the Rembrandts, better known as the theme song of "Friends," plays on a loop at the first photo-op in "The One with the Pop-Up," a new temporary exhibit in Boston from Warner Bros. and events company Superfly commemorating the 25th anniversary of the classic NBC sitcom.
Fans will be able to place themselves in some of the show's most indelible moments at the pop-up, which debuts at 401 Park in the Fenway neighborhood on Thursday, Nov. 21, and will be open daily from 9:30 a.m. to 10 p.m. through Jan. 5. Take a photo with all of Chandler's clothes on, play a round of foosball, and help Ross get his sofa up the stairs (don't forget to pivot).
The pop-up is the latest of Superfly's "IP (intellectual property) Activations": The company previously partnered with Warner Bros. on an activation commemorating the 30th anniversary of "Seinfeld," and most recently helping design fan experiences for BravoCon, a weekend-long festival for fans of the "Real Housewives" universe.
Before the pop-up opens to the public, Boston.com took a tour of the 15,000-square-foot activation, checking out every prop and set re-creation along the way.
Like many other museums, restaurants, music festivals, and just about every other attraction created in the social media era, the "Friends" pop-up is clearly designed with Instagram in mind. Photo-ops dedicated to iconic sets or memorable moments from the show are the main attraction during the approximately 30-minute tour.
After a quick walk through a hallway filled with catchphrases from the show ("Transponster," "She's your lobster"), you'll reach the first photo stop: A re-creation of the whimsical set from the opening credits, with bright orange couches and colorful umbrellas sitting in front of a fountain. Because this is a pop-up, the fountain doesn't use running water, but sparkles with gems that serve as an eye-catching backdrop. A photo machine, equipped with a brilliant white light, lets you email or text the photos once you've struck the perfect pose.
In between each room, you'll find more than 50 original props from the show enclosed in glass displays. Like an art museum, each prop comes labelled with key information, in this case: the season, episode, and context behind the piece.
One display sure to tug on some heartstrings is a collection dedicated to the series-long romance of Ross and Rachel, including Ross's "Rachel vs. Julie list" (Julie's only con: "She's not Rachel"), the 12-page letter Rachel wrote Ross in season four, and the hospital ID bracelet for the pair's baby from season eight.
The tour is sorted by character, with all six of the show's stars getting their own hallway full of props and famous scenes playing on gold- and silver-framed screens mounted on the walls. Little prop details like an acting resumé detailing Joey's most memorable roles (Sigmund Freud in "Freud! The Musical," Dr. Drake Ramoray in "Days of Our Lives") will make fans smile, as will "Glynnis," one of Phoebe's truly horrifying paintings.
But the main attraction for most people will likely be the photo-ops, of which there are many. Poke your head through Monica and Rachel's half-open apartment door. Get comfy on Chandler and Joey's recliners. Even pop a sunglasses-wearing turkey on your head. (Don't worry, a staff member will sanitize the prop after every use.)
A cafe and gift shop, located at the end of the tour, stocks themed treats like "Ross's Blueberry Bribe Muffin" and "The One Where They All Turn 30 Sprinkled Birthday Donut" from local dessert-makers Finesse Pastries and Union Square Donuts.
At $33 per person, "The One With the Pop-Up" is pricier than a number of Boston museums, and certainly more expensive than watching your favorite "Friends" episodes on Netflix. But a spokesperson said that sales for the pop-up have been brisk so far, and a quick check of the pop-up's online ticket purchasing site on Wednesday morning showed a number of time slots with only limited tickets remaining. So if you're still mulling whether to plunk down the dough for a 30-minute tour, some photos, and a "Crap Bag" tote from the gift shop, be aware that tickets may only be there for you for so long.
(The "Friends" 25th Anniversary Pop-Up: Open Thursday, Nov. 21 through Sunday, Jan. 5; 401 Park at the corner of Brookline Ave. and Fullerton St., Boston; $33-55; friends25popup.com)