Entertainment
Madonna cancels Boston shows at the last minute due to 'doctor's orders'
"To cancel is a kind of punishment for me but the pain I'm in right now is overwhelming."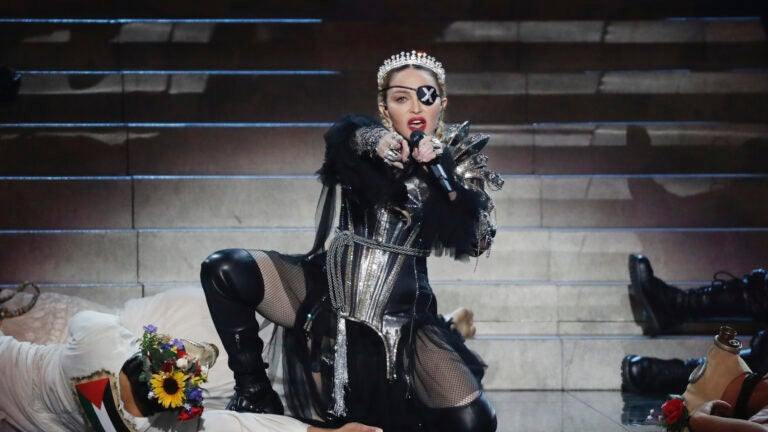 The Queen of Pop won't be coming to Boston after all.
Only days before the first of Madonna's three planned shows at the Wang Theatre, Live Nation announced on Wednesday that the singer was canceling all three dates due to doctor's orders.
"Please forgive this unexpected turn of events," Madonna wrote in a press release. "Doing my show every night brings me so much joy and to cancel is a kind of punishment for me but the pain I'm in right now is overwhelming and I must rest and follow doctor's orders so I can come back stronger and better and continue the Madame ❌ journey with all of you."
According to Live Nation, Madonna's Boston dates are the only expected cancellations on her Madame X tour, with the singer expected to perform at her next scheduled show in Philadelphia on Dec. 7.
Due to the "tight scheduling" on the tour, the Boston shows will not be rescheduled, and ticketholders will automatically receive refunds to the credit card used during purchasing.
If early reviews are any indication, the Madame X tour has been a marked departure from Madonna's past performances. The Material Girl has apparently eschewed most of her classic hits, instead focusing on songs from her new album and incorporating new non-musical elements into a show Variety called equal parts "performance art, a political rally, a comedy show, a church, and even her home in Lisbon."
Beyond mixed critical reviews, Madonna has faced other issues with her Madame X tour. Earlier this month, a fan in Florida sued the singer for pushing the start time of her Dec. 17 Miami Beach show back from 8:30 p.m. to 10:30 p.m., claiming the time change impacted the value of the ticket and that he was unable to secure a refund. Around the same time, fans in Vegas booed the singer after she was nearly two hours late for her performance, with the show starting well past midnight.
"Here's something you all need to understand," Madonna told the Vegas crowd, "and that is, that a queen is never late."