Events
See photos of Michael Phelps running along the Charles River this morning
He also participated in a Q&A session as part of the Forbes Under 30 Summit.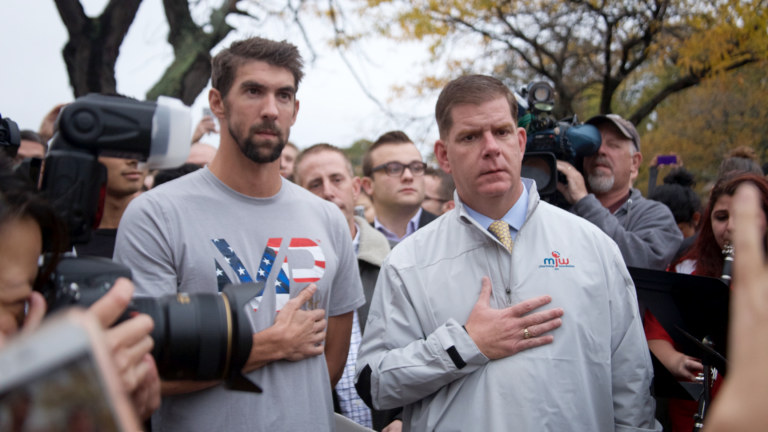 It's not unusual for runners to flock to the Charles River Esplanade on a brisk, fall morning to catch views of the foliage during their workout. On Tuesday morning, about 1,000 runners did just that—with swimming legend Michael Phelps.
The Olympian, along with Forbes Editor Randall Lane and Boston Mayor Marty Walsh's Chief of Staff Dan Koh, led the run for those attending the Forbes Under 30 Summit, which is taking place throughout the city all week.
The run, co-organized with the Pan-Mass Challenge, started at the Hatch Shell and continued along the Charles River to the Harvard Bridge on Mass. Ave., and then circled back.
A little later in the day, Phelps participated in a Q&A session hosted by the Summit, during which he spoke about the business of swimming. He discussed his new line of swim shorts and program for teaching kids water safety.
"There are so many things I look forward to doing outside the pool to continue to grow the sport," Phelps said.
He also talked about training for and taking part in the Olympics. Phelps said that, at one point in his career, for five years straight, 365 days per year, he never missed a swim or took a rest day.
"There are days you are not going to want to do it. … But it is what you do on those days that makes the difference," the swimmer said. "It's what you do when no one sees you, what you do in the dark."
Despite his incredible performance at the Rio Games, don't expect to see Phelps back in the pool in Tokyo.
"I'm not coming back," he said.
Additional reporting by Meagan McGinnes