Events
These farms are open for cheese tastings, ice cream, and tours on Sunday
Oct. 6 event marks 100 years of the Cabot Creamery Cooperative.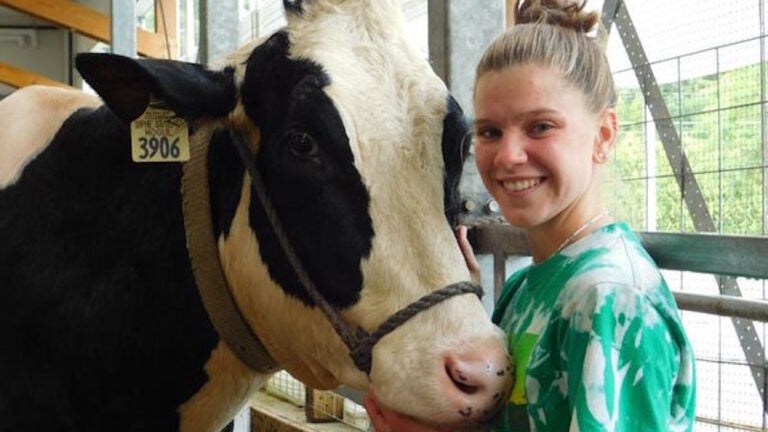 Two local dairy farms will swing open their barn doors on Sunday, Oct. 6, for Open Farm Sunday.
Great Brook Farm in Carlisle and Whittier Farm in Sutton will join more than 20 other Cabot Creamery Cooperative farms across New England and upstate New York in celebration of Cabot Creamery's 100th year in business.
From 11 a.m. to 2 p.m., the public can visit participating farms for a host of free centennial activities from farm tours to educational demonstrations and of course, cheese tastings.
"We want to showcase what dairy farming is all about," Sam Staebner, a 5th generation farmer at Whittier Farm, told Boston.com. "And show people where we raise our cows and how spoiled they are. They live really good lives — almost as good as our dogs." 
The 500-acre farm on 90 Douglas Rd. will offer wagon rides, tractor safety demonstrations, cheese and farm store samplings, and a milking demonstration at 1 p.m. Homemade mac and cheese will be available for purchase, "and we'll have a celebratory cake for Cabot's 100th birthday," Staebner added. Scouts can earn an animal care badge by visiting the farm on Open Farm Sunday, according to Staebner. 
On 165 North Road in Carlisle, Great Brook Farm sits on a 1,000-acre state park just one hour from Boston. On Sunday, visitors can meet the farm's many animals including dairy cows, alpaca, pigs, goats, sheep, rabbits and more. The farm's ice cream stand will be open, and farmers will be on hand to give tours and answer questions. Great Brook Farm was the first farm in the state to integrate robotic milking technology, which operates 24/7, owner Mark Duffy told Boston.com. "Technology has really helped us do a better job with animals and offering better care," Duffy said. The event will also feature free grilled cheese sandwiches made with Cabot cheese.
"The opportunity to visit a farm like this so close to Boston is great," Duffy said. "We offer this event to thank the people who support dairy farms." 
Duffy has farmed the land for over 30 years with his wife Tamma, their daughter Marlow and sons, Christopher and Blake. "We're a true family farm," Duffy said. 
Both farms have participated in Open Farm Sunday in past years. 
Cabot Creamery, based in Cabot, Vermont, opened in 1919 and is widely known for their award-winning cheddar cheese. The cooperative is owned by its 800 dairy farm families with farms located across the Northeast. 
"A century later, Cabot Creamery continues to thrive and still produces the 'World's Best Cheddar' and other dairy products," Cabot Creamery CEO Ed Townley said in a statement. "As we hit this milestone, we remain focused on ensuring the next generations of family farms are able to continue farming and our 900 employees are engaged in making sure the farmers' products remain the best." 
Open Farm Sunday; Sunday, Oct. 6 from 11 a.m. to 2 p.m.; various locations; free; all ages; cabotcheese.coop