Events
10 things to do in Boston for Juneteenth weekend
Celebrate Juneteenth with these 10 events — both in-person and virtual — this weekend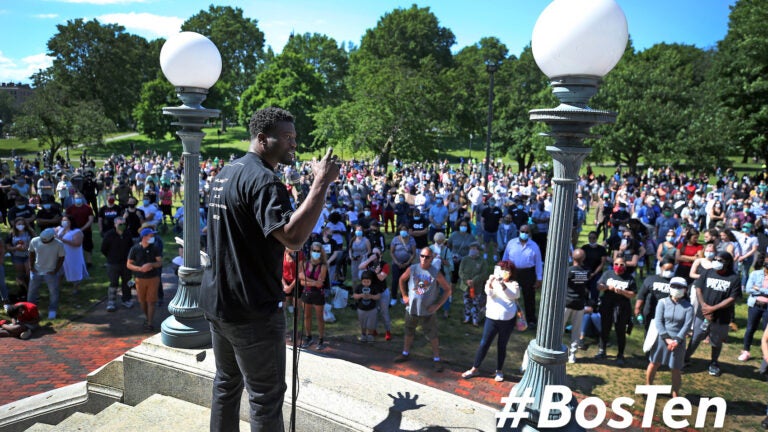 This week, BosTen will bring you the best events for Juneteenth, a national day of celebration commemorating the emancipation of enslaved people in the United States on June 19, 1865. Have an idea about what we should cover? Leave us a comment on this article or in the BosTen Facebook group, or email us at [email protected].
Your official Juneteenth soundtrack will come courtesy Darryl's Corner Bar & Kitchen, which is hosting a 10-hour music marathon celebrating Black Music Month starting at noon on Friday. You can tune in to the restaurant's Instagram page to enjoy tunes from a dozen local artists for free, but if you purchase a virtual ticket for $25 on Eventbrite, you can support Darryl's and receive an Uncle Nearest Whiskey cocktail kit available for pick up on Thursday.
Juneteenth will also be a time for protests and rallies, with people planning to gather at Town Field in Dorchester Friday at 2 p.m. to "advocate for liberation from mass incarceration, over policing, and state-sanctioned violence." Attendees are asked to wear green, red, or black, and to wear masks and practice social distancing. Dorchester Art Project will have a table with art-making materials, and DotHouse Health will hand out hand sanitizer and sign people up for COVID-19 tests while educating on ways to stand up to injustice in a safe manner.
The Boston Globe's Editorial Page editor Bina Venkataraman will join best-selling author Dr. Ibram Kendi for a Zoom discussion on building an anti-racist movement. Venkataraman and Kendi, who was recently named the director of the new BU Center for Antiracist Research, will also examine both the country's legacy of slavery and institutional racism beginning at 2 p.m. on Friday. (The talk is free to attend, but sign-up is required.)
This year, the MFA's eighth annual Juneteenth celebration will be virtual, as the museum packs a days' worth of events into a three-hour window. Listen to children's book illustrator Ekua Holmes read "Black Is a Rainbow Color" by Angela Joy, watch performances from Débo Ray and DJ Where's Nasty, listen to panel discussions featuring Boston Globe columnist Adrian Walker, and more. The celebration will stream on the museum's YouTube and Facebook pages on Friday from 4 p.m. to 7 p.m.
Join Mass Action Against Police Brutality on Friday as the organization throws Funk the Police, a musical speakout and rally against police brutality and racism held in support of families who have lost loved ones to police violence. Starting at 5 p.m. in Ronan Park, the rally will include performances from Natural Bliss, DJ Bob Diesel, and others, and is intent on raising funds to send a group of mothers to the National Mother's March in Minneapolis on July 12.
Porter Square Books will host a virtual gathering on Friday at 7 p.m. to celebrate the release of local author Jabari Asim's new poetry collection, "Stop & Frisk: American Poems" Asim, who has also written scholarly criticism and children's books, will be joined by poet Porsha Olayiwola. The event is free, but donations are welcome, and will benefit Black Lives Matter Boston.
Raise a glass to Black winegrowers this Juneteenth — in particular, Theodora Lee (Theopolis Vineyards); Krista Scruggs (Zafa Wines), and Brenae Royal (Monte Rosso Vineyard). The trio will join TJ Douglas, owner at The Urban Grape, for a frank discussion about being Black in the (very) white wine industry. Not only will the Zoom conversation, which starts at 7 p.m on Friday, serve as a Juneteenth celebration, but it kicks off the wine shop's ten-year anniversary weekend, with a major anniversary-related announcement coming Monday.
Get down to the sounds of DJs Ash Lauryn, Turtle Bugg, Dee Diggs, and EARTHACLIT at the ICA's Juneteenth Celebration. From 8 p.m to midnight on Friday, the virtual dance party will explore Black musicians who served as founders and innovators of gospel, jazz, blues, soul, techno, funk, hip hop, and more. Freedom Féte is free, but the DJs will be donating their tips to  the Boston Ujima Project and the National Bailout Fund.
Asian/Haitian comfort food joint Neighborhood Kitchen is celebrating Juneteenth with special dinner plates, including a choice of grilled barbecue chicken or country fried chicken served alongside sweet mashed potatoes, collard greens and bacon, and cornbread, all for $15. Pick up your order to-go at the Medford restaurant or call for delivery.
If your schedule for Juneteenth itself is already full, there will be additional rallies throughout the weekend, including a Saturday rally that will begin at 1 p.m. on Cambridge Common. Part of a nationwide 6.19 Day of Action, the rally will move through Cambridge toward Kendall Square, with additional stops at Cambridge City Hall and the Cambridge Police Station.
<hr>
<h2>Mayor Walsh speaks about Juneteenth</h2>