Events
10 things to do in Boston this weekend
Virtual events, outdoor activities, and things to do to support Black lives in the Greater Boston area this weekend.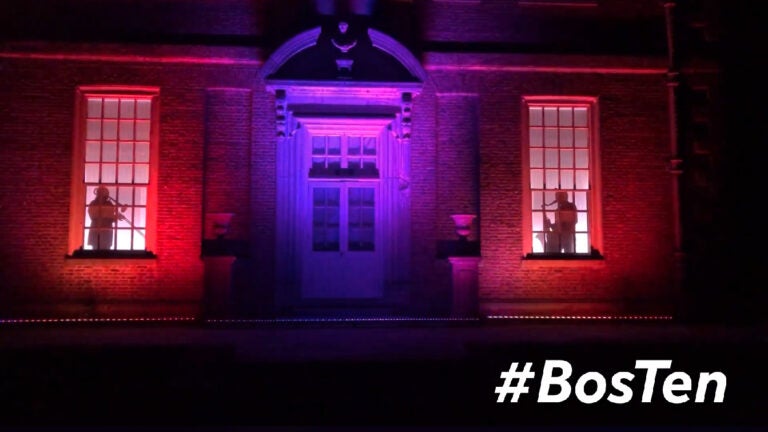 With protests against police brutality and vigils honoring George Floyd continuing this week, Massachusetts museums starting to reopen during Phase 3, and many residents continuing to stay home due to the coronavirus pandemic, this week's BosTen offers a mix of things to do this weekend. Have an idea about what we should cover? Leave us a comment on this article or in the BosTen Facebook group, or email us at [email protected].
Every year, Food & Wine takes over Aspen with a roster of culinary heavyweights to cook, drink a ton of champagne, and show everyone that they're having a grand ol' time. This time around, no one is going anywhere — that is to say, you can join in on the fun with Food & Wine Classic At Home, a virtual, two-hour event on Thursday at 4 p.m. Plenty of big names will be there: Martha Stewart, Jacques Pépin, Ayesha Curry, JJ Johnson, Stephanie Izard, and Kwame Onwuachi, with cooking events and wine tastings on the docket (attendees can purchase wines here ahead of time). Registration is free.
Has America changed significantly since the Red Scare, a modern-day witch hunt spearheaded by hard-charging conservative senator Joseph McCarthy? On Thursday at 6 p.m., former Globe reporter and best-selling author Larry Tye will join Boston Public Library president David Leonard for a virtual chat about McCarthy's life and the country's "long-standing love affair with bullies." Registration is free, and Tye's new book on McCarthy will be available for purchase.
This week, food rescue agency Lovin' Spoonfuls' launched a five-night virtual chef-a-thon, featuring cooking demos, cocktail classes, and panels in an effort to raise money for the agency and restaurant partners impacted by COVID-19. Catch the last couple days of the virtual event, including Thursday's workshop (6 p.m. to 7 p.m.) with Andrew Zimmern, James Beard Award winner and host of Travel Channel's Bizarre Foods; and Friday's workshop ( 5 p.m. to 6 p.m.) with Mike O'Connell, who is an Instagram chef, wine expert, and the owner of Cask Force and Upper Falls Liquors. Tickets can be purchased here for $15. 
The Crane Estate may not be hosting to its annual Roaring Twenties lawn party this year, but you can still catch quite a spectacle at the palatial property this summer. Starting this week, the Trustees will present a 35-minute "multi-sensory" experience, which combines music narration, and a dizzying array of lights. The show unfolds in four scenes, making use of the estate's Great House, Grand Allee, and Italian Garden. Advanced reservations are required.
Beyond getting enough calcium, how does one maintain bone health? One option is this Friday Coolidge Yoga class from yogi Masha Leuner, which will use a technique developed by back pain specialist Dr. Loren Fishman that he says will improve posture and balance while improving skeletal health. The class requires a few more props than the usual yoga flow — besides a yoga mat, it lists yoga blocks, a yoga blanket and an 8-foot yoga strap as required equipment — but it promises to teach techniques you'll be able to use for years to come.
This Red Sox season is going to be a strange one, but a new "fan zone" on Lansdowne Street is hoping to bring some normalcy back to the game. While fans won't be allowed inside Fenway Park on Friday, street patios, airstreams, and outdoor TV screens will be set up on Lansdowne Street in an effort to recreate the buzz of a busy opening day. Between Game On! and Bleacher Bar, a pop-up restaurant dubbed "Under the Green Monster" will serve cocktails from an airstream sponsored by Sam Adams and Truly, along with food from ES Provisions. Come by on game days and weekends from 11:30 a.m. to 10 p.m.
Boston Bike Party will host a Saturday afternoon bike ride in "in solidarity with the fight against systems and acts of oppression, police brutality, and murder against Black people, including and especially LGBTQ+' disabled, and poor Black folks." Interested attendees should congregate at White Stadium in Franklin Park at 11:30, where more details about the ride route will be provided. Scooters, skateboards, and rollerblades are also welcome.
The 29th annual Woods Hole Film Festival will be virtual this year, but the Cape's oldest film fest will still have plenty of movies to see over its eight days, beginning Saturday. In between 42 feature films and 144 short films, attendees can catch filmmaker discussions, workshops, and master classes from the festival's three filmmakers-in-residence. Among the lineup's highlights are "Born Into the Gig," a documentary about the children of singer-songwriters trying to make their own way in the music world; and "Island Queen," a short comedy about a teen hockey player who secretly tries out for the figure skating team starring former "SNL" star and Lexington native Rachel Dratch and "Modern Family" star Jesse Tyler Ferguson.
Raise a glass to our friends up north during Maine Beer Night, a Maine Brewers' Guild virtual fundraiser held on Saturday at 7 p.m. While the accompanying six-pack of Maine-brewed beers is no longer available, you can still put together your own favorite collection of Maine beers and log on to enjoy a brewers roundtable with Tributary Brewing, "The Art of the Can" with Mason's Brewing, and "Notes from a Longtime Brewer" with Richard Ruggiero, brewmaster and owner at Liberator Brewing Company. Tickets can be purchased here for $5.
Want to enjoy the thrill of a drive-in movie theater but don't have access to a car? Head to the Seaport. Moonrise Cinema is a new pop-up outdoor movie theater that will operate outside of the Innovation and Design Building at 23 Drydock Ave. You'll be able to reserve a 64-square-foot space for up to six individuals, which will be socially distant from the other squares. The show begins this weekend with three screenings of the 1993 classic "The Sandlot" at 8 p.m. on Saturday and Sunday. Refreshments come courtesy of Fare Well, a restaurant based out of a nearby shipping container. Aside from typical movie treats like popcorn and candy, you can munch on tacos or the restaurant's signature scalzones — calzones wrapped in a scallion pancake.