Events
10 things to do in Boston this weekend
BosTen is your weekly guide to events and cool happenings in and around Boston.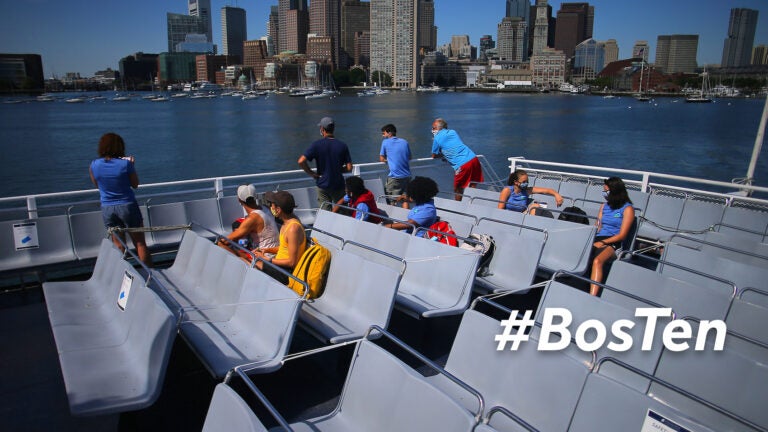 While Massachusetts has reopened museums and other cultural institutions during Phase 3, many residents are continuing to stay home due to the coronavirus pandemic. With that in mind, this week's BosTen offers a mix of things to do this weekend. Have an idea about what we should cover? Leave us a comment on this article or in the BosTen Facebook group, or email us at [email protected].
We're halfway through August (surprise!), and if you haven't yet taken the time to celebrate Boston Black Restaurant Month — well, now's your chance. The initiative, organized by the Boston Black Hospitality Coalition, launched earlier this month, and encourages diners to frequent the many excellent Black-owned restaurants across the city. "We're doing more than just takeout," Nia Grace, owner of Darryl's Corner Bar & Kitchen, previously told Boston.com. "Next year we'll obviously look to have a better program and more interactive [experiences], but right now we think the biggest action is: Make an order." A growing list of Black-owned restaurants can be found here and here.
Berklee musicians are usually the unofficial soundtrack of summer in Boston, with students and graduates performing all over the city throughout the warmer months. The college's Summer in the City series is virtual this year, but still features fantastic artists, including this Thursday's performer Taylor Deneen, a 2017 National YoungArts winner who blends R&B, neo-soul, jazz, and gospel to create "powerful music to encourage and inspire listeners," according to her bio. Dineen will perform on the school's Facebook, Instagram, and YouTube pages beginning at 8 p.m. on Thursday.
In search of a new oyster happy hour? Little Donkey just launched its own version, serving dollar oysters from 5 p.m to 6 p.m. on Tuesdays through Saturdays. The Cambridge hot spot has a brand new patio to lounge on, too: Settle in, order a dozen bivalves, and sip on some wine for a post-work treat.
With no new releases on the horizon, drive-in movie theaters will continue to program crowd-pleasing hits this weekend with some of the most memorable blockbusters of decades past. If we were to pick a show each night, here's how we would do it: On Thursday, the Mendon Twin lets you choose between wizards and vampires with double features of the first two films in the Harry Potter and Twilight franchises; Friday, Wellfleet Drive-In has "Grown Ups" and "Major League"; Saturday, the Leicester Triple brings R-rated entertainment with "21 Jump Street" and "Pulp Fiction"; and Sunday, both the Marshfield pop-up drive-in and Topsfield pop-up drive-in suggest you get a bigger boat for their screenings of "Jaws."
World-renowned pianist Conrad Tao is the main attraction of the moment at Tanglewood's Online Music Festival, with the composer participating as part of the Great Performances in Recital series. Tao's performance will include several original pieces, a rendition of Beethoven's "Tempest" sonata, and commissioned works including Felipe Lara's "Injust Intonations (#BlackLivesMatter)." Tao's performance is available on Tanglewood's website through Aug. 22.
While many Boston area beaches have been packed this summer, Spectacle Island has remained blissfully quiet — mostly because you can only reach it by boat. Boston Harbor Cruises are now back in operation, and to add an additional incentive for residents, Boston Harbor Now will offer visitors a free kite (while supplies last) every Friday now through Sept. 4.
Anyone can take a spin class indoors, and anyone can do the real thing (ride a bike) outdoors. But not everyone can take a spin class outdoors, which is exactly what Axl Boston is offering with its Saturday morning Waterfront Ride classes. Visit Axl Boston's website to register for a 45-minute class at 9 a.m. or 10 a.m., then kick your legs into gear while enjoying views of Boston Harbor from LoPresti Park.
You don't have to be on the beach to see great white sharks in action off Cape Cod this week. Among the offerings for Discovery's annual Shark Week programming is a one-hour special called "Wicked Sharks," which follows marine biologist Greg Skomal and the Atlantic White Shark Conservancy as they attempt to track sharks using state-of-the-art technology. In the episode, Skomal and his team tag a pair of great white sharks with temporary cameras in the hopes of seeing how they hunt seals off of Cape beaches, which they hope will keep beachgoers safer. "Wicked Sharks" will premiere on Saturday, Aug. 15 at 9 p.m. on Discovery, and will re-air four hours later at 1 a.m.
To celebrate the return of Lamplighter Brewing's Cuppa — a cold brew-infused ale — the Cambridge brewery is teaming up with Jewish deli Mamaleh's for a boozy brunch. Pre-order the duo's bagel and beer brunch kit, which includes two everything bagels, four mandel bread cookies, cream cheese, tomatoes, cucumbers, red onions, capers, lemons, and a four pack of Cuppa (plus the option to add lox). Choose a brunch buddy (within your pandemic bubble, please!), pick up your order at Lamplighter on Sunday between 11 a.m. and 8 p.m., and consider your brunch plans made. Orders must be placed by Friday at 5 p.m.
For some traditions, the show must go on despite a global pandemic — including Dine Out Boston, a biannual event that kicks off on Sunday. From August 16 to 21 and 23 to 28, a slew of restaurants in the Greater Boston area will offer multi-course lunch and dinner deals, ranging from $15 to $25 for lunch and $28 to $38 for dinner. You'll find plenty of Dine Out Boston regulars on the list, including Aquitaine, Eddie V's, and Strega, along with newcomers like Bar 'Cino, which opened in Brookline in January. A complete list of participating restaurants can be found here.
Get Boston.com's browser alerts:
Enable breaking news notifications straight to your internet browser.