Arts
10 things to do in Boston this weekend
BosTen is your weekly guide to events and cool happenings in and around Boston.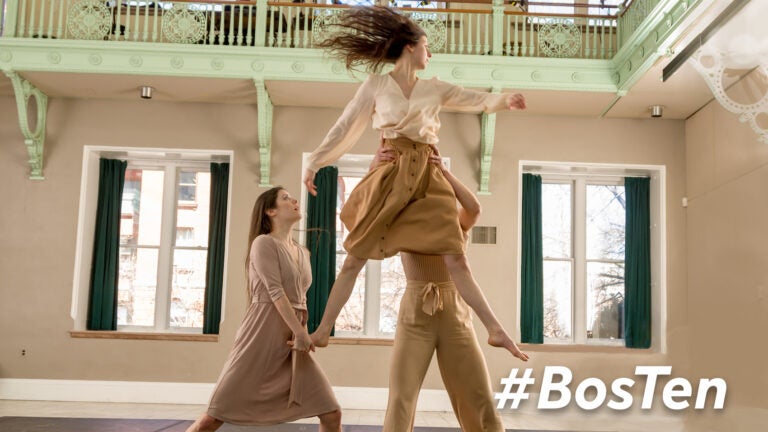 While Massachusetts has reopened museums and other cultural institutions during Phase 3, COVID-19 case numbers are well above summer levels, and many residents are continuing to stay home due to the coronavirus pandemic amid new orders and advisories from Gov. Charlie Baker. With that in mind, this week's BosTen offers a mix of in-person and virtual things to do this weekend. Have an idea about what we should cover? Leave us a comment on this article or in the BosTen Facebook group, or email us at [email protected].
The coronavirus pandemic has left more families than ever in search of assistance from food pantries, and Cafe Landwer wants to help. Mondays through Fridays from 8 a.m. to 9 p.m., both the Cleveland Circle and Audubon Circle locations are accepting donations for the Brookline Food Pantry, which is in need of baby supplies (diapers, formula, and food), as well as rice, cereal, lentils, oatmeal, shelf-stable milk or juice, and canned tuna, chicken, and vegetables. For each person that drops off five items at either location, Cafe Landwer will return the favor with a $10 e-gift as a thank you.
In 2015, Sean Ellis was released from prison after serving 22 years behind bars on charges of killing Boston Police Det. John Mulligan. His journey wasn't done, however, as prosecutors planned to bring Ellis to trial for a fourth time. That's when Netflix picks up Ellis' story in "Trial 4," a true crime docuseries that delves into the controversial case. Many Bostonians may be familiar with the Ellis case, but director Remy Burkel does a great job of shedding new light on the story and uses unconventional techniques to move the narrative forward across eight episodes.
You may already have a favorite bagel spot, but it's worth venturing out of your comfort zone this weekend to try Somerville's brand new Turenne inside T&B Pizza. Opened by Tim and Bronwyn Wiechmann, the husband-and-wife duo behind Bronwyn and T&B Pizza, Turenne is an ode to Montreal-style bagels, baked in a wood oven with "a touch of honey." In addition to a concise bagel selection, Turenne offers bagel creations like the pastrami sauerkraut, along with pastries, salads, and smoothies.
The Mendon Twin Drive-In is leaping into the holiday season, rebranding itself the Mendon Christmas Drive-In and filling its weekend lineups with holiday cheer. Starting this Friday and continuing through the end of December, audiences can buy tickets for individual shows or a double feature of a Christmas Carol Singalong Laser Light Show, a holiday movie, and a Trans-Siberian Orchestra Christmas Show. This weekend's showings of "Elf" are already sold out, but future holiday films include "Frozen," "The Polar Express," and "The Grinch Who Stole Christmas." If you're not quite ready to dive headlong into the holidays, the theater will also be showing regular movies like "Toy Story" and "Guardians Galaxy." To buy tickets and see a full weekend schedule, visit the theater's website.
Ahoy, rum fans! Rail Stop's Cocktail Supper Club is back with another three-course dinner, this time paired with three cocktails featuring Flor De Caña rum. Enjoy an apple walnut salad alongside "Not Your Ma's Appletini," a blackened mahi mahi paired with "Just Peachy," and chocolate mousse coupled with "Espresso Yo'Self REEEEEMix." The $85 dinner will be held at Rail Stop's lounge; parties are limited to six guests each. 
To say that 2020 has been a stressful year is putting it lightly. With the continued tumult around the presidential election and fears of a long, COVID-filled winter, many of us are seeking a way to de-stress and decompress. This Friday at 10 a.m., Boston Globe columnist Meredith Goldstein will chat with Rev. Liz Walker, a longtime WBZ news anchor and current senior pastor at Roxbury Presbyterian Church, about self-care and caring for others during the most stressful time of many people's lives. Register for the free event and submit questions for Walker on the Boston Globe website.
Starting Thursday, a new exhibit at the Concord Museum puts one of the most iconic symbols of the Revolutionary War front and center. The focal point of the $1.2 million exhibit "April 19, 1775" is one of the two lamps used to signal the approach of the British army ("one if by land, two if by sea") and spur Paul Revere to make his famous midnight ride prior to the battles between British troops and colonists in Lexington and Concord. The exhibit also incorporates several perspectives involving women and people of color who were present — voices that have been underrepresented in past retellings of the Revolutionary War. Visitors can reserve a visit time on the museum's website.
Did you know there are 19 different species of owls in North America? You'll be able to learn more about all of them, as well as virtually meet six of them during the Peabody Essex Museum's Eyes on Owls online event this Friday at 7:45 p.m. Enjoy photojournalist Mark Wilson's snapshots of all 19 species, then join naturalist Marcia Wilson for a meet-and-greet with her feathery friends. Register for this free program on the PEM website.
Theaters and stages nationwide remain closed due to the pandemic, but performing companies have found virtual methods of staging plays, musicals, and other shows in the meantime. Starting this Saturday, Hub Theatre Company of Boston will present a pandemic-inspired production of Shakespeare's "Much Ado About Nothing," translating the comedy's many misunderstandings and misadventures for the Zoom era. Tickets to the livestreamed performance are pay-what-you-can (with $20 as a suggested price) and are available on Hub's website.
Speaking of stage shows you can watch in your living room, Boston Dance Theater will be putting on a virtual performance this Friday at 8 p.m. Led by award-winning choreographer Itzik Galili and artistic director Jessie Jeanne Stinnett, the group will perform a pair of contemporary pieces: "I had a thought" by Micaela Taylor and "For The Record" by Rena Butler. The performance can be watched free on BDT's Facebook and YouTube pages, but donations are appreciated.
Get Boston.com's browser alerts:
Enable breaking news notifications straight to your internet browser.