Events
10 things to do in Boston this weekend
BosTen is your weekly guide to events and cool happenings in and around Boston.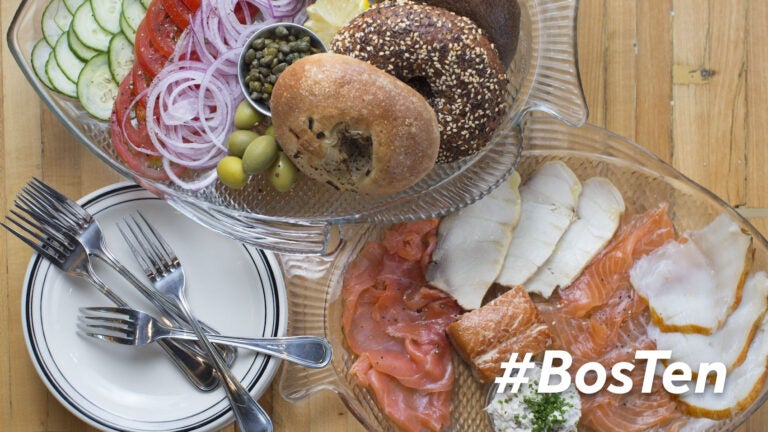 While Massachusetts has reopened museums and other cultural institutions during Phase 3, COVID-19 case numbers are well above summer levels, and many residents are continuing to stay home due to the coronavirus pandemic amid new orders and advisories from Gov. Charlie Baker. With that in mind, this week's BosTen offers a mix of in-person and virtual things to do this weekend. Have an idea about what we should cover? Leave us a comment on this article or in the BosTen Facebook group, or email us at [email protected].
Lamplighter Brewing turned four years old on Tuesday, and to celebrate, the Cambridge brewery is hosting a weekend's worth of events featuring some of their local friends. Sign up for a baking class hosted by Mamaleh's on Thursday, where you'll learn to make rugelach while sipping on a special beer release. Pre-order a pizza kit for Friday, which contains the release of Lamplighter's "Inman Square" anniversary bottle and a pizza kit from Puritan & Co. And on Saturday, pre-order PAGU's "Guchi's Midnight Ramen" or a vegetarian mushroom ramen, which arrives with some of the brewery's favorite beer to pair with the dishes. 
Regardless of when or how we make it through the pandemic, one thing that seems almost certain is that the nation's workforce won't simply make a return to normalcy. On Thursday, the Boston Globe will gather a group of local business experts to look at the future of Boston's business community, discussing topics like which industries will flourish in a post-pandemic future, whether remote work is the new normal, and what locals can expect in 2021. You can register and submit questions for the virtual talk, which will be held at 11 a.m. on Thursday, on the Globe Events website.
Julie Rhodes is a talented local blues singer who can blow you away with the strength of her soulful vocals. This weekend, the Museum of Science will give Rhodes a dazzling display to accompany her powerful pipes, using cutting-edge visuals adapted from the museum's planetarium. You can register for this free virtual show, which begins at 7:30 p.m. on Thursday, through the Museum of Science website.
If you weren't able to catch a glimpse of HBO Max's new drama, "Julia," being filmed around Boston, you'll have another chance to soak in the spirit of the larger-than-life chef. WGBH will host a virtual event on Friday at noon to celebrate "People Who Love to Eat Are Always the Best People," a new book featuring Child's most memorable quips. Attendees can tune in to see legendary chef Jacques Pépin and Child's great nephew Alex Prud'homme discuss the virtue of her words — and why "If you're afraid of butter, use cream" is always good advice. Registration is free.
Looking to hit the town with your best friend this weekend? If your best friend is "man's best friend," you're in luck. Starting on Friday, local businesses will take part in "Packed Weekend," a dog-focused event sponsored by Amazon to promote its upcoming unscripted canine-focused competition show "The Pack." You can find dog-friendly treats and prize packages at retailers like The Black Dog, Polkadog Bakery, Night Shift Brewing, or J.P. Licks, which will be offering promotional swag with the purchase of its dog-friendly Cow Paws — a dairy-free peanut butter dog treat topped with a kosher bone. Amazon is also giving away prizes like airline tickets for participants in its Pack Walk Challenge, a nationwide walking initiative that raises money for charitable organizations. You can find full details about the event and participating businesses on the Packed Weekend website.
The Coolidge Corner Theatre put the Medfield State Hospital to good use in recent months, using the now-closed facility to host drive-in screenings of movies like "Shutter Island," which used the hospital for filming. This weekend, the Coolidge will screen another movie that was filmed nearby, with Rian Johnson's modern whodunnit "Knives Out." Tickets for Saturday's show are already sold out, but you can still snag passes for Friday's show at 6 p.m.
The Seaport has temporarily rebranded itself as Snowport, bringing a mix of outdoor and shopping experiences to the swanky retail district. Among the featured attractions are a vintage gondola cabin for Instagram-worthy moments; Winter Wonder Walks visited by Betty the Yeti, Snowport's official mascot; a tree market that also sells wreaths and other holiday decor; an outdoor gaming arena featuring games like curling, Jenga, KanJam, and Battleship with free reservations; and free open-air rides in festive shuttles. The activities are available both to walk-up visitors and through reservations via Skedda. For a full breakdown and schedule of all the holiday-themed activities, visit the Snowport website.
For children who love film or aspire to someday create movies of their own, the eighth annual Boston International Kids Film Festival offers a wide range of activities over the course of three days. Along with more than 50 independent films, the three-day event includes a mix of virtual workshops and Q&As with film professionals geared toward the younger set. You can buy either all-access passes or individual tickets to films or sessions on the BIKFF website.
Community fridges have continued to pop up across the Boston area in recent months, and while the idea of contributing to one is already a giving act, why not take it one step further? The Dorchester Community Fridge and Freedom Fighters Coalition will host a food drive on Sunday from noon to 4 p.m., passing out food bags to 30-plus families in the Dorchester neighborhood. Items needed include vegetables, bread, stuffing, cranberry sauce, fruit, cheese, and more — all you need to do is drop it off, and they'll take care of the rest. 
Friendsgiving is alive and well at Capo this year (although masks are still very much required!). The Southie spot is offering a three-course meal for you and your pals on Sunday from 3 p.m. to 8 p.m., with a bevy of dishes to choose from: confit turkey gnocchi, mushroom arancini, braised short rib, bolognese, pumpkin pie, and more. Dinner is $50 per person; reservations can be made here.