Arts
10 things to do in Boston this weekend
BosTen is your weekly guide to events and cool happenings in and around Boston.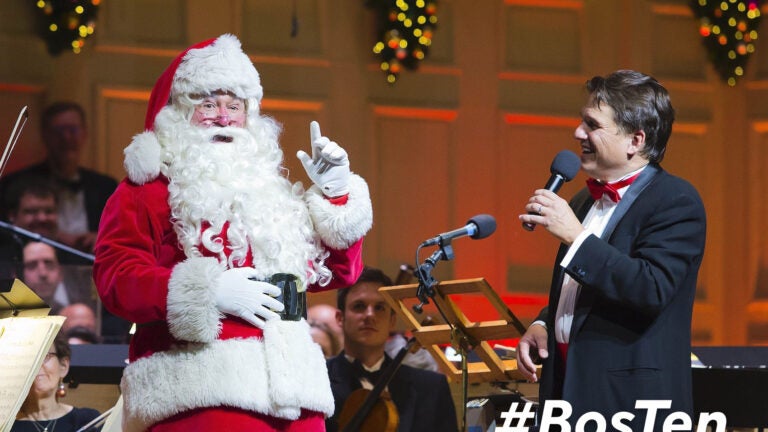 While Massachusetts has reopened museums and other cultural institutions during Phase 3, COVID-19 case numbers are well above summer levels, and many residents are continuing to stay home due to the coronavirus pandemic amid new orders and advisories from Gov. Charlie Baker. With that in mind, this week's BosTen offers a mix of in-person and virtual things to do this weekend. Have an idea about what we should cover? Leave us a comment on this article or in the BosTen Facebook group, or email us at [email protected].
Fuel up at Café Cunard
Cunard Tavern usually operates a mobile coffee truck during the winter, but this year is undeniably different. Instead, the East Boston gastropub launched Café Cunard, a breakfast spot within the tavern selling breakfast sandwiches, freshly made bagels, and coffee, all available starting at 8 a.m. daily. One specialty drink sounds like a particularly perfect morning jolt: The Abuelita, made with espresso, milk, maple syrup, and walnut aroma. 
Get into the holiday spirit with "A Charlie Brown Christmas"
Viewers used to seeing the Charles Schulz holiday special on ABC, NBC, or CBS were thrown for a loop when Apple purchased the broadcast rights for 2020. Hope is not lost, however: "A Charlie Brown Christmas" is available to stream for Apple TV+ subscribers and will be free to non-subscribers from Friday through Sunday. The yuletide special will also air on PBS at 7:30 p.m. on Sunday.
Listen to the seasonal sounds of the Holiday Pops
In-person performances at Symphony Hall are a no-go this year, but Keith Lockhart and the Holiday Pops will still bring seasonal music to audiences virtually in 2020. This year's show will begin streaming on Dec. 10 at noon as part of the BSO Now program and includes performances shot at Fenway Park alongside Wally the Green Monster. Access to the concert costs $30, and will be available through Jan. 9.
Stream a new Boston-filmed action movie on Netflix
Last week, we highlighted three new movie releases that were all filmed in Massachusetts. This week, another locally filmed movie will be available in your living room with "Ava," an action/thriller title starring Oscar-nominated actress Jessica Chastain ("Zero Dark Thirty," "The Help") as a high-level assassin who suddenly finds herself marked for death by her own shadowy organization. "Ava" boasts an impressive cast, including John Malkovich ("Con Air"), Colin Farrell ("In Bruges"), Common ("Selma"), and Wareham native Geena Davis ("A League of Their Own"). Reviews weren't exactly favorable (with a Rotten Tomatoes freshness rating of 17%), but action movie buffs may enjoy spotting the local scenery in between fight scenes, as crews filmed in Boston, Chelsea, Gloucester, Lincoln, Marblehead, Methuen, Spencer, Wayland, and Worcester in 2018.
Learn about Black trauma in artwork with MASS MoCA
On Friday, the Massachusetts Museum of Contemporary Art (MASS MoCA) will gather a group of Black artists to discuss the representation of Black trauma in artwork and exhibitions, as part of a discussion series on anti-racist work in museums. Join Nick Cave, Shaun Leonardo, Steve Locke, and Xaviera Simmons as they discuss questions of who is allowed to present images of violence against POC in artwork, and what responsibilities art institutions have when presenting those works. The talk is free to stream, and will be available on MASS MoCA's Facebook and YouTube pages.
Strip down for the (socially distanced) Santa Speedo Run
Each year for the last two decades, around 200 runners clad in Speedos, holiday decorations, and not much else have run down Boylston Street for the Santa Speedo Run. This year, the run will be happening in socially distant groups in participants' own neighborhoods on Saturday at around 1 p.m. The scantily clad athletes hope to bring joy (and perhaps confusion) to passersby as they raise money for Play Ball, a nonprofit that funds team sports for underserved middle-schoolers. If you'd like to participate or simply donate to the cause, more information is available on the Play Ball website.
Go full diva at Krasi's Mariah Carey Christmas brunch
Give in to the inevitable holiday earworm of Mariah Carey's "All I Want for Christmas is You" at Krasi's Mariah Carey Christmas brunch, a Sunday soirée at the Back Bay hangout. Order from the weekend brunch menu while listening to DJ Ryan Brown's Mariah Carey Christmas themed soundtrack and collecting themed coasters, decorations, and masks. The staff will be dressed up in honor of the diva, which means you can totally rock a faux fur-lined, red bodysuit too.
Stream season 4 of "Big Mouth"
"Big Mouth" is a ribald animated comedy about puberty that features cartoon genitalia, masturbation jokes, and literal "hormone monsters." It's also extremely funny, and offers more honesty and compassion about sex education than you'll find in most public schools. Season 4, which hit Netflix late last week, brings the tween cast to summer camp, where anxiety rears its ugly head. Featuring a deep cast that includes Nick Kroll ("Sausage Party"), John Mulaney ("Spider-Man: Into the Spider-Verse"), and a pair of locals in Nahant native Jason Mantzoukas ("The League") and Milton native Jenny Slate ("The Secret Life of Pets"), all four seasons of "Big Mouth" are now available to stream on Netflix.
Treat yourself to a truffle dinner at Talulla
Is Talulla's truffle dinner a pretty penny? Yup. Are you worth it? Definitely. On Sunday, the Cambridge restaurant will offer seats in its dining room and greenhouses for a five-course, truffle-infused meal for $155 per person (with an optional wine pairing for $95 per person). Luxurious truffles will be included in each course, featuring dishes like cauliflower custard, foie gras torchon, gnudi, chestnut agnolotti, and squab breast. Make your reservation here.
Enjoy a contemporary spin on a holiday classic with 'The Urban Nutcracker'
For the 20th anniversary of Anthony Williams's adaptation of the holiday classic "The Urban Nutcracker," the City Ballet of Boston will present timed airings of a recorded performance from 2019. Set in Boston, the show features more than 150 performers showcasing an array of dance styles and jumping between Tchaikovsky's classic Nutcracker compositions and the rhythms of artists like Duke Ellington. Viewers can sign up for free tickets to the performances — at 7 p.m. this Sunday as well as Dec. 24 — on the Urban Nutcracker website.
Get Boston.com's browser alerts:
Enable breaking news notifications straight to your internet browser.