Events
10 things to do in Boston this holiday weekend
BosTen is your weekly guide to events and cool happenings in and around Boston.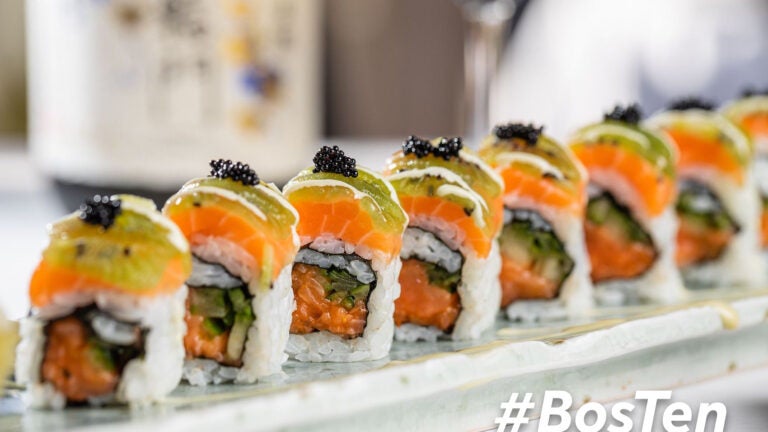 While Massachusetts businesses and cultural institutions remain partially open amid reopening rollbacks, many residents are continuing to stay home due to the coronavirus pandemic amid new orders and advisories from Gov. Charlie Baker and Boston Mayor Marty Walsh. With that in mind, this week's BosTen offers a mix of in-person and virtual things to do this weekend. Have an idea about what we should cover? Leave us a comment on this article or in the BosTen Facebook group, or email us at [email protected].
Take a stroll (or drive) through the Somerville Illuminations Tour
While there are plenty of great holiday lights displays in the Boston area, many of the ticketed attractions are already sold out for the holiday season. The Illuminations Tour doesn't have that problem, as the tour is free and self-guided this year. Due to the pandemic, The Somerville Arts Council trolleys won't be running, but the city will share an interactive map to all the Somerville houses that have gone all out with their decorations.
Visit Sweet & Sage Pâtisserie, a new local bakery
Not that the holidays will leave you bereft of sweets, but what's one more tin of cookies? Emily O'Brien recently opened Sweet & Sage Pâtisserie right next to Shake Shack at The Street Chestnut Hill, offering a rotating lineup of cookies, cakes, brownies, and pastries (we've got our eyes on O'Brien's pecan bars and brown butter sage bundt cake). While the bakery will be closed Christmas Day, guests can stop by from 8 a.m. to 6 p.m. on Christmas Eve. 
Wander through children's literature-inspired holiday trees at the Concord Museum
Concord can lay claim to a number of culturally significant authors, including Henry David Thoreau, Ralph Waldo Emerson, Louisa May Alcott, and Nathaniel Hawthorne. Celebrate the town's rich literary history at the Concord Museum with "Family Trees: A Celebration of Children's Literature," the museum's holiday exhibit featuring 28 holiday trees and wreaths inspired by famous children's titles. Tickets are available on the museum's website through Jan. 3.
Stream "Soul" on Disney+
With very few exceptions, every new Pixar movie is a must-see cinematic event. This time, the movie magic will have to be experienced in your own home for "Soul," which will be streamed exclusively on Disney+ starting on Christmas day. A middle school band teacher (Jamie Foxx, "Ray") is about to land his big musical break when he dies. But that's only the beginning of his journey, as he ends up in the Great Before, Pixar's imaginary place for souls who haven't yet arrived on Earth. There, Foxx's character must become a mentor for a soul (Tina Fey, "Saturday Night Live") that prefers to stay in the Great Before rather than ascend to Earth. "Soul" is directed by Pete Docter, and it shares quite a bit of DNA with 2015's "Inside Out," another must-watch from the Pixar canon.
Go on a hot chocolate crawl in Salem
If you're going to be outside this weekend, you might as well be drinking copious amounts of hot chocolate as well. Head to Salem for the town's hot chocolate crawl, where you can visit more than a dozen coffee houses, restaurants, and sweet shops serving up liquid goodness. Pick up a classic hot chocolate, or try something more adventurous like the coffee and coconut-infused Russell Stover Mocha Latte.
Take a winter hike to World's End
With coronavirus caseloads still at an alarming level in Massachusetts, outdoor activities are still the safest way to see your friends and loved ones this holiday season. If you've already covered every square inch of your neighborhood on foot by now, head down to World's End in Hingham, a 251-acre park and conservation area on a peninsula maintained by the Trustees of Reservations. Recently named one of the best ways to fight cabin fever by the New York Times, World's End is great for strolling, skiing, or snowshoeing, depending on the weather.
Shop at the Black Joy Market's Kwanzaa edition
Unless you're a hopeless procrastinator, you'll be done with Christmas shopping by Dec. 26. But Dec. 26 marks the first day of Kwanzaa, and the Black Joy Market in Roxbury will celebrate with its final open market of the season. Featuring a curated group of local vendors and holiday music composed by Roxbury Sound System, you can visit the market from 1 p.m. to 5 p.m. on Saturday.
Stream the new season of "Letterkenny" on Hulu
As "Schitt's Creek" proved with its record-setting Emmys sweep earlier this year, some of the best current TV comedies are Canadian imports. "Letterkenny," which follows the trials and tribulations of a rural Canadian town of the same name, is one of them. The series leads — farm stand operators Wayne and Katy — are amusing in their own right, but it's the town's broad tapestry of oddball cliques — from the out-of-town hockey players to the rebellious "skids" — that make the show binge-worthy. If you're already caught up, the show's newest season, its ninth, arrives on Saturday, Dec. 26.
Wear your ugliest sweater to Bodega Canal
Even during a wildly unusual year, you can always count on an ugly sweater party. On Saturday, Bodega Canal is hosting its very own version from 5:30 p.m. to 9:30 p.m., inviting guests to stop by the restaurant for specialty cocktails, music by DJ Action Jackson, giveaways, and, of course, plenty of tacos. Put on your best (read: ugliest) holiday sweater for a very Bodega party.
Head to the Seaport for Winter Sushi Sundays at Lola 42
So you've spent a good deal of money on presents but still want to treat yourself to sushi. May we suggest Lola 42? The Seaport restaurant will launch Winter Sushi Sundays this weekend, offering a buy one, get one free deal on its sushi rolls (which usually start around $20 each). Choose from classic, traditional, and specialty rolls like the hoka sake, yutaka, and spicy tuna. 
Get Boston.com's browser alerts:
Enable breaking news notifications straight to your internet browser.