Events
10 things to do in Boston this weekend
BosTen is your weekly guide to events and cool happenings in and around Boston.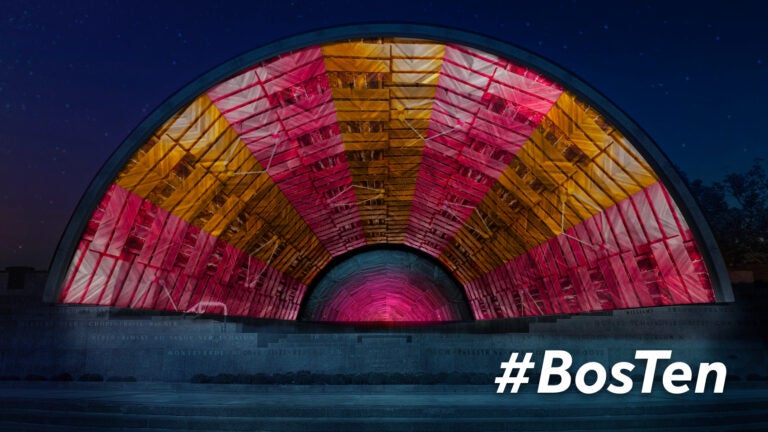 While Massachusetts businesses and cultural institutions remain partially open amid reopening rollbacks, many residents are continuing to stay home due to the coronavirus pandemic amid new orders and advisories from Gov. Charlie Baker and Boston Mayor Marty Walsh. With that in mind, this week's BosTen offers a mix of in-person and virtual things to do this weekend. Have an idea about what we should cover? Leave us a comment on this article or in the BosTen Facebook group, or email us at [email protected].
Go deep on "The Thin Blue Line" with the Coolidge Corner Theatre
Before winning an Oscar for 2003's "The Fog of War," Errol Morris directed one of the most influential and well-regarded documentaries of the last 40 years with "The Thin Blue Line." Though it was barred from Academy Award consideration for its boundary-pushing use of reenactments, Morris's film eventually helped secure the release of a man who spent 12 years in prison after being convicted of murder and exposed major flaws in the criminal justice system. This Thursday at 8 p.m., the Coolidge will host film critic Nicolas Rapold to discuss the film, which has influenced decades of true-crime movies and shows, for better or worse.
Become an at-home mixologist with the Boston.com Cocktail Club
Looking to improve your at-home beverage-making skills? Boston.com is once again teaming up with one of the most celebrated mixologists in Boston for its new weekly virtual cocktail club. At 7 p.m. on Thursday, host Jackson Cannon (The Hawthorne, Eastern Standard) and guest bartender Will Isaza (Blossom Bar, Ivory Pearl) will teach you how to mix two of their favorite rum cocktails, the rum tonic and the Daiquiri Time Out. Attending the Zoom is free, and you can purchase a kit with all the ingredients you'll need here. Proceeds from the event benefit Off Their Plate.
Visit Flour's pop-up at The Street Chestnut Hill
Back for a second weekend in January, Flour Bakery will pop up at the The Street Chestnut Hill on Friday and Saturday with DIY sandwich kits, chicken pot pie, mulled apple cider, and more. Choose from dinner packages that include tubs of OddFellows ice cream, along with sticky bun boxes and bake-at-home cinnamon maple French toast sticks, all available for pre-order. Orders for Saturday will close on Thursday at 6 p.m.
Visit a dazzling "illumination and sound experience" at the Hatch Shell
The Esplanade may not have been able to host its annual July 4 fireworks in 2020 due to the pandemic, but the Hatch Shell will soon welcome a new socially distant light and sound show. Starting Friday, the Esplanade Association will present "Hatched: Breaking through the Silence," a four-week illumination and sound experience created specifically for the Hatch Shell by Boston-based artist/composer Maria Finkelmeier of MF Dynamics. The projection-mapped visuals (and accompanying soundtrack) recall much of the Hatch Shell's musical history, with "geometric shapes of musical instruments as kaleidoscope pieces, human hands magically tapping, scratching, and creating beats on the surface itself, and colorful animations accentuating the Shell's Art Deco form." Visitors to the Hatch Shell can enjoy "Hatched" daily from 5 to 9 p.m. until Feb. 21, with the 15-minute show restarting every 20 minutes — at :00, :20, and :40 each hour.
Celebrate Dolly Parton's birthday at Earnest Drinks
Proof that the folks at Earnest Drinks, a coffee shop and bar inside Gracie's Ice Cream at Kendall Square, have a not-so-secret affinity for Dolly Parton? They've designed an entire menu to celebrate her birthday (Jan. 19). You'll find all her favorites available through Sunday: chicken and dumplings, biscuits and gravy, banana pudding, plus a couple multi-course dinners for two. And for drinks? There are a handful of cocktails, including a spicy rosemary toddy and the gin-centric Fullabaloo. Happy birthday, Dolly!
Enjoy interactive public art in the Seaport
From glowing see-saws to kaleidoscopic animal statues, the Seaport has become a regular provider of fun, eye-catching public art in recent years. The trend continues this week with "Mi Casa, Your Casa 2.0," an interactive piece comprised of 16 three-dimensional house-shaped frames, which give visitors a chance to both play and contemplate their temporary neighbors. The piece is on display through March 14, and is not far from the family-friendly Snowport, the Seaport's haven for winter activities.
Join Spoke Wine Bar's Cocktail Club
Somerville's Spoke Wine Bar recently introduced a brand new cocktail club, and while pickup isn't until Jan. 31, you'll need to place your order by Friday. Try a one-month membership ($70), which features three unique cocktails (each containing two portions), or a three-month membership ($180), also with three cocktails. The drinks are a mystery until pickup, but follow the club's Instagram page, @theactofdrinkingcocktails, for some ingredient hints. (Psst, a couple ingredients have already been revealed, including black cardamom and soy sauce.)
Stream "One Night in Miami"
Based on the 2013 play by the same name, "One Night in Miami" is a fictionalized account of a real-life meeting in a Miami hotel room between four Black American icons: Boxer Cassius Clay (Eli Goree, "Race"), civil rights leader Malcolm X (Kingsley Ben-Adir, "The OA"), NFL running back Jim Brown (Aldis Hodge, "City on a Hill"), and singer-songwriter Sam Cooke (Leslie Odom Jr., "Hamilton"). The film already made history earlier this year when it became the first movie to premiere at the Venice Film Festival directed by a Black woman (Regina King, "Watchmen"), and early reviews are almost universally positive, with many tapping it as an early Academy Awards contender. Featuring some of the strongest lead performances of the year, and word-perfect dialogue from screenwriter/playwright Kemp Powers ("Soul"), "One Night in Miami," now streaming on Amazon Prime, is a must-see.
Support Food for Free with a Vialé benefit lunch
Cambridge-based Food for Free provides community access to healthy food that might otherwise go to waste. On Saturday, help support this vital organization by ordering a special benefit lunch from Italian restaurant Vialé, available for $40. Each four-course takeout meal features a salad, plus your choice of protein (mushroom bolognese, leg of lamb, pork shoulder, or crispy duck), pasta (gnocchi, ricotta cavatelli, or pesto fettuccini alfredo), and dessert (tiramisu, ricotta fritters, or cannoli). Call 617-576-1900 or e-mail [email protected] to place your order for pickup on Saturday between 11:30 a.m. and 2:30 p.m.
Enjoy a double feature at the drive-in theater
It may not be drive-in movie season anymore, but with people looking for any excuse to get out of the house for a safe, socially distant activity, the Mendon Twin Drive-In is staying open. This weekend, get your '80s nostalgia fix with "Stand By Me" and "The Breakfast Club" on Friday and/or a double dose of the Caped Crusader with "Batman" and "The Dark Knight" on Saturday. Or you can scare yourself silly with "Scream" and "The Blair Witch Project" on Friday or "The Exorcist" and "The Shining" on Saturday. Tickets are available on the Mendon Drive-In website.
Get Boston.com's browser alerts:
Enable breaking news notifications straight to your internet browser.