Events
10 things to do in Boston this weekend
BosTen is your weekly guide to events and cool happenings in and around Boston.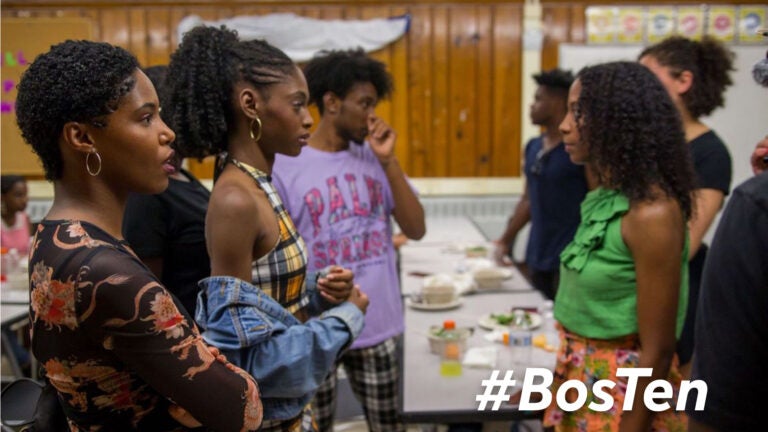 While Massachusetts businesses and cultural institutions remain partially open amid reopening rollbacks, many residents are continuing to stay home due to the coronavirus pandemic amid new orders and advisories from Gov. Charlie Baker and Boston Mayor Marty Walsh. With that in mind, this week's BosTen offers a mix of in-person and virtual things to do this weekend. Have an idea about what we should cover? Leave us a comment on this article or in the BosTen Facebook group, or email us at [email protected].
Enjoy movies old and new with the Black History Month Film Festival
In honor of Black History Month, The Boston Globe will spend the month of February screening films and holding filmmaker discussions that highlight the Black experience in America. Right now, you can stream three films: "Memoirs of a Black Girl," a Coming-of-Age feature drama that chronicles the lives of a diverse group of students at an underserved Roxbury high school; "Black Boys," a documentary that examines the dehumanization of Black boys and men through the lens of sports, education and criminal justice; and "Code Switching," a collection of personal stories spanning three generations of students who enrolled in a voluntary desegregation program. Each film can be viewed at your leisure, while virtual discussions with filmmakers and film subjects will be held throughout the month. For a full schedule of upcoming films and discussions as well as information on how to register, check out the Black History Month Film Festival website.
Join the Boston Black Restaurant Challenge
It goes without saying, but we should be showing love to Black-owned restaurants every month. Still, the Boston Black Restaurant Challenge, which launched on Monday in honor of Black History Month, can serve as a helpful reminder. First organized by State Rep. Chynah Tyler in 2018, the annual challenge encourages diners to order takeout or delivery from a Black-owned restaurant at least once per week in February (you can check out Tyler's kick-off video here). From 50Kitchen's hearty Louisiana gumbo to Jamaica Mi Hungry's tender jerk chicken, there's plenty of phenomenal food to be had at Black-owned restaurants across the Boston area. 
Sip gin drinks with the Boston.com cocktail club
Not to gin up controversy, but is there any better cocktail spirit than gin? If you'd like to up your mixology game beyond the simple gin and tonic, join Boston.com at 7 p.m. Thursday for its weekly cocktail club. Host Jackson Cannon (The Hawthorne, Eastern Standard) and guest Nick O'Connell (Post Road Liquors) will teach you their versions of two classic gin cocktails, the Tom Collins and the Negroni. Attending the Zoom is free, and you can purchase a kit with all the ingredients you'll need here. Proceeds from the event benefit Off Their Plate.
Learn more about the history of Black utopian thought and art with the Trustees
As part of Black History Month, the Trustees will hold a discussion this Thursday with scholar Alx Zamalin, who will discuss the development of Black utopian thought in America from its 19th-century origins to its representation in contemporary artworks at the deCordova Sculpture Park and Museum today. Register for the free lunchtime talk on the Trustees website.
Catch "Up" at the Lexington drive-in movie theater
Don't have a Disney+ subscription but want to treat the family to a Pixar movie? Head to Revolution Hall in Lexington to enjoy "Up" at its pop-up drive-in movie theater on Friday at 4:45 p.m. Make it a double feature and stick around for the much less family-friendly "Super Troopers" at 7:00 p.m., or head over to Waltham for a 7:30 p.m. showing of "Star Wars Ep.4: A New Hope."
Get your bagel fix with Be Okay Bagels
With a name like Be Okay Bagels, how could Jamaica Plain's new pop-up bagel shop not make us smile? Baker Sasha Moraski recently launched Be Okay as a passion project, offering freshly made bagels on Saturdays and Sundays that are available for preorder online. Choose from classics like everything or poppyseed, or opt for more specialty flavors like rosemary sea salt and jalapeño cheddar, along with freshly whipped, custom-flavored cream cheeses. 
Witness the immersion of Western and traditional African music with "Tunde"
On Saturday, Global Arts Live will screen the film "Tunde," a documentary about world-renowned composer, producer, cellist, and kora virtuoso Tunde Jegede, one of the few musicians to have been immersed in both Western and African musical traditions, having studied both cello in London and kora in The Gambia from a very young age. Cambridge-based filmmaker Ron Wyman will hold a Q&A after a free screening of his film, which will stream free on the Global Arts Facebook and YouTube pages on Saturday at 8 p.m.
Bundle up for Après Ski Sundays at FRANK
At Frank McClelland's Beverly restaurant, FRANK, Sundays are for channeling your inner après ski champion. From 2 p.m. to 5 p.m., diners can bundle up for a spot on the spacious patio, where a menu fit for a Swiss chalet is on hand: think raclette fondue, duck consommé, and grilled cheese, spiked hot chocolate, and mulled cider. Reservations can be made here.
Witness the four-legged fun at Victory Point's Puppy Parade
The Puppy Bowl isn't the only canine attraction you can enjoy on Super Bowl Sunday. Starting at noon on Sunday, Victory Point in Quincy will hold its second annual puppy parade along Marina Bay, raising money for the Quincy Animal Shelter in the process. The parade will begin at 1 p.m., followed by a screening of the 2021 Puppy Bowl on TV at 2 p.m. There will be food and drink specials for both four-legged and two-legged guests, and the "Puppy of the Year" winner will have a watering station on the Marina Bay boardwalk named after them this summer.
Stack your Super Bowl Sunday with snacks
Whether you're rooting for the Chiefs or the Buccaneers or Brady, football fans have a treasure of takeout options that can be ordered for prime Super Bowl Sunday viewing at home. Check out our guide to local restaurants offering Super Bowl specials this weekend, from wing platters at M&M BBQ to a barbecue pit boss platter at Olde Magoun's Saloon.
Get Boston.com's browser alerts:
Enable breaking news notifications straight to your internet browser.