Events
10 things to do in Boston this Valentine's Day weekend
BosTen is your weekly guide to events and cool happenings in and around Boston.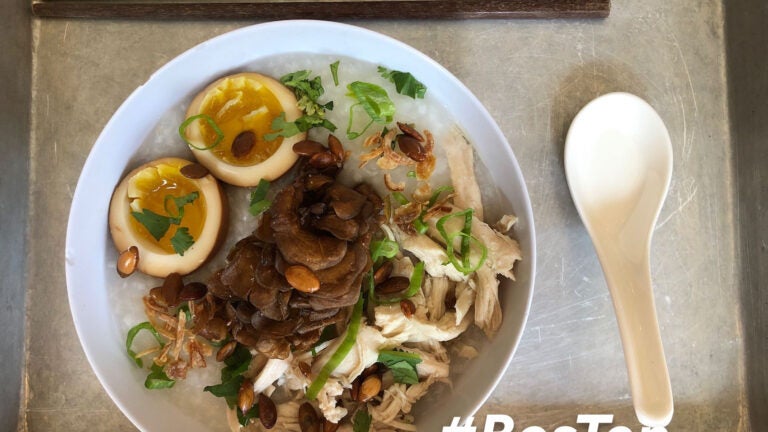 While Massachusetts businesses and cultural institutions remain partially open amid reopening rollbacks, many residents are continuing to stay home due to the coronavirus pandemic amid new orders and advisories from Gov. Charlie Baker and Boston Mayor Marty Walsh. With that in mind, this week's BosTen offers a mix of in-person and virtual things to do this weekend. Have an idea about what we should cover? Leave us a comment on this article or in the BosTen Facebook group, or email us at [email protected].
Join GBH as they spotlight a moment in Black history with "Voice of Freedom"
This Thursday, GBH will host a lunchtime chat about Black contralto Marian Anderson and her historic 1939 performance in front of the Lincoln Memorial on Easter Sunday. "American Experience" Executive Producer Cameo George and Duke University historian Adriane Lentz-Smith will join host Sue O'Connell as they discuss Anderson's legacy, which is the subject of GBH's upcoming film "Voice of Freedom." The free talk will stream live at noon on GBH's Facebook and YouTube channels.
Get weird with Boston SciFi Film Festival
Since its start at the dearly departed Orson Welles Cinema, the Boston SciFi Film Festival has reigned supreme as the longest-running genre film festival in America. Despite the pandemic, the fest will continue virtually this year, with dozens of features, short film programs, and film panels to choose from through Monday. Highlights include a panel on Afrofuturism in film (and where it will go after the success of "Black Panther"), and the long-running 24-hour movie marathon, which starts on Sunday at noon. Tickets and information are available on the Boston SciFi Film Festival website.
Learn about Lincoln and post-Civil War abolition with the Mass. Historical Society
As part of Black History Month, the Massachusetts Historical Society will take a closer look at Abraham Lincoln, a man revered for his role in the Civil War but also criticized for his conservative stances on abolition and race. This Thursday at 5:30 p.m., historian James Oakes will be joined by Randall Kennedy of Harvard Law School to examine Lincoln's legacy and delve deeper into the careful strategy he and his political allies used to stem the tide of slavery in America. You can register for this free event on the Mass. Historical Society's website.
Sip bourbon drinks with the Boston.com cocktail club
We're still months away from the Kentucky Derby, but it's never a bad time for some bourbon cocktails. If you're a fan of the Kentucky spirit, join Boston.com at 7 p.m. Thursday for its weekly cocktail club. Host Jackson Cannon (The Hawthorne, Eastern Standard) and guest Ashley Sullivan (Salt) will teach you their versions of two classic bourbon cocktails, the Whiskey Smash and the Brown Derby. Attending the Zoom is free, and you can purchase a kit with all the ingredients you'll need here. Proceeds from the event benefit Off Their Plate.
Bundle up with Baramor's Winter Warmer Days + Nights
It may be frigid out, but Baramor thinks you can handle it. The Newton restaurant kicks off its Winter Warmer Days + Nights program on Saturday, offering a socially-distanced patio experience that aims to curb your cabin fever. For $15, diners will receive a reserved table and a thermos containing a hot drink (think hot cocoa or cider, served with or without alcohol). The patio menu offers poutine, warm cookies, and s'mores, and the program will run every Saturday from noon to 6 p.m. through Feb. 27. Reservations can be made here. 
Celebrate Lunar New Year with dumplings, congee, and more
Lunar New Year — and the Year of the Ox — begins on Friday, and there are plenty of ways to celebrate through food this weekend. You could start by ordering dumplings from one of these restaurants, or by picking up a special congee kit from Congee & Me, available on Mei Mei's website through Saturday. You could go all out and order a Lunar New Year feast for four from Encore's Red 8 ($188, available through Feb. 21), an eye-popping spread that includes dishes like fish maw soup, crispy chicken, steamed whole fish, and red bean jelly cakes. In search of something a little sweeter? Maca Boston in Somerville is selling Lunar New Year macarons — find them under "characters" when you order online. 
Catch Comfort Kitchen at Central Square BID's Starlight Square
If you haven't yet paid a visit to Starlight Square's Popportunity winter market, this weekend would be a great time to start. Comfort Kitchen, an upcoming restaurant that is currently functioning as a pop-up, will post up at Starlight Square on Saturdays and Sundays from noon to 4 p.m. every weekend through the end of March. The concept focuses on food of the African diaspora — think seared snapper with Jollof couscous, or crawfish cakes with blue corn grits. 
Celebrate the Lunar New Year with the MFA
Though the Museum of Fine Arts Boston has reopened its doors, the museum is still providing plenty of online content, including this free celebration of the Lunar New Year on Friday evening. Tune in at 7 p.m. to learn more about the year Year of the Ox, watch a Chinese lion dance and demonstration, and explore the museum's "Weng Family Collection of Chinese Painting: Family and Friends" with curator Nancy Berliner. Tune in to the celebration for free via the MFA's Facebook or YouTube pages.
Have a Lady & the Tramp moment for Valentine's Day
There are scores of local restaurants offering romantic takeout meals for Valentine's Day this Sunday, but slurping strands of spaghetti over a plate of meatballs? That's true love. State Park in Cambridge is closed, but the restaurant is offering its annual Lady & the Tramp dinner for two ($85) through Mamaleh's, available Thursday through Sunday. You'll receive a Caesar salad, breadsticks, spaghetti and meatballs, molten chocolate cake, and a bottle of Chianti — plus candles and a checkered tablecloth, so you can really get into character.
Watch beautiful butterflies flutter by with your loved ones
Remember having butterflies in your stomach before a big first date with your loved one? Celebrate that feeling together at The Butterfly Palace in Westford, which reopens for the season on Valentine's Day. Stroll through the 3,100-square-foot garden and see if you can spot all of the dozens of butterfly species housed inside. For more info on ticket prices and operating hours, check out the Butterfly Palace website.
Get Boston.com's browser alerts:
Enable breaking news notifications straight to your internet browser.