Events
10 things to do in Boston this weekend
BosTen is your weekly guide to events and cool happenings in and around Boston.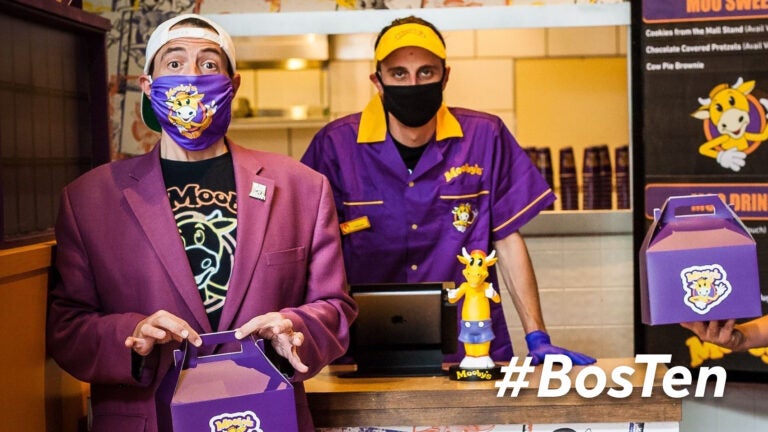 While more and more Massachusetts businesses and cultural institutions are reopening as COVID-19 vaccination efforts continue, many residents are still staying home due to the coronavirus pandemic. With that in mind, this week's BosTen offers a mix of in-person and virtual things to do this weekend. Have an idea about what we should cover? Leave us a comment on this article or in the BosTen Facebook group, or email us at [email protected].
Snag a chicken sandwich at fictional burger chain Mooby's
If you've seen a Kevin Smith film, you've likely come across Mooby's. The fictional burger chain and its golden calf mascot pops up in "Dogma," "Jay and Silent Bob Strike Back," and "Clerks II" — and now, it's making an appearance at Boston's House of Blues. From April 8 to April 16, visitors can purchase a timed ticket to the interactive experience, complete with a Mooby's Meal that includes one main dish and a side, with vegan options available. The pop-up has also partnered with Jack's Abby to create a special beer release, and additional items — desserts, merchandise, and more — can be purchased on site. Purchase your ticket here. 
Stream "This Is a Robbery" on Netflix
While the story of the Isabella Stewart Gardner Museum heist is well-known in the Boston area, the theft will soon become familiar to a worldwide audience thanks to "This Is a Robbery: The World's Biggest Art Heist," a new Netflix docuseries that debuted earlier this week on the streaming platform. Directed by Colin Barnicle, "This Is a Robbery" is an episodic look at the entire saga, jumping back and forth through time to offer up theories, identify suspects, and even show up at the courthouse as one of the heist's suspects walks out of jail more than a decade earlier than expected. Long-time Globe readers will run into familiar names and faces while watching: Executive produced by Boston Globe Media Partners CEO Linda Pizzuti Henry, "This Is a Robbery" features interviews with Globe columnist Kevin Cullen, Globe reporter Shelley Murphy, and former Globe Spotlight reporter Stephen Kurkjian, who wrote an in-depth book on the heist.
Order Cambodian cuisine from Haley House Bakery Café
In celebration of Cambodian New Year, Roxbury's Haley House Bakery Café is turning the kitchen over to head baker Sokly Touch for the month of April. On Thursdays through Saturdays from 11 a.m. to 4 p.m., guests can order Touch's banh xeo (turmeric rice flour crêpe filled with ground chicken, shrimp, and mung bean sprouts), noum banh januk (mung bean-filled rice balls soaked in coconut and ginger syrup), and somlar sach mon (chicken soup seasoned with lemongrass, galangal, and makrut lime). Throw in a slice of pie for a post-meal treat. 
Sip Cognac drinks with the Boston.com cocktail club
The Boston.com cocktail club will say bonjour to everyone's favorite French brandy this week, mixing up a pair of beverages featuring Cognac. Swing by at 7 p.m. on Thursday to watch host Jackson Cannon (The Hawthorne, Eastern Standard) and guest Sabrina Kershaw (Lone Star Taco Bar) teach you how to make two cocktails that use Cognac: a Sidecar and a French Quarter Old Fashioned. Attending the Zoom is free, and you can purchase a kit with all the ingredients you'll need here. Proceeds from the event benefit Off Their Plate.
Travel back in time to spend an evening with Walt Whitman
This Friday, take a stroll back in time with History At Play, as actor Stephen Collins takes on the persona of poet Walt Whitman. The virtual performance will take viewers back to the 1800s, joining Whitman as a 70-year-old man reminiscing about formative moments of his life, including what inspired him to write "Leaves of Grass." Tickets for the 7:30 p.m. show can be purchased via Eventbrite.
Celebrate spring at Bully Boy's outdoor cocktail garden
With sunnier skies emerging over the next few days, Roxbury's Bully Boy Distillers will reopen its outdoor cocktail garden on Friday with a new spring menu of both cocktails and mocktails. Settle into the colorful patio with a Lady Whistledown, featuring gin, strawberry, mint, lime, and soda, or a pitcher of Aloha Summer! if you're visiting with a group. Old fashioned flights and spirit tastings will be available, and if you're not in the mood for an alcoholic beverage, ask for a nitro cold brew on tap. 
Visit a new exhibit (and some old favorites) at the Museum of Science
During pandemic-mandated downtime, the Museum of Science remained hard at work designing their newest permanent exhibit, Engineering Design Workshop. At the now-open exhibit, guests can get creative with hands-on engineering tasks and state-of-the-art digital analysis provided by exhibit partner MathWorks' MATLAB technology. The museum has also reopened its Theater of Electricity for the first time since March 2020, with guests once again able to learn about the mysteries of lightning from the world's largest air-insulated Van De Graaff generator. Info on tickets and timed entry for the weekend can be found on the museum's website.
Try a throwback flavor at J.P. Licks
Local ice cream chain J.P. Licks is commemorating its 40th birthday this year with popular flavors from years past and a line of ice cream cakes. And it'd be rude not to help them celebrate, right? The move: Order a scoop (or two!) of One Sweet World Series (coffee ice cream with Heath Bar chunks and a caramel swirl), which the shop first debuted in 2004 when the Red Sox became World Series champions. If that particular throwback doesn't do it for you, keep an eye out for other ice cream flavors making a return throughout the year.
Learn about an NYC serial killer with the Boston Public Library
This Saturday, the Boston Public Library will be taking a literary trip to New York City with author Elon Green's new book, "Last Call: A True Story of Love, Lust, and Murder in Queer New York." The book tells the true story of an NYC serial killer who targeted gay victims at the height of the AIDS epidemic in the '80s and early '90s. Green will be discussing the book virtually with gay rights activist Michael Bronski at 2 p.m. You can register for the free event on the BPL website.
Take your last chance to see Yoko Ono's exhibit at the Addison Gallery of American Art
Yoko Ono may best be known to the general public by her late husband John Lennon, but the musician/artist/activist was active long before she met the former Beatle, and has continued to produce instructive, participatory art for decades. This Sunday marks the last day you can see her exhibit, "Mend Piece," at the Addison Gallery of American Art in Andover. Visitors will also be able to check out the opening of "Seeing Things in Things," a new exhibit from Mel Kendrick featuring 60 works of the Boston-born sculptor. While admission the museum is free, you must register in advance for a timed entry slot on the Addison's website.