Events
10 things to do in Boston this weekend
BosTen is your weekly guide to events and cool happenings in and around Boston.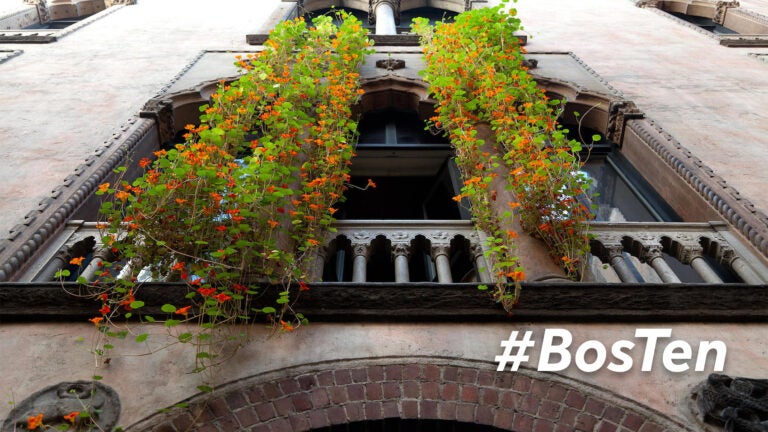 While more and more Massachusetts businesses and cultural institutions are reopening as COVID-19 vaccination efforts continue, many residents are still staying home due to the coronavirus pandemic. With that in mind, this week's BosTen offers a mix of in-person and virtual things to do this weekend. Have an idea about what we should cover? Leave us a comment on this article or in the BosTen Facebook group, or email us at [email protected].
Gaze at the hanging nasturtiums at the Isabella Stewart Gardner Museum
A new Netflix docuseries isn't the only thing that has people buzzing about The Isabella Stewart Gardner Museum (ISGM) right now. The museum also recently debuted its hanging nasturtiums, beautiful orange blossoms that have cascaded down from the third-floor balcony almost every year since the early 1900s in honor of the arrival of spring, Easter, and Gardner's birthday on April 14. Though the flowers were originally set to be removed on April 12, the museum has extended the view time through the end of the weekend because the nasturtiums remain in full bloom. Fittingly, The Gardner's Café G has also come out of hibernation just in time for the Hanging Nasturtiums and will be serving a Nasturtium Pesto Pasta and a Nasturtium Sparkler cocktail, made from sparkling wine with blood orange. Tickets for Saturday and Sunday are already sold out, but you can still purchase time entry passes for Thursday and Friday on the Gardner website.
Join some Boss Ladies for lunch
This Thursday, the Big Sister Association of Greater Boston will celebrate Boston Boss Ladies who have shattered the pandemic glass ceiling with its annual luncheon starting at 12:30. Register for the free Zoom seminar to hear WBZ-TV's Lisa Hughes chat with panelists like restaurateur Joanne Chang (Flour, Myers+Chang), Salem Mayor Kimberly Driscoll, Camp Harbor View Executive Director Lisa Fortenberry, and Liberty Mutual Foundation President Melissa MacDonnell about how they and other women are paving the way for the next generation of leadership.
Learn about the history of BBQ with Boston Book Festival
Want to learn more about BBQ? Adrian Miller is your guy. On Thursday, the James Beard Award winner and consultant on Netflix series "Chef's Table BBQ" will join the Boston Book Festival's Authors in Your Living Room series to discuss his book "Black Smoke: African Americans and the United States of Barbecue," which details stories that show the immeasurable impact Black Americans have had on the beloved American cuisine. Tickets for the virtual event, which kicks off at 6:30 p.m. on Thursday, can be purchased on the Boston Book Fest website.
Sip Cognac drinks with the Boston.com cocktail club
The Boston.com cocktail club has been globetrotting across Europe in recent weeks, highlighting drinks made with Irish and Scotch Whisky as well as the French brandy Cognac. This Thursday at 7 p.m., it's off to Southern Spain, as host Jackson Cannon (The Hawthorne, Eastern Standard) and guest Katie Hubbard (Taberna de Haro, Straight Law Bar) teach you how to make two cocktails using the under-appreciated and oft-misunderstood spirit Sherry: The Bamboo and a Sherry Collins. Attending the Zoom is free, and you can purchase a kit with all the ingredients you'll need here. Proceeds from the event benefit Off Their Plate.
Make some dinosaur friends at the Stone Zoo
It's about to get prehistoric in Stoneham, when the Stone Zoo debuts a new dinosaur adventure. Starting Friday, you can cower in the shadow of a 42-foot Tyrannosaurus Rex, admire the 20-foot plant-eating Plateosaurus, and poke around the undergrowth to discover more animatronic dinos. Admission to "T. Rex Adventure" is included when purchasing a regular ticket at the Stone Zoo box office.
Attend a virtual whiskey tasting (and barbecue dinner) with The Smoke Shop
Pulled pork, sweet potato mash, cornbread, and whiskey — sounds like a pretty solid way to spend a Friday night. On April 15 at 7 p.m., The Smoke Shop will host Springing Ahead & Drinking West, a virtual event that takes attendees through a tasting of Wyoming Whiskey as they enjoy a plate of specialties from the barbecue destination. Each ticket ($65) includes a cocktail kit to make your own whiskey smash, a selection of three whiskeys from Wyoming Whiskey, and a Pit Boss BBQ Plate, which comes in two options: Ribs, pulled pork, and burnt ends, or wings, pulled chicken, and brisket (both plates also include sweet potato mash, cucumber salad, and cornbread). Select your pickup location here.
Check out a couple of reopenings
Beer or wine? Take your pick: This weekend, both a beer garden and winery are reopening for the season. For beer, head to Exhibit 'A' Brewing in Framingham, where the brewery will hold a grand reopening on Friday from 4 to 9 p.m. Fans will find award-winning favorites, plus Uh Huh Honey, a new West Coast-style honey IPA, whose proceeds will benefit the Pink Boots Society's educational scholarships for Massachusetts women in brewing. If it's wine you're after, Debevino Winery in Walpole reopens its outdoor patio on Saturday with tastings, live music, and new charcuterie options. Stop by from noon to 6 p.m. or on Sunday from 1 to 6 p.m.
Stream "Sam and Mattie Make a Zombie Movie"
Back in 2014, two best friends from Rhode Island with Down Syndrome named Sam Suchmann and Mattie Zufelt set out to make the kickass movie of their dreams: A zombie/spring break genre mashup starring the two of them as the action heroes. Thanks in part to high-profile collaborators like director Peter Farrelly ("Dumb & Dumber," "Green Book") and "Jersey Shore" star Pauly D, "Spring Break Zombie Massacre" became a reality in 2016, with the duo enjoying a red carpet premiere in Providence, positive reviews from critics, and new fans including Conan O'Brien. But the story didn't end there, and this month, "Sam and Mattie Make a Zombie Movie," a behind-the-scenes documentary about the making of "Zombie Break Zombie Massacre" began streaming on Apple TV+. For those who aren't Apple TV+ subscribers, the film is also available to rent on numerous other platforms, including Vimeo, iTunes, and Google Play.
Learn how to make the perfect pizza with Eataly Boston
Spend Saturday afternoon perfecting your dough-tossing skills with Eataly Boston's virtual pizza alla pala and beer class from 4 p.m. to 5 p.m. During the class, Eataly's head baker will walk each attendee through the steps of making pizza alla pala, a Roman-style pie with a thick crust and fluffy interior. Each kit ($60) comes with all the ingredients necessary to make your own pizza, plus a four-pack of two different beers to complement the main meal. Kits can be ordered here. 
Join The Koji Club in conversation with a sake pro
If you're a newcomer to the world of sake, dipping your toe in can seem a little intimidating. One way to start? Learn from an expert, like Miho Imada, president and brewer of Fukucho, who will lead attendees through Fukucho's newest sake release. Hosted by Boston-based The Koji Club and joined by Monica Samuels, vice president of sake and spirits at Vine Connection, the discussion will take place Saturday at 8 p.m. on IG Live. To taste along, purchase Fukucho sake through Chestnut Hill's OddFellows Ice Cream Co. (just take a look under "The Koji Club Pop-Up" tab).
Get Boston.com's browser alerts:
Enable breaking news notifications straight to your internet browser.