Over 70 giant animatronic dinosaurs will return to Gillette Stadium this summer
🦖🦕🦖🦕🦖🦕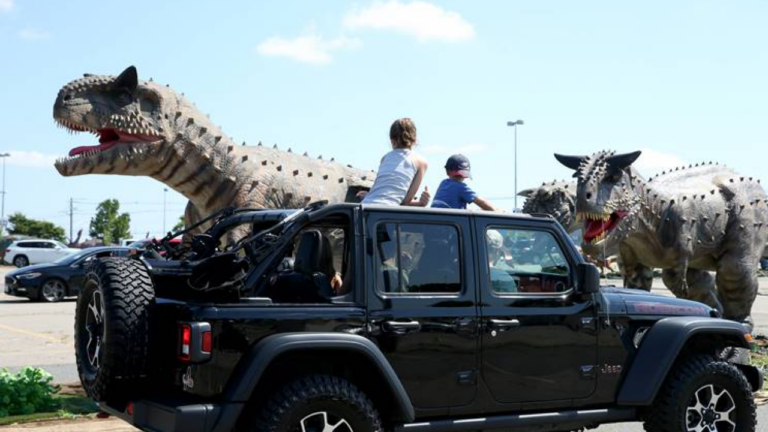 If you want to live your own (less deadly) "Jurassic Park" fantasy, you should, uh… find your way to Foxborough this summer.
Jurassic Quest, a drive-through dinosaur exhibit, will return to Gillette Stadium from June 18 to July 11. It follows a visit last September, when demand added two weeks to the planned 10-day run.
It will feature one big pile of dinos: Visitors will encounter over 70 huge roaring animatronics, like a megalodon and a spinosaurus.
"Jurassic Quest worked in collaboration with leading paleontologists to ensure each dinosaur was painstakingly replicated in every detail, from coloration to teeth size, to textured skin, fur or feathers, drawing on the latest research about how we understand dinosaurs and ancient giants of the sea looked and moved," a release said.
This year, the exhibit is offering a new free audio tour hosted by Safari Sarah, Dino Dustin, Captain Caleb, Prehistoric Nick, and Park Ranger Marty.
Tickets go for $49 per vehicle with eight people or fewer. Jurassic Quest will be open every day except Monday and Tuesday.
The event travels around the country—recent drive-throughs took place in St. Louis, Tucson, San Diego, and Austin. Over 2 million people have attended since it starting touring in June.
Loading...