Events
10 things to do in Boston this weekend
BosTen is your weekly guide to events and cool happenings in and around Boston.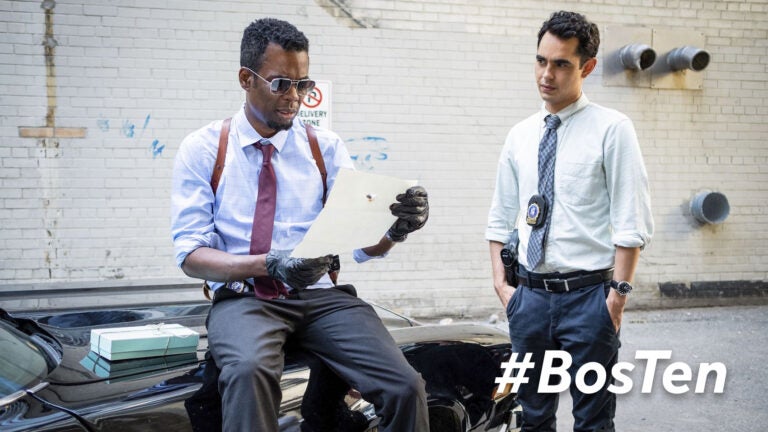 While more and more Massachusetts businesses and cultural institutions are reopening as COVID-19 vaccination efforts continue, many residents are still staying home due to the coronavirus pandemic. With that in mind, this week's BosTen offers a mix of in-person and virtual things to do this weekend. Have an idea about what we should cover? Leave us a comment on this article or in the BosTen Facebook group, or email us at [email protected].
"Did you eat?" In many Asian communities, that question communicates far more than just a desire to feed people. On Thursday at 7 p.m., catch Mei Mei's Irene Li participating in a James Beard Foundation panel titled "Did You Eat?": Unspoken Ways Love Shows Up in Asian Communities," where she'll join Moonlynn Tsai and Yin Chang (Heart of Dinner) alongside Ben Hon and Arnold Byun (With Warm Welcome). The panel will discuss the significance of Asian food and the sentiment behind many beloved dishes. Register here.
Wanna get loose with the Goose? This Thursday, the Boston.com cocktail club is mixing beverages using one of America's favorite top-shelf vodkas. Host Jackson Cannon (Eastern Standard, The Hawthorne) and guest bartender Joe McGuirk ([email protected]) will be mixing up two of their favorite vodka cocktails, the Palmyra and the Gypsy Queen. Attending the Zoom is free, and you can purchase a kit with all the ingredients you'll need here. Proceeds from the event benefit Off Their Plate.
The Fenway food hall emerges from hibernation on Thursday, and to celebrate, it's hosting a string of events throughout the weekend. Stop by on opening night to hear sounds from the Summer Street Brass Band, or visit Friday and Saturday for an oyster shucking demonstration and pop-up from Mere Point Oysters, along with live DJs and a livestream of the Red Sox game. On Sunday, the Boston Music Project will showcase live jazz and story time, and visitors will be able to check out the new Time Out Tiki Bar.
When Comfort Kitchen opens its first brick and mortar in Dorchester in the not-so-distant future, guests will be able to dine on global fare that celebrates ingredients and flavors of the African diaspora. Until then, you can check out Comfort Kitchen's pop-up at Little Dipper in Jamaica Plain, held Thursdays through Sundays from 5 p.m. to 8 p.m., where you'll find dishes like charred spiced chicken, beef kafta, and za'atar brown butter trout. Pickup, delivery, and patio seating is available.
Since 1983, the Mass Audubon Society has raised money for its wildlife sanctuaries and programming with a 24-hour birdwatching contest. As the organization celebrates its 125th anniversary, the annual competition is back, with multiple competitive teams attempting to identify the greatest number of species starting this Friday at 6 p.m. If you want to get in on some of the action but aren't a seasoned birder, the organization's website has all sorts of tips on how to spot the most number of unique species and directions to some of its sanctuaries where you can spot our avian friends.
While 2020 was definitely a boom year for drive-in theaters thanks to the pandemic, 2021 still has plenty of opportunities to enjoy both new and classic films on an outdoor screen. This Friday and Saturday, Mendon Twin Drive-In is pairing the 2003 modern horror classic "Saw" with "Spiral: From the Book of Saw," the newest film in the series starring Chris Rock and Samuel L. Jackson. Tickets are available on the Mendon Twin website.
One downtown hotel sees your dive bars and beer gardens and raises you a very luxe champagne lounge. On Saturday, W Boston will debut its new secret garden, a champagne-focused hideaway open to both hotel guests and locals. On the menu: Veuve Clicquot champagne, including Yellow Label, Rosé, and Rich, plus dishes like lobster sliders and gourmet fries. Discounted food and drink will be available during "yellow hour," the garden's version of happy hour, while VIP tables will offer a four-course menu with Veuve pairings.
Do your part to encourage youth and teen artists this Saturday at 1:30 p.m. by heading to Starlight Square in Cambridge for Future Leaders Read, an afternoon of poetry, hip-hop, rap, and song from young authors. Hosted by The Cambridge Poetry MashUp, the event will be headlined by Lizzle4, a community leader and recording artist in Cambridge.
This Saturday, world-renowned primatologist Jane Goodall will host a virtual discussion with author Peter Wohlleben for his new book, "The Heartbeat of Trees: Embracing Our Ancient Bond with Forests and Nature." Presented by the Harvard Book Store, the event begins at 1 p.m., and is either pay-what-you-can or $32 if you want a copy of the book. Registration for the event is now open on the Harvard Book Store website.
If you're fully vaccinated and ready to party, head to Rowes Wharf this Sunday for a "Vaxed and Relaxed" cruise, which lets revelers enjoy maskless revelry on the waters of Boston Harbor with proof of vaccination. The 90-minute cruises launch every Sunday now through September, and feature a DJ, entertainment from drag queens, and a hosted bar stocked with booze and snacks.
Newsletter Signup
Stay up to date on all the latest news from Boston.com