Events
10 things to do in Boston this Memorial Day weekend
BosTen is your weekly guide to events and cool happenings in and around Boston.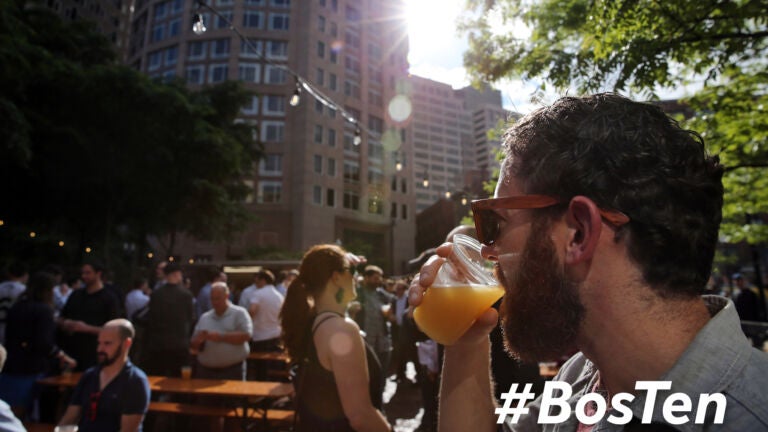 While more and more Massachusetts businesses and cultural institutions are reopening as COVID-19 vaccination efforts continue, many residents are still staying home due to the coronavirus pandemic. With that in mind, this week's BosTen offers a mix of in-person and virtual things to do this weekend. Have an idea about what we should cover? Leave us a comment on this article or in the BosTen Facebook group, or email us at [email protected].
Memorial Day Weekend is upon us, and with it, a chance to break out your grill for the season. To help get things started, some local restaurants have put together their own Memorial Day Weekend kits. Four different grill kits are available at Sweet Cheeks Q in the Fenway, featuring dishes like pulled pork, potato salad, buttermilk biscuits, beer can chicken, Texas-style hot links, and more. The Smoke Shop BBQ is offering a weekend barbecue box, stuffed with smoked chicken, pulled pork, cornbread, coleslaw, butter cake, and other barbecue delights, while Myers + Chang is selling a picnic box full of chicken wings, edamame dip, spicy green papaya slaw, pork spare ribs, Chinese mustard potato salad, and Oreo cookies. Kits will sell out, so be sure to order as soon as possible.
Think it's high time for a Mai Tai? This Thursday, the Boston.com cocktail club is mixing beverages using Santa Teresa Rum, a Venezuelan spirit with a history dating back more than 200 years. Host Jackson Cannon (Eastern Standard, The Hawthorne) and guest bartender Palmer Matthews (Pearl and Lime) will be mixing up two of their favorite rum cocktails, the Mai Tai and the Rum Old Fashioned. Attending the Zoom is free, and you can purchase a kit with all the ingredients you'll need here. Proceeds from the event benefit Off Their Plate.
It's been a year since the murder of George Floyd in Minnesota on May 25. His death sparked widespread protests and a nationwide reckoning with institutional racism, as both individuals and organizations sought to correct systemic injustices. This Thursday at 7:30 p.m., GBH, The Boston Globe, NAACP Boston will host a free Zoom panel discussion about what has actually changed since Floyd's death and what still needs to be done. Advance registration via the GBH website is required.
Massachusetts residents are becoming fully vaccinated at just the right time when it comes to moviegoing. The summer movie season, which traditionally starts on Memorial Day weekend, is chock-full of films that were originally set to be released in 2020. Up first is "A Quiet Place Part II," a sequel to John Krasinski's thriller about a family living in a post-apocalyptic America dominated by bloodthirsty aliens that are hypersensitive to sound. Minus an early cameo, the Newton native stays behind the camera as director for this one, but returning cast members Noah Jupe ("Ford v Ferrari") Millicent Simonds ("Wonderstruck"), Krasinski's wife Emily Blunt ("Edge of Tomorrow"), and a new character played by Cillian Murphy ("Batman Begins") are still fighting for their lives. While the sequel doesn't do much to expand or innovate on the 2018 original, it delivers enough thrills in a tight 90 minutes to be worth a trip to the theater. If you're still avoiding indoor theaters, the Mendon Twin Drive-In is pairing "A Quiet Place Part II" with zombie flick "World War Z," while those seeking family-friendly fare can check out Disney's new live-action "Cruella" and the animated "Raya and the Last Dragon."
There's been a whirlwind of new Seaport businesses announced recently, including a fast casual Indian restaurant and an upscale mini golf spot, but you won't have to wait long for the Seaport's newest dessert hub. Pop-up love&flour makes its debut at The Current on Saturday, bringing fresh macarons, cakes, and cupcakes to 100 Seaport Blvd. The Salem, N.H.-based business, owned by baker Jaime Elizabeth, will also offer cake accessories for anyone looking to take their own home creations up a notch. Enjoy a macaron or two at the bakery's indoor and outdoor bistro tables Mondays through Fridays from 11 a.m. to 7 p.m. and Saturdays and Sundays from 12 p.m. to 6 p.m.
Starting this Friday, Brookline's Riverway Park will play host to a new outdoor sculpture exhibit from Studios Without Walls. "The Light Gets In" features 17 outdoor sculptures, and its self-guided tour allows visitors to go on an artistic scavenger hunt of sorts.
The weather is looking a little iffy for the long weekend, but if the rain stays away, why not stop by Trillium Garden on the Greenway? The brewery officially reopened its outdoor haven late last week and will have plenty of beverages new and old on tap. Note: According to its website, Trillium will limit diners to 90 minutes until the state's regulations end on Friday night, but it's unclear what limits will be in place, if any, for the rest of the weekend.
More than a year after shutting its doors, the Coolidge Corner Theatre is back with a curated list of 21 films, several of which are presented in 35mm or 4k projections. This weekend, you can catch Ridley Scott's sci-fi classic "Blade Runner," influential cyberpunk anime "Akira," or Stanley Kubrick's landmark "2001: A Space Odyssey." While some screenings are sold out, tickets for all three films are currently still available.
Jack's Abby in Framingham already has a stellar outdoor beer garden, but they've brought their garden vibes closer to the city with a new outpost at Pazza on Porter in Eastie. Starting on Saturday at 11 a.m., the beer garden will offer a selection of Jack's Abby beers on the Italian restaurant's Amalfi Coast-inspired patio, along with buffalo wings, fried calamari, arancini, and cannolis.
Filipino-American restaurant Tanám has made plenty of pivots during the pandemic. Their latest: Tanám Express, which launches at Tanám's Bow Market home in Somerville on Friday. Operating Fridays and Saturdays from 11 a.m. to 2 p.m. and 5 p.m. to 9 p.m., and Sundays from 11 a.m. to 2 p.m., Tanám Express offers grab-and-go meals like kare-kare brisket with coconut milk peanut gravy and Japanese eggplant, and laing — spicy coconut creamed taro leaves with seared tofu and rice. Take it to go, or reserve a spot in Bow Market's courtyard to enjoy your brisket or tofu under the sun.
Newsletter Signup
Stay up to date on all the latest news from Boston.com