Events
10 things to do in Boston this 4th of July weekend
BosTen is your weekly guide to events and cool happenings in and around Boston.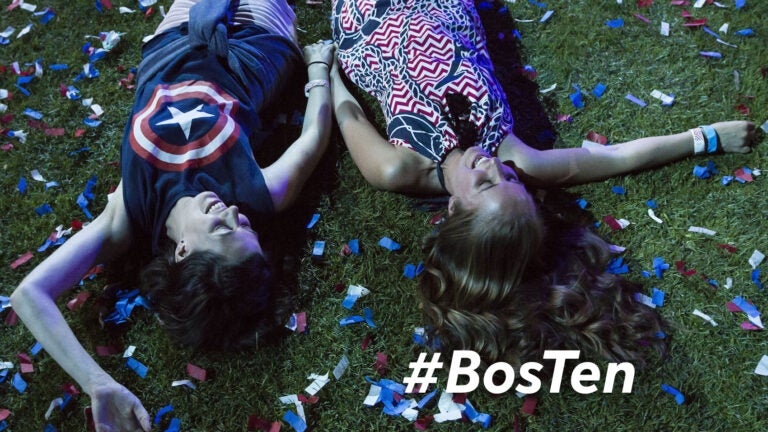 While more and more Massachusetts businesses and cultural institutions are reopening as COVID-19 vaccination efforts continue, many residents are still staying home due to the coronavirus pandemic. With that in mind, this week's BosTen offers a mix of in-person and virtual things to do this weekend. Have an idea about what we should cover? Leave us a comment on this article or in the BosTen Facebook group, or email us at [email protected].
There's no need to limit Fourth of July celebrations to just July 4, which is why Boston Harborfest is celebrating our nation's history with four days of activities from July 1-4. Step back in time with reenactments from the 2nd Massachusetts Regiment, take historic tours along the Freedom Trail, and catch fireworks along the shores of Boston Harbor at 9:15 on July 3. Finish your weekend off with a Sunday morning July 4 parade, which includes the traditional reading of the Declaration of Independence from the balcony of the Old State House.
Boston Harbor Hotel's annual Summer in the City live music series is back for a 22nd year, providing Bostonians and visitors alike with complimentary live music at Rowes Wharf three nights a week. This Thursday, settle into an Adirondack chair from 6 p.m. to 10 p.m. for the music of Jeff Pitchell, who will be performing on the Blues Barge. If Thursday isn't in the cards, check out a full schedule on the Boston Harbor Hotel website.
Gear up for three days of nerd culture at Northeast ComicCon, which kicks off this Friday at the Boxboro Regency Hotel & Conference Center. Spend your day browsing booths full of collectibles, sip beer and sing Celebrity Fan-Tasy Karaoke, and nab autographs and photos from some of your favorite artists, actors, and other celebs. Tickets start at $27.50, and are free for children 10 and under.
This recently revamped event offers diners the chance to dive into Cambridge's and Somerville's exemplary dining scenes in a whole new way for the next few months. Step one: Purchase a dining passport for $30; proceeds will be donated to support local restaurant workers and nonprofits. Step two: Visit any of the 50 participating restaurants, where you'll receive a stamp in your passport after spending at least $25. Step three: After collecting at least four stamps between July 1 and August 15, you'll receive four $25 vouchers, valid at participating restaurants from September 1 through December 31. The program is a great way to visit some of the Cambridge and Somerville restaurants you've been meaning to check out, all while helping to support the local restaurant scene.
It's been quite some time in the making, but on July 1, Trillium Brewing will debut its brand new Canton taproom at 100 Royall St. The 500-seat beer hall will feature a restaurant, patio, beer garden, and retail space, and on Friday it will welcome Portland's High Roller Lobster Co. to christen the new location. Come by from noon to 5 p.m. and dine on lobster rolls and Lobby Pops — all washed down with a special beer from the new taproom, of course.
This Friday, the popcorn will be popping for the first time in 16 months at Harvard Square's Brattle Theatre, with the historic Cambridge cinema set to screen a series of classic films starting July 2. While showings of "Casablanca" and "Jaws" are already sold out, there are still plenty of tickets available for 1971's "Shaft" (1971), "Beauty and the Beast" (1946), "Better Luck Tomorrow" (2002), and "Harriet the Spy" (1996).
After taking 2020 off due to the COVID-19 pandemic, the 2021 Boston Pops Fireworks Spectacular is back, albeit in a very different form than previous years. The fireworks will be launched from Boston Common, while the annual concert will be held more than 100 miles away at Tanglewood music venue. City officials are encouraging residents to enjoy the fireworks from home and won't be providing video monitors or audio speakers at Boston Common. However, the city also stated that the fireworks would be visible from the Parade Ground (located at the corner of Charles Street and Beacon Street), the Frog Pond, and "other areas with sightlines to the Boston Common." For a full guide to this year's celebration, check out our full guide to the 2021 Boston Pops Fireworks Spectacular.
Don't want to make the trek to Boston for fireworks? Though many Massachusetts towns and cities have canceled their annual pyrotechnics displays, more than 40 municipalities managed to quickly plan Independence Day celebrations. If you live in or nearby towns like Everett, Fall River, Ipswich, Lexington, or Waltham, among many others, you'll be able to catch fireworks in your neighborhood between now and July 13. For a comprehensive list of town-by-town info, check out our full schedule of 2021 July 4 fireworks shows in Massachusetts.
Is there a more fitting time for Democracy Brewing to reopen? After going into hibernation in January, the worker-owned brewery is set to open its doors on July 4 — exactly three years after it debuted downtown. Belly up to the bar or grab a table and enjoy one of Democracy's beers (a Worker's Pint, perhaps?) and a couple of snacks. Welcome back, Democracy!
Newsletter Signup
Stay up to date on all the latest news from Boston.com