Events
10 things to do in Boston this weekend
BosTen is your weekly guide to events and cool happenings in and around Boston.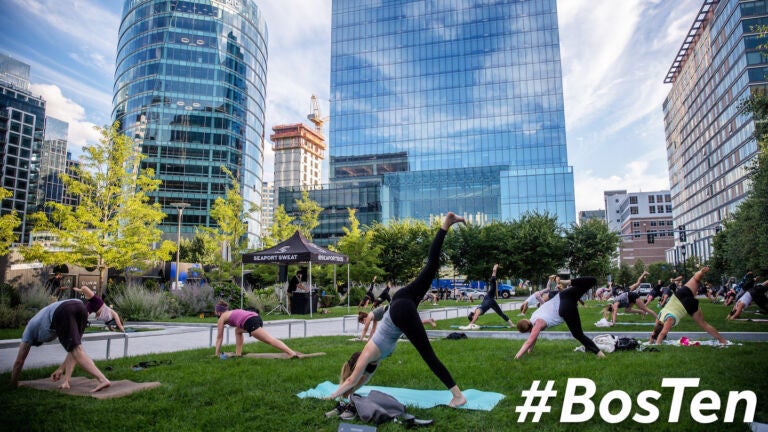 While more and more Massachusetts businesses and cultural institutions are reopening as COVID-19 vaccination efforts continue, many residents are still staying home due to the coronavirus pandemic. With that in mind, this week's BosTen offers a mix of in-person and virtual things to do this weekend. Have an idea about what we should cover? Leave us a comment on this article or in the BosTen Facebook group, or email us at [email protected].
If it's been a while since your last trip to Assembly Row, it might be time to pay the Somerville attraction another visit. Night Shift Brewing's newest Owl's Nest beer garden has made its debut at the shopping complex, stocked with all the classic Night Shift beers plus barbecue from the neighboring The Smoke Shop BBQ. Right nearby, PKL, a pickleball and shuffleboard pop-up, has started taking reservations — gather your crew for a rousing game on the courts. On Monday, a new location of Shake Shack opened at Assembly Row, now open daily from 11 a.m. to 9 p.m. The move? Play a couple games of pickleball, cool down with a beer, then refuel with Shake Shack's hot honey chicken sandwich.
Author Michael Pollan has always enjoyed focusing on how nature impacts our behavior (and vice-versa), whether it be his examination of what we eat in "The Omnivore's Dilemma" or how our plant-growing behavior mirrors our base instincts in "The Botany of Desire." Pollan has placed plants under a very different light for his latest book, "This is Your Mind on Plants," as he dives into three mind-altering plant drugs — caffeine, opium, and mescaline — and why only one of the three is widely legal and socially acceptable. Pollan will be discussing the new book during a virtual Harvard Book Store event this Thursday at 8 p.m. alongside NPR science journalist Alix Spiegel ("This American Life, Invisibilia"). Tickets for the event come with a signed copy of "This Is Your Mind On Plants," and are available via Eventbrite.
This week, fans of Clover — a local fast-casual chain specializing in vegetarian fare — have yet another location to frequent for their chickpea fritter sandwiches. The company's latest outpost opens in Newtonville on Friday, and will offer a "pay what you want" system on Friday and Saturday, allowing guests to pay as little or as much as they want for their food. All proceeds will be donated to the Newton Schools Foundation. On the hunt for coffee? This location will be the first within the chain to include an espresso bar, in partnership with George Howell Coffee Co.
Newton is a well-known hub of comedic talent, thanks to folks who grew up there like "The Office" stars John Krasinski and B.J. Novak, "Friends" alum Matt LeBlanc, and "Newsradio" actor turned podcast giant Joe Rogan. While he may not have the Q rating of the aforementioned funnymen, Zach Kanin should also be on that list, thanks to his years as a writer on "SNL," cartoonist for the New Yorker, and the co-creator of Netflix's absurd sketch comedy series "I Think You Should Leave," which returned for a second season earlier this week. Kanin and star Tim Robinson traffic in the uncomfortable and the odd, putting characters in embarrassing situations who go to extreme lengths to save face, even when the possibility of doing so is long gone. If you want a taste of what's to come, check out this sketch from season one about a group of shoppers shell-shocked by a novelty hot dog car crashing through the store window, and the mysterious man in the hot dog costume (Robinson) who's "trying to find the guy who did this."
Double Zero — chef Matthew Kenney's plant-based, award-winning pizza joint — makes its Newbury Street debut on Friday. Here you'll find vegan pies like truffle pizza featuring cashew cream, wild mushrooms, Tuscan kale, and lemon vinaigrette, plus non-pizza options like pasta bolognese with walnut mushroom ragout. The restaurant doubles as a wine bar, serving natural and biodynamic wines. Dine inside at the bar or at one of the restaurant's communal tables, or snag a seat on Double Zero's sunny patio.
Make your way over to Encore on Sunday for an end-of-week brunch, complete with all-you-can-eat buffet stations, mimosas and margarita flights, lawn games, and more. DJ Rich DiMare will be spinning on the 1s and 2s, and a Bloody Mary bar will be available for all 21+ guests. Tickets ($55) to the event, which runs from 10 a.m. to 2 p.m., can be purchased here.
Last summer, the Coolidge Corner Theatre found a creative and creepy way to show movies during the pandemic by turning the now-closed Medfield State Hospital grounds into a pop-up drive-in movie theater and screening "Shutter Island," which was filmed at the facility. While the Brookline cinema has reopened its doors, it will continue to host special events in Medfield, including two showings of Stanley Kubrick's classic "The Shining" this Friday and Saturday. Organizers suggest arriving early for the 8 p.m. screening of the Stephen King adaptation so that you can enjoy a stroll around the grounds to take in the ambiance.
After a long weekend of grilled goodies, raise your heart rate in Boston's Seaport neighborhood with a free outdoor fitness class as part of its Seaport Sweat series. On Thursday, you can check out Yoga Sculpt with Dani Ferreira at 5:30 p.m. or Abs & Body w/ Becca One Checca at 6:30 p.m., while Friday's offering is a noontime Vinyasa Flow with Britney Willingham. The classes may be free, but advanced registration is required. Check out Seaport at WS Development's Eventbrite page to register for the class of your choice.
On a warm summer day, there's no better way to spend an afternoon in the city than sitting in Boston Public Library's picturesque courtyard for an edition of Concerts in the Courtyard. This Friday from 12 p.m. to 1 p.m., visitors will be able to listen to the lyrical stylings of R&B singer-songwriter Lisa Bello, whose latest album was written and produced entirely during the pandemic. If Friday's weather forecast turns sour due to Tropical Storm Elsa, the concert will also be livestreamed on YouTube.
If the recently opened Virgil Abloh exhibit wasn't enough incentive for you to head to the ICA, the museum's East Boston outpost, ICA Watershed, is now open for the season as well. First opened in 2018, the Watershed is accessible via a free ferry included with museum admission. Right now, the Watershed features a project by artist Stephen Hamilton exploring the use of indigo in art as well as a monumental sculpture by artist Firelei Báez that reimagines the gallery as an ancient undersea ruin.
Newsletter Signup
Stay up to date on all the latest news from Boston.com