Events
10 things to do in Boston this weekend
BosTen is your weekly guide to events and cool happenings in and around Boston.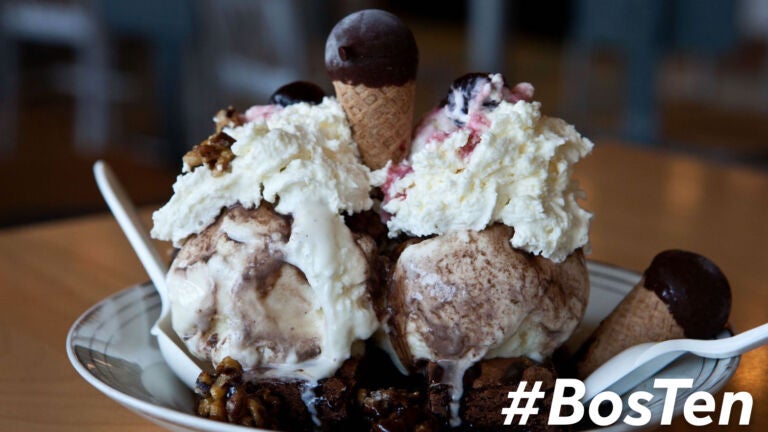 While more and more Massachusetts businesses and cultural institutions are reopening as COVID-19 vaccination efforts continue, many residents are still staying home due to the coronavirus pandemic. With that in mind, this week's BosTen offers a mix of in-person and virtual things to do in Boston this weekend. Have an idea about what we should cover? Leave us a comment on this article or in the BosTen Facebook group, or email us at [email protected].
Cambridge native Mindy Kaling had a runaway hit on her hands during the early stages of the pandemic last year with "Never Have I Ever," a coming-of-age comedy partially based on Kaling's own childhood. Season two, which arrives on Netflix this Thursday, once again follows the high school trials and tribulations of Devi (Maitreyi Ramakrishnan), a first-generation Indian American teenager who has a short fuse that gets her into difficult situations. This season, Devi continues to face the emotional turmoil caused by the death of her father, all while balancing a frenemy, a love triangle, and typical teenage quarrels with her strict mother.
In eight days, the world's attention will turn to Tokyo for the start of the Summer Olympics. You may already know about stars like otherworldly gymnast Simone Biles, but what other athletes will America fall in love with this summer? And what about New England athletes who will vie for glory on the world's stage? The Boston Globe will be sending three journalists to Japan to provide coverage, and on Thursday at noon, that trio — Tara Sullivan, Gary Washburn, and John Powers — will join sports editor Matt Pepin for a special preview of the Olympics for Globe subscribers. Register for this free virtual event here.
Vintage never goes out of style, which is why tens of thousands of antique enthusiasts have visited the Brimfield Antique Flea Market since 1959. The fair is open three times a year, including a six-day run in July that ends this Sunday. You'll be able to find rare collectors's items, vintage furniture, and other ancient wares from thousands of dealers and buyers from all over the world.
After an interminably gloomy stretch of weather, Friday's forecast is looking pretty swell, which makes it the perfect time to head to Blue Hills for some family-friendly early evening activities. Enjoy ice cream and take part in crafts at the Blue Hills Trailside Museum, then head out on a hike at dusk while keeping your eyes peeled for some fireflies. The fun runs from 7:30-9:30 p.m.
To celebrate the opening of Paper Stories, Layered Dreams: The Art of Ekua Holmes, the MFA is offering free admission on both Saturday and Sunday. A lifelong resident of Roxbury, Holmes is an award-winning book illustrator and will have more than 40 of her works on display at the museum through January 2022. While admission is free, reservations are still required as part of pandemic guidelines, and can be made on the MFA website.
Sunday is National Ice Cream Day, a made-up holiday that, we would argue, rightfully deserves its own day. To celebrate, New City Microcreamery is hosting a throwback fest at both its downtown Hudson and Central Square locations, bringing back three fan-favorite flavors: railroad tracks, blackberry, and vegan mounds, all available in floats, milkshakes, sundaes, and scoops. Stick around for live music, face painting, a tie-dye station, and a retro photo booth. Looking to celebrate National Ice Cream Day elsewhere? Take a peek at our guides to the best ice cream shops in Boston, Cambridge, and Somerville.
Littleburg Vegan Kitchen recently opened its first brick and mortar, a compact takeout space in Somerville's Union Square. But the eatery hasn't completely let go of its pop-up roots: On Sunday from 7:30 p.m. to 9:30 p.m., it'll join forces with Lamplighter Brewing for a four-course beer dinner in the brewery's back room. Heirloom tomatoes and bulgar wheat salad will be paired with a Belgian table beer, fried squash blossoms stuffed with spinach rice will be served with a dry-hopped lager, and zucchini socca — a savory pancake topped with lentil salad and seared stone fruit — will be accompanied by wild Cambridge ale. For dessert, there's hazelnut baklava and a sour ale. Tickets are $71 and can be purchased here.
You may not be ready to pack yourself into a sweaty club, but how about a little dance sesh before brunch? On Sunday, Allston's Casa Caña will host a cardio dance class with Everybody Fights local instructor Ashley Herron to benefit the Miss Pink Organization, which supports breast cancer survivors and their families. Each $30 ticket includes admission to the class, drink samples, a seven-day trial to Everybody Fights, and a $10 voucher toward brunch at Casa Caña (get the breakfast tacos!).
Greco, Boston's fast casual Greek eatery with outposts in the Back Bay and Seaport, debuted a new location on Milk Street downtown this week, and they've teamed up with a local ice cream shop to make one of their signature dishes even better. In collaboration with FoMu, Greco launched a new Matisha ice cream, which goes well on top of the restaurant's signature loukoumades, or bite-sized fried dough. Stop by their Seaport location on Monday, too, when they introduce a brand new market, called Agora by Greco, stocked with products from boutique purveyors in Greece.
When it comes to historic glory in Boston, the downtown area tends to get all the attention. But head to Jamaica Plain this Sunday, and you'll be able to learn about a group of Jamaica Plain women who changed the course of history. The tour, hosted by Boston By Foot, tells the tale of abolitionists, writers, scientists, a Nobel Peace Prize winner, and more. Registration for the tour, which begins at the Green Street T station at 4 p.m. on Sunday, is now open on the Boston By Foot website.
Need weekend plans?
The best events in the city, delivered to your inbox.