Events
10 things to do in Boston this weekend
BosTen is your weekly guide to events and cool happenings in and around Boston.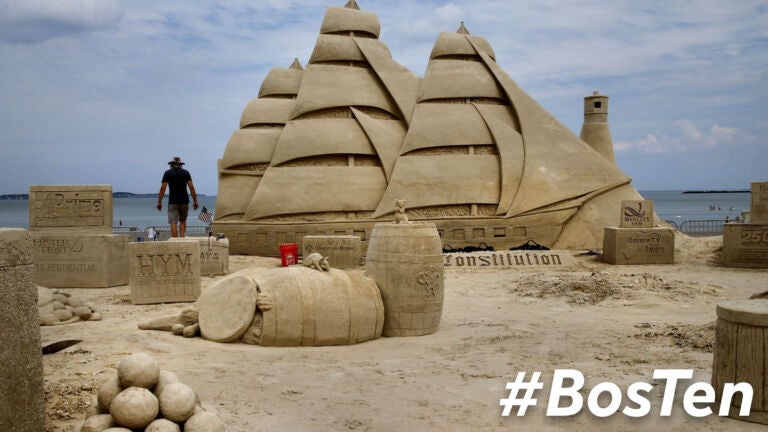 While more and more Massachusetts businesses and cultural institutions are reopening as COVID-19 vaccination efforts continue, many residents are still staying home due to the coronavirus pandemic. With that in mind, this week's BosTen offers a mix of in-person and virtual things to do in Boston this weekend. Have an idea about what we should cover? Leave us a comment on this article or in the BosTen Facebook group, or email us at [email protected].
There's no shortage of oysters in Boston, and what better excuse to knock back a dozen than National Oyster Day on August 5. Though oysters can sometimes run upwards of $4 per bivalve, our wallets can get a reprieve with dollar oyster happy hours — and plenty of them happen to land on National Oyster Day. Stop by Ashmont Grill in Dorchester from 5 p.m. to 10 p.m., Ilona in the South End from 5 p.m. to midnight, Saloon in Somerville from 4 p.m. to 6 p.m., Charlie's Kitchen in Cambridge from noon to 5 p.m. and 9 p.m. to close, and plenty of other spots on our list. Don't forget to add the hot sauce!
Instead of holding its usual Free Fun Fridays, the Highland Street Foundation is instead offering free admission to a different Massachusetts museum or institution every day during the month of August. This weekend's free offerings take place all across the state, with the Fitchburg Art Museum (August 5), the Fruitlands Museum in Harvard (August 6), Falmouth Museums on the Green (August 7), and the Berkshire Museum (August 8).
Consider this an educational dinner: On Thursday at 6 p.m., chef Irene Li will team up with Cristina Ayala, co-executive director of the Asian Task Force Against Domestic Violence (ATASK), for a virtual dumpling demo and conversation. Over Zoom, Li will walk attendees through a dumpling making session, while also sharing her insight on diversity, equity, and inclusion through her experiences as a female Chinese-American business owner. ATASK is a nonprofit organization assisting Asian survivors of domestic violence, and offers services in 20 Asian languages and dialects. Tickets ($50) can be purchased here.
Looking to indulge in some tasty spirits after a long week? Boston.com is once again teaming up with one of the most celebrated mixologists in Boston for its virtual cocktail club. At 7 p.m. on Thursday, host Jackson Cannon (The Hawthorne, Eastern Standard) and guest bartender John E. Rodríguez (Six West) will teach you how to make two summer stirred cocktails. The duo will start with the classic Sazerac and finish up with the Rum Old Fashioned. Attending the Zoom is free, and you can find a full list of necessary ingredients here.
A summer staple returns to the North Shore this weekend with the International Sand Sculpting Festival in Revere. Each year, sand artists from across the globe convene on Revere Beach to build their granular masterpieces, with beachgoers voting for their favorites. Running from Friday through Sunday, attendees will also get to enjoy live music each day, food trucks galore, and a fireworks extravaganza on Saturday night.
If you haven't yet made it to Sunshower Bakery, a newly-formed pop-up slinging fantastic baked goods, Friday is your next chance. The roving bakery is popping up at Brothers & Sister Co. in Brookline from 8 a.m. until the goods sell out. Find chocolate chip cookies, cinnamon buns, baked doughnuts, wild blueberry muffins, and a smoky pepper lemonade to balance out the sweets.
Enjoy a little slice of Sicily right here in Boston when the North End celebrates the 101st anniversary of the Feast of Madonna Della Cava this weekend. This Italian-American religious festival will be commemorated by a joyous parade, live musical performances, street vendors selling everything from art to food, and two days of feasts. The festival kicks off on Friday at 7 p.m. and continues Saturday and Sunday from noon-11 p.m.
The 2020s haven't exactly gotten off to a great start, so maybe it's time to travel back to the 1920s for a weekend. The annual Roaring Twenties Lawn Party returns to the Crane Estate this Saturday and Sunday, where guests can don their vintage clothing and enjoy period-appropriate jazz music, flappers, swing dancing, and picnickers aplenty. Guests will be able to explore the palatial grounds and ornate gardens, as well as purchase a separate ticket for a 30-minute tour of the Great House mansion. While guests may bring their own food, sneaking your own hooch in is forbidden, with guests instead able to order drinks from Ipswich Ale Brewery, Mill River Winery, and Far From the Tree Cider at the Bootlegger's Garden. Gates open at 1 p.m., and tickets for both Saturday or Sunday are available on the Trustees website.
All of Boston's top b-boys and b-girls will be throwing down their best flares and freezes at Big Night Live this Saturday for the Red Bull BC One Cypher, a nationwide challenge to find the best breakdancers in America. Participants will face off in one-on-one battles, with judges grading the dancers on skill, creativity, and flow. The winner will advance to the national competition in Orlando, and the top performers there will represent team USA at the breakdancing world final in Poland. The competition is free to attend, and interested viewers can register via Eventbrite.
Like clockwork, Dine Out Boston returns for another two weeks of prix-fixe lunches ($15–$25) and dinners ($28–$38) from more than 100 participating restaurants throughout the Greater Boston Area. A filter lets you sort by region, cuisine, lunch price, and dinner price, but we have a few recommendations of our own. At 50Kitchen in Dorchester, a $33 dinner menu lets you choose from options like clam chowder, chicken satay with peanut sauce, pulled pork sandwiches, shrimp and grits, and carrot cake. Para Maria, a new pop-up at the Envoy Hotel in the Seaport, is offering a taco-centric, three-course lunch and dinner. And Bar'Cino in Brookline has a three-course dinner in store, including a selection of pizzas, pastas, and limoncello mascarpone cake.
Need weekend plans?
The best events in the city, delivered to your inbox.