Events
10 things to do in Boston this weekend
BosTen is your weekly guide to events and cool happenings in and around Boston.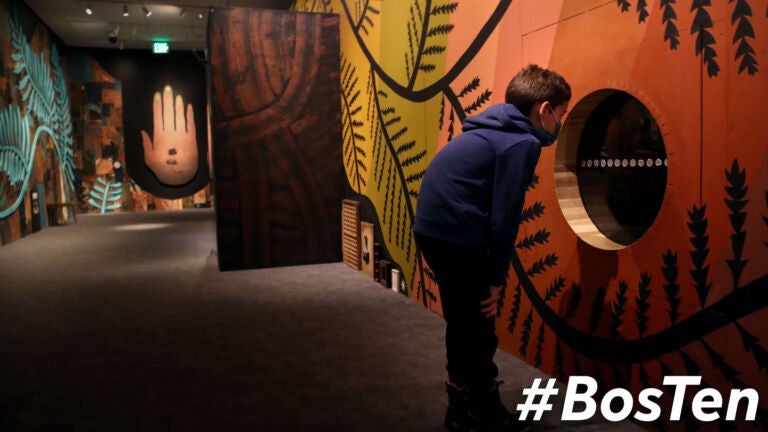 With more and more Massachusetts businesses and cultural institutions reinstating COVID-19 restrictions this month in the face of a resurgent coronavirus pandemic, residents may be torn on whether to venture out of their homes this weekend. With that in mind, this week's BosTen offers a mix of in-person and virtual things to do in Boston this weekend. Have an idea about what we should cover? Leave us a comment on this article or in the BosTen Facebook group, or email us at [email protected].
Looking to indulge in some summer drinks after a long week? Boston.com is once again teaming up with one of the most celebrated mixologists in Boston for its virtual cocktail club. At 7 p.m. on Thursday, host Jackson Cannon (The Hawthorne, Eastern Standard) and guest bartender Kevin Mabry (JM Curley) will teach you how to make two summer long drinks. The duo will start with a refreshing Gin Gin Mule and finish up with the Tequila Highball. Attending the Zoom is free, and you can find a full list of necessary ingredients here.
Looking for music, art, dance, and fun with an environmentally friendly message? Head to the Rose Kennedy Greenway this weekend for Boston GreenFest 2021, which runs daily from noon to 6 p.m. Friday, Saturday, and Sunday. Eco-vendors, electronic vehicles, and an EcoFashion Show are just a few of the planned activities serving the organization's mission to "inspire action and caring for each other and the planet."
Haiti is still reeling from the devastating earthquake that hit the Caribbean country on Saturday, suffering from overwhelmed hospitals and a rising death toll. On Friday, local Haitian food truck Gourmet Kreyol will team up with Health Equity International to raise funds for families that have been affected by the quake. The food truck, which serves plates of Haitian fried chicken, stewed vegetables, and fried pork, will be parked at 22 State St. in front of City Hall from 11 a.m. to 3 p.m.; 100 percent of donations, plus a portion of food truck sales, will go directly to impacted Haitians.
Meet you in the parking lot? Brookline's Prairie Fire recently set up a new beer garden in the Webster Street lot behind the restaurant, open Wednesdays through Sundays from 4 p.m. to 10 p.m. While Prairie Fire primarily focuses on pasta and wood-fired pizza, the beer garden menu offers a different menu than indoors, including a Bavarian pretzel made at sister spot Steel & Rye Bakery. Seating is available on a first come, first served basis.
South End cocktail bar Shore Leave will wrap up its summer-long pop-up, Camp Shore Leave, with a 90s-themed dance party on Friday at 8 p.m. The only request? Dress in your finest 90s attire (hello baby tees, scrunchies, and fanny packs) and enjoy jams from DJ Coleslaw, plus a drag show hosted by Kirbie Fully Loaded. The best dressed will win bragging rights, plus dinner for two (beverage pairings included!) at adjacent sushi bar, No Relation.
Groove down the sidewalks of Jamaica Plain this weekend when close to 100 artists will participate in the Boston neighborhood's annual PorchFest. A mix of music, dance, theater, and spoken word performances will be on tap Saturday and Sunday from 11 a.m. to 4 p.m. If you don't live near JP or are feeling COVID-cautious, the virtual JP Couchfest will offer online performances through Friday on the JP PorchFest website.
Instead of holding its usual Free Fun Fridays, the Highland Street Foundation is instead offering free admission to a different Massachusetts museum or institution every day of August. This weekend's free offerings take place all across the state, with the Eric Carle Museum of Picture Book Art in Amherst (August 19), the Wenham Museum (August 20), the Larz Anderson Auto Museum in Brookline (August 21), and the Peabody Essex Museum in Salem (August 22).
It's your last chance to take advantage of this season's Dine Out Boston, as the two-week-long food event wraps up on Saturday. Choose from $15–$25 lunches and $28–$38 dinners at more than 100 restaurants in the Greater Boston area, from Amelia's in Stoughton to La Morra in Brookline to Sumiao Hunan Kitchen in Cambridge.
Whether you're in the market for the newest releases or want to re-live a classic blockbuster, the Mendon Twin Drive-In will cater to your every need this weekend. Catch a double feature of the Boston-filmed adventure comedy "Free Guy," with the Emily Blunt/Dwayne Johnson adventure flick "Jungle Cruise", or check out a classic double feature of "The Goonies" and "Back to the Future." For a full list of times and dates, visit the theater's website.
It's feast season in the North End, and the neighborhood will be taking to the streets once again this Sunday to kick off the 100th celebration of its annual Feast of Santa Lucia. Head to Endicott St. at 2 p.m. to witness a grand procession of Italian street bands, drum & bugle corps, flower girls, and color guard before revelers settle in for entertainment and al fresco dining. If you can't make it on Sunday, the festivities continue for four more days from Thursday, Aug. 26 through Sunday, Aug. 29.
Need weekend plans?
The best events in the city, delivered to your inbox.