Events
10 things to do in Boston this weekend
BosTen is your weekly guide to events and cool happenings in and around Boston.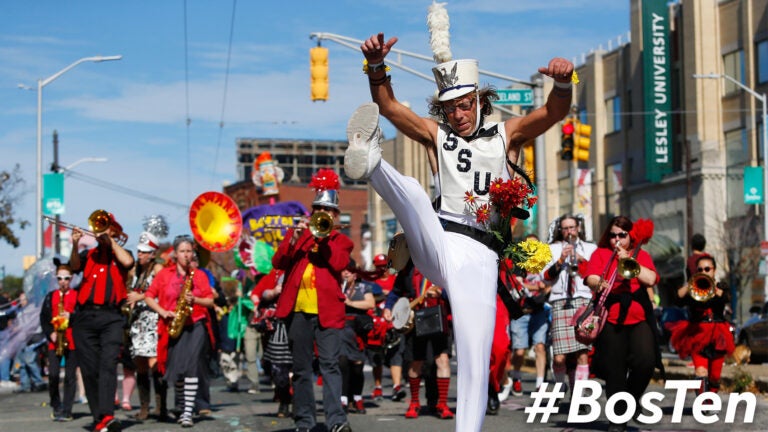 With more and more Massachusetts businesses and cultural institutions reinstating COVID-19 restrictions in the face of a resurgent coronavirus pandemic, residents may be torn on whether to venture out of their homes this weekend. With that in mind, this week's BosTen offers a mix of in-person and virtual things to do in Boston this weekend. Have an idea about what we should cover? Leave us a comment on this article or in the BosTen Facebook group, or email us at [email protected].
Have you made the trip to Essex Park yet? The pop-up beer and wine garden at City Hall Plaza debuted earlier this week, a collaboration between District 7 Tavern and Savvor Lounge for only 10 days. Stop by Mondays through Fridays, 4 p.m. to 8 p.m., through Oct. 15 for beer, wine, and food from local food trucks. Each day offers a new special guest or event — The Color of Biotech on Oct. 7, BAMS Fest on Oct. 13 —and it's always a good time.
The leaves are turning, flannel is back in your wardrobe rotation, and you're suddenly craving hot cider. On Saturday, Short Path Distillery in Everett will get in on the fall spirit with its 3rd annual Apple Booze Bash from noon to 10 p.m. Events will take place both inside the distillery and out on the street, where attendees can enjoy spiked cider flights, apple negronis, new spirit releases, food vendors (Bonetown Burgers, Mary Charcuterie, Lionheart Confections), and more. You can also buy tickets to "dunk the distiller," with proceeds going toward the ​​Northeast Grainshed Alliance.
Whether you're running the marathon on Monday or just want to act like you are, pasta dinners the night before the race are a timely tradition. At Bambara in Cambridge, they're letting guests eat all the pasta. For $26, diners can consume as much pasta as they want, loading up on dishes like ​​bucatini with puttanesca sauce, braised greens, and pecorino, and fusilli with herb-infused parmesan cream, roasted mushrooms, and sourdough crumbs. Protein can be added to the pastas for an extra charge, or if you want to request plain marinara sauce, that's doable too — whatever helps you run (or watch) the 26.2-mile race.
Dine in the South End for an annual benefit event to celebrate the Boston Marathon
After cheering on runners along the route, make your way over to the South End for a meal at either The Beehive or Cósmica, two restaurants hosting their 7th annual fundraiser in support of the Gillian Reny Stepping Strong Center for Trauma Innovation. From 3 p.m. to midnight, 100 percent of the proceeds will be donated towards the organization, which fuels research and clinical programs in trauma healing and emergency preparedness. Order fried clam tacos and fluke tostadas at Cósmica, or grilled brisket and crispy pork belly at The Beehive.
The raucous brass bands will be back on the streets of Somerville this weekend for the city's annual HONK! music festival. The festival, which has brought activism and rambunctious energy to the Davis Square area since 2006, will be slimmed down to one day instead of its usual three, but more than 15 bands will get in on the act. Some bands will even move beyond the confines of Somerville to perform on street corners in Cambridge, Hyde Park, East Boston, and Roxbury. For a full schedule, check out the HONK! website.
The Fenway Cultural District will bring together 18 neighborhood arts and culture organizations this Saturday for its 20th annual Opening Our Doors Festival. Enjoy free admission to the Museum of Fine Arts and MassArt Art Museum, a free concert in front of Symphony Hall, kid-friendly activities in Christian Science Plaza, and much more.
Despite the pandemic, Boston has continued to offer a robust lineup of fall film festivals, including the Boston Palestine Film Festival, which kicks off its 15th edition this Saturday. Though the 2021 edition of the festival will be almost completely virtual, with all 25 films available to stream from home, the fest's closing film will screen at the Coolidge Corner Theatre, followed by a closing party at the nearby Hop N Scotch. For a full lineup and ticket information, check out the festival's website.
There have been plenty of COVID-related concert cancellations in the last 20 months, but few have done so with such short notice as Counting Crows. The alt-rock group was forced to cancel their August show at Leader Bank Pavilion a few hours before curtain due to a positive test in their touring crew. Thankfully, the California-bred band will be back this Saturday to perform for Boston crowds, finishing off the Pavilion's 2021 concert slate.
In honor of Indigenous People's Day this Monday, the Isabella Stewart Gardner Museum will host a documentary screening and Q&A between three local Indigenous women about "manifestations of settler colonialism, cultural landscapes, and the potential of art in decolonization." The event will take place at 7 p.m. during the museum's Free First Thursdays, which offers free admission with a valid reservation from 3 p.m. to 9 p.m. To register, visit the museum's website.
Can you believe it's been nearly 30 months since racers have braved Heartbreak Hill for the Boston Marathon? The vibe will certainly be different than usual this year, with only two-thirds the normal number of participants, and leaves starting to change color instead of emerging as the first sign of spring. But just like usual, there will be cheering crowds stretching from Hopkinton to Boylston Street, and plenty of college students and adults alike enjoying a three-day weekend. That said, the BAA would love it if racers would refrain from kissing members of the Wellesley College Scream Tunnel this time around.
Newsletter Signup
Stay up to date on all the latest news from Boston.com