Events
10 things to do in Boston this weekend
BosTen is your weekly guide to events and cool happenings in and around Boston.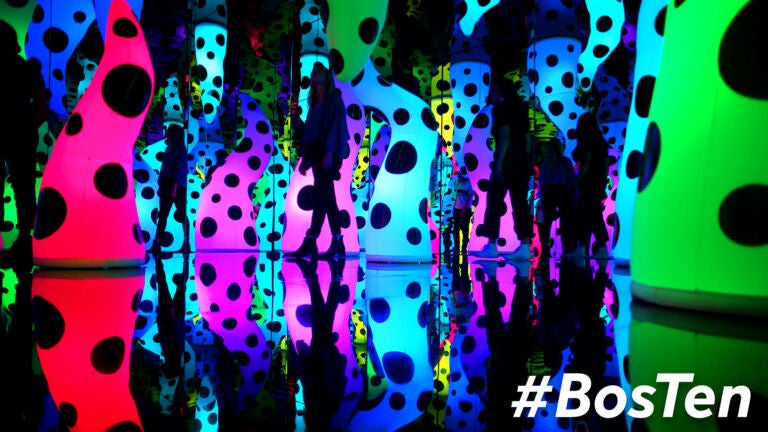 With more and more Massachusetts businesses and cultural institutions reinstating COVID-19 restrictions in the face of a resurgent coronavirus pandemic, residents may be torn on whether to venture out of their homes this weekend. With that in mind, this week's BosTen offers a mix of in-person and virtual things to do in Boston this weekend. Have an idea about what we should cover? Leave us a comment on this article or in the BosTen Facebook group, or email us at [email protected].
Film festival season is in full swing, and the Boston Globe is getting in on the fun with the return of its annual GlobeDocs Film Festival. The five-day event, which runs through Sunday, features documentaries such as "Julia," a look back at the life of culinary icon (and longtime Cambridge resident) Julia Child; "The Rescue," a gripping look at the Thai youth soccer team that was trapped in a cave in 2018 and the efforts that went into saving them; and "Citizen Ashe," an intimate look at tennis star Arthur Ashe and his activist efforts off the court. For ticket info and a full list of films, check out the GlobeDocs website.
'Tis the season for turnips, sweet potatoes, squash, and pumpkin, all of which are beautifully harvested and prepared at this farm-to-table feast at Vincent's on Thursday. The Kendall Square restaurant has taken inspiration from the seasonal harvest at Drumlin Farm in Lincoln to create a seven-course meal, including turnip chowder, spice-roasted sweet potato dandies, duck two ways, and pumpkin and parsnip coffee cake. Tickets are $75 and can be purchased on Resy, along with an optional $60 drink pairing, which includes New England wine, cider, and spirits.
Robert Finley is proof that you're never too old to follow your dreams. The Louisiana-born guitarist and blues singer didn't release his first album until he was 62 years old, a milestone Finley followed up with a semifinal finish on "America's Got Talent." Finley will bring his critically acclaimed soul stylings to The Porch Southern Fare & Juke Joint in Medford this Thursday, his first stop in the Boston area since 2018.
Looking to cram all your fall must-dos into one day? Time Out Market's Fall Festival is every flannel-wearing, cider-sipping, autumn lover's dream. From noon to 5 p.m. on Saturday, the Fenway food hall will celebrate the season with cider tastings from Artifact Cider Project, Lookout Farm, Stormalong, High Limb, and Far From the Tree, plus new fall cocktails available at the market's two bars. Vendors will offer special fall menu items — think butternut squash gnocchi from Michael Schlow's Italian Kitchen, apple strudel gelato from Gelato & Chill, and butternut squash soup from Revolution Health Kitchen. Live music from local bands will play throughout the day, and at 7 p.m., attendees can check out a screening of the Halloween cult classic, "Hocus Pocus."
It's been 19 months since Bostonians were able to immerse themselves in the luminescent work of Yayoi Kusama, whose brilliant "LOVE IS CALLING" returns to the Institute of Contemporary Art this Saturday. Turn off your mind, relax, and float downstream among the kaleidoscopic exhibit, which is dominated by inflatable, tentacle-shaped sculptures. If the many hues of neon and prominent polka dots aren't enough, the room's ample supply of mirrors will leave your head spinning in the best way possible.
Not into pumpkin spice lattes? City Tap House has a couple other ideas for how to get your pumpkin fix. The Fort Point restaurant will host its annual Pumpkin Smash on Saturday at noon, with specials like pumpkin pancakes, a pumpkin cookie skillet with ice cream, Drunken Pumpkin martinis, and, yes, a spiked cold brew pumpkin spice latte. You can also take a stab at pumpkin decorating and enjoy live music from Brianna Gallagher.
While the bulk of Oktoberfest celebrations may be over, a few places around the city are keeping the festivities going — like Blackmoor Bar & Kitchen. The Charlestown hangout will host its annual Oktoberfest event on Saturday starting at 2 p.m., with live music from the Yankee Strudel Band and Hofbrau Spieler Band. Choose from a menu filled with German food and craft beer specials — and don't forget to dress the part.
Be a friend to the arts instead of a Bad Art Friend by checking out the 2021 Boston Book Festival, which kicks off an eight-day run of (mostly) virtual events this Saturday. If you want to join the organization's annual citywide book club, this year's free One City One Story title is "Dumba Chora," a short story by Waltham author Chandreyee Lahiri. For a full list of BBF events, check out the festival's website.
In case you needed another excuse to visit Salem during the month of October, the Salem Harvest Fest will be back for the season this Saturday, serving up beer, wine, mead, and cider from 20+ local companies over two sessions. Along with beverages from the likes of Jack's Abby and Artifact Cider, guests will be serenaded by the sounds of local roots band Wood and Bone.
Boston native Jeremy Strong may not have quite the name recognition as his co-star in "The Big Short" Steve Carell, but he's well on his way thanks to his starring role in HBO's "Succession," which returns for its third season this Sunday. Playing fictional media executive Kendall Roy, Strong is just one of the colorful members of the Roy family, who have been scheming and back-stabbing in an attempt to seize control of the family business since the series premiere back in 2018. Picking a favorite among the despicable bunch — which also includes Brian Cox ("Super Troopers"), Sarah Snook ("Steve Jobs"), and Kieran Culkin (Scott Pilgrim vs. The World") — is a fool's errand. Instead, enjoy watching each family member's fortunes rise and fall over the course of a season (or sometimes a single episode) by streaming the first two seasons on HBO Max.
Need weekend plans?
The best events in the city, delivered to your inbox.