Events
10 things to do in Boston this weekend
BosTen is your weekly guide to events and cool happenings in and around Boston.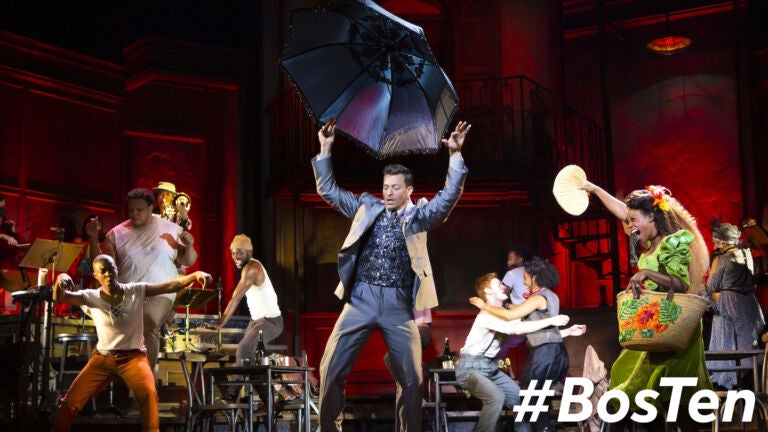 With more and more Massachusetts businesses and cultural institutions reinstating COVID-19 restrictions in the face of a resurgent coronavirus pandemic, residents may be torn on whether to venture out of their homes this weekend. With that in mind, this week's BosTen offers a mix of in-person and virtual things to do in Boston this weekend. Have an idea about what we should cover? Leave us a comment on this article or in the BosTen Facebook group, or email us at [email protected].
Scientist, astronaut, and explorer Dr. Kathy Sullivan has explored the deepest, darkest frontiers of our world (and beyond). The first American woman to walk in space, Sullivan also made history in 2020 by becoming the first woman to venture seven miles below the surface of the Pacific Ocean in the Mariana Trench. Sullivan will discuss her historic journeys during a virtual event hosted by the New England Aquarium and the Boston Globe this Thursday from 6:30-7:30 p.m. While attendance is free, you must RSVP for the event in advance on the Globe Events website.
At Café at Rochambeau, a sleek cafe connected to Rochambeau in the Back Bay, you can usually find a case filled with decadent desserts and flaky pastries. But with its new pop-up bakery series, a string of talented chefs will set up shop on the first Friday of every month — starting this Friday — to showcase a slew of new baked goods. On Nov. 5, catch Kate Holowchik of Lionheart Confections selling her artisanal doughnuts from 6:30 a.m. to 9:30 a.m. alongside coffee from La Colombe. Can't make this weekend's pop-up? Come back each month for a new guest chef, including Cameron Cieslak of Troquet on South, Nicole Harrington of Catalyst Restaurant, and Heather Yunger of Top Shelf Cookies.
If you've been missing stage productions during the pandemic, swing by the Citizens Bank Opera House for a limited-time engagement of the award-winning "Hadestown," which will be in town through Nov. 14. The Anaïs Mitchell-penned musical got its start on the small stage in Vermont and Massachusetts before becoming a Broadway smash, winning 8 Tony Awards in 2019. Based on an ancient Greek myth, "Hadestown" tells the intersecting stories of two godly couples — Orpheus and Eurydice, and Hades and Persephone — and tracks their trials and tribulations in the underworld.
From a food truck to a growing local chain, Clover Food Lab now has 14 locations offering plant-based casual fare. Its latest outpost recently opened at the Prudential, and to celebrate, the company is hosting a 'Pay what you want' event on Friday and Saturday from 11 a.m. to 3 p.m. Stop by the Pru to order one of Clover's seasonally rotating sandwiches; proceeds from the event will go towards the Massachusetts Rivers Alliance.
If you can't help yourself when Motown comes on the radio, head to the Lowell Memorial Auditorium this Friday at 7:30 p.m. to catch a double dose of '60s soul from The Temptations and The Four Tops. The R&B icons ain't too proud to beg, but realistically you'll be the one who has to reach out for tickets, which are available in a limited capacity.
While the temps have dropped significantly since summer, it's still ice cream weather in Boston. So how about making a trip to try New Zealand-style ice cream? Far Out, a new ice cream shop in the former A4 coffee shop, will host its grand opening celebration Friday through Sunday, offering 25 percent off all weekend. The "real fruit ice cream," as it's known in New Zealand, swirls together vanilla ice cream with a scoop of fruit, resulting in flavors like raspberry, mango, and kookaberry. Coffee from Night Shift Brewing will also be available — including, of course, an affogato.
With dire warnings of supply chain delays dominating the news, wouldn't it be nice to cross every name off your list three weeks before Thanksgiving? You can get a head start at the 35th Annual New England Christmas Festival, one of the largest arts and crafts festivals in the region. This Friday, Saturday, and Sunday, more than 300 boutiques will offer up handcrafted items, specialty foods, jewelry, pet presents, and other tough-to-find gifts at the Earth Expo Center in Uncasville, Connecticut (about 2 hours outside of Boston). Interested shoppers can purchase tickets and find additional info about COVID-19 protocols, parking, and other info on the festival's Eventbrite page.
Throughout November, The Herb Lyceum at Gilson's in Groton will translate the best of fall's bounty into a five-course dinner on Fridays and Saturdays at 7 p.m. Chef Will Gilson will cook dishes like mulligatawny soup, beef short rib with herbed pappardelle, and sugar pumpkin churros with oat milk ice cream. Tickets ($75) can be purchased here; wine and beer are sold separately.
Apple-picking season is already winding down as temperatures drop, but there's still time to enjoy some fall activities before Thanksgiving. This weekend, head west of Worcester on Saturday or Sunday to take part in Franklin County's annual CiderDays, a chance to check out more than a dozen cider tastings, tours, and other orchard fun in the western half of the state, including Ragged Hill Cider, Artifact Cider Project, and Beaver Pond Distillery. For a full list of participating cideries and a map for your own self-guided cider tour, check out the Cider Days website.
For the 33rd edition of the annual Boston Jewish Film Festival, which kicks off this Sunday and runs through Nov. 21, organizers have decided to keep things almost entirely virtual, meaning audiences can enjoy dozens of narrative, documentary, and animated features and shorts from 11 countries in the comfort of their own home. Purchasing a festival pass also grants viewers access to a number of live virtual events, with filmmakers discussing their works, including a number of recent titles that explore Jewish life during the pandemic. To purchase tickets and see the full lineup, visit the Boston Jewish Film website.
Need weekend plans?
The best events in the city, delivered to your inbox.