Events
10 things to do in Boston this Thanksgiving weekend
BosTen is your weekly guide to events and cool happenings in and around Boston.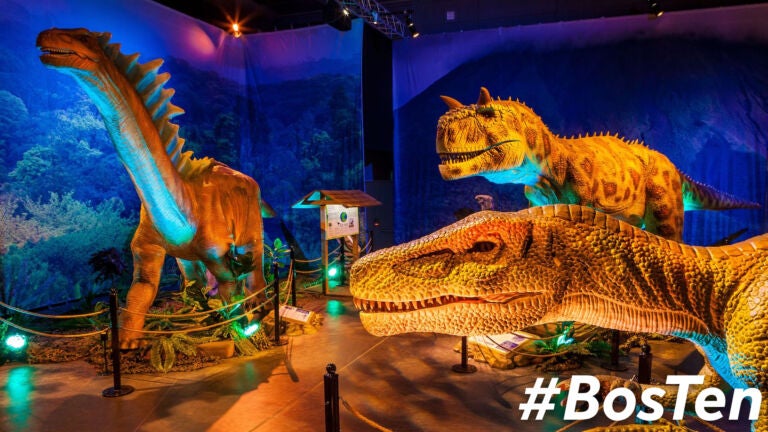 With more and more Massachusetts businesses and cultural institutions reinstating COVID-19 restrictions in the face of a resurgent coronavirus pandemic, residents may be torn on whether to venture out of their homes this weekend. With that in mind, this week's BosTen offers a mix of in-person and virtual things to do in Boston this weekend. Have an idea about what we should cover? Leave us a comment on this article or in the BosTen Facebook group, or email us at [email protected].
For more than 60 years, La Salette Shrine in Attleboro has wowed visitors with displays featuring around 300,000 lights spread over 10 acres, as well as an international crèche museum, with more than 1,000 crèches from at least 100 different countries. This year, the shrine will kick off the season on Thanksgiving night at 5 p.m., and will be open daily through Jan. 2.
Visit Miracle and Sippin' Santa, two holiday cocktail pop-ups
It's the most wonderful time of the year — and by that we mean Miracle, the annual holiday pop-up bar, has returned to the Boston area, along with its tropical counterpart, Sippin' Santa. Miracle will take over three local bars: Mystic Station in Malden (Nov. 23–Dec. 31), Central Tavern in Milford (Nov. 26–Dec. 31), and the Kimpton Hotel Marlowe Lobby Bar in Cambridge (Nov. 26–Dec. 24), transforming them into a winter wonderland complete with festive cocktails like the Christmapolitan and the Snowball Old-Fashioned. In the South End, a more tropical spin will take place, as Shore Leave transforms into Sippin' Santa starting Nov. 23. Under festive holiday lights, sip on a Kris Kringle Colada while a very merry soundtrack plays in the background.
Prepare for the massive feast to come by burning some calories at the Boston Volvo 5K race, which winds its way through the roads of Brighton on Thursday morning at 9 a.m. Funds raised by the race help out the National Multiple Sclerosis Society, which has partnered with the event since 1998. Advance registration is closed, but same-day registration at the race site will be open from 7:30 a.m. to 8:30 a.m.
Still looking for a group to spend time with on Thanksgiving Day? Roxbury's District 7 Tavern is there for you, throwing its annual all-ages community friendsgiving potluck from 3 p.m. to 6 p.m. The tavern will be 21+ from 6 p.m. to 1 a.m. Bring your favorite dish — cranberry sauce, a casserole, a homemade pie, perhaps? — and dig in with friends new and old. Stick around for a drink and a game or two of pool at this beloved Roxbury mainstay.
Science has shown us that even the most harmless birds are just bite-sized descendants of dinosaurs. With that in mind, once you're done with the turkey on your Thanksgiving table, check out some giant bird ancestors at Dino Safari, a traveling exhibit now on display at Faneuil Hall through mid-January. Walk among more than 30 life-size dinos, each built with scientifically accurate installations and realistic moving animatronics. Along the way, check out some of the exhibit's hands-on challenges, as well as an interactive space for children.
Celebrate the start of Hanukkah with latkes and sufganiyot
Hot off the heels of Thanksgiving, Hanukkah kicks off its eight-day celebration on Sunday, and restaurants and bakeries around the city are prepared. At Mamaleh's, a special Hanukkah menu features latkes, sufganiyot, matzah ball soup, and bags of gelt, available for pickup and delivery starting Nov. 28. Kane's Donuts is currently offering sufganiyot for pre-order; load up on the delicacies stuffed with black raspberry jam, sprinkled with powdered sugar, and topped with a raspberry. Clover Food Lab has a Hanukkah Meal Box filled with sweet potato latkes, butternut squash kugel, braided challah, and more, while Maccabee Bar returns for another year at Bow Market's Variety Bar on Nov. 29, slinging drinks like the Latke Sour and the Everything Bagel Martini. In short: There are plenty of delicious ways to eat (and drink) your way through Hanukkah this year.
To mark the debut of its newest exhibit, "Fabric of a Nation: American Quilt Stories," the Museum of Fine Arts will offer free admission to the museum on Friday, Nov. 26. Showcasing 50 works dating from the 17th century to now, the exhibit shows how quilting has long been a method of storytelling that has been shaped by a diverse array of artists. Though admission is free, tickets must be reserved in advance. They're available now on the MFA website.
On Friday, the time-honored tradition of afternoon tea will make a return to The Newbury Boston, served on select dates through Dec. 23 with seatings at 11 a.m. and 3 p.m. Pick up your pinkie, take a sip of tea, and dive into tea sandwiches, chocolate truffles, freshly baked scones, and more. If you're bringing the little one, there's a kid-friendly version, too: peanut butter and jelly sandwiches, hot chocolate, holiday cookies, and strawberry lemonade. Reservations can be made here.
Like the first wave of Christmas music that hits airwaves in November, the return of Boston Ballet's production of "The Nutcracker" is a sure sign that the holiday season is upon us. With choreography by Mikko Nissinen, the Tchaikovsky classic begins a monthlong engagement at Boston Opera House with a pair of shows on Friday. Tickets for this weekend's shows are in short supply, so be sure to check out the Boston Ballet website sooner rather than later.
Want to grab some comic books, trading cars, or some sort of geeky collectible for someone on your shopping list? Or perhaps you simply want to spend Thanksgiving weekend surrounded by cosplayers, sci-fi celebrities, and fellow nerd culture aficionados? Head to Boxborough for this year's Northeast Comic Con & Collectibles Extravaganza, a three-day celebration featuring dozens of attractions. You'll be able to grab autographs from the likes of Billy West ("Futurama," "Doug") and Michael Winslow ("Police Academy"), shop among thousands of toys, art, comic books, and other memorabilia, and enjoy myriad other activities, including concerts, panels, and parties.
Need weekend plans?
The best events in the city, delivered to your inbox.