Food
How to eat your way through a brunch competition
The annual Brunch Battle returns to District Hall on Oct. 19 from 12 p.m. to 2 p.m.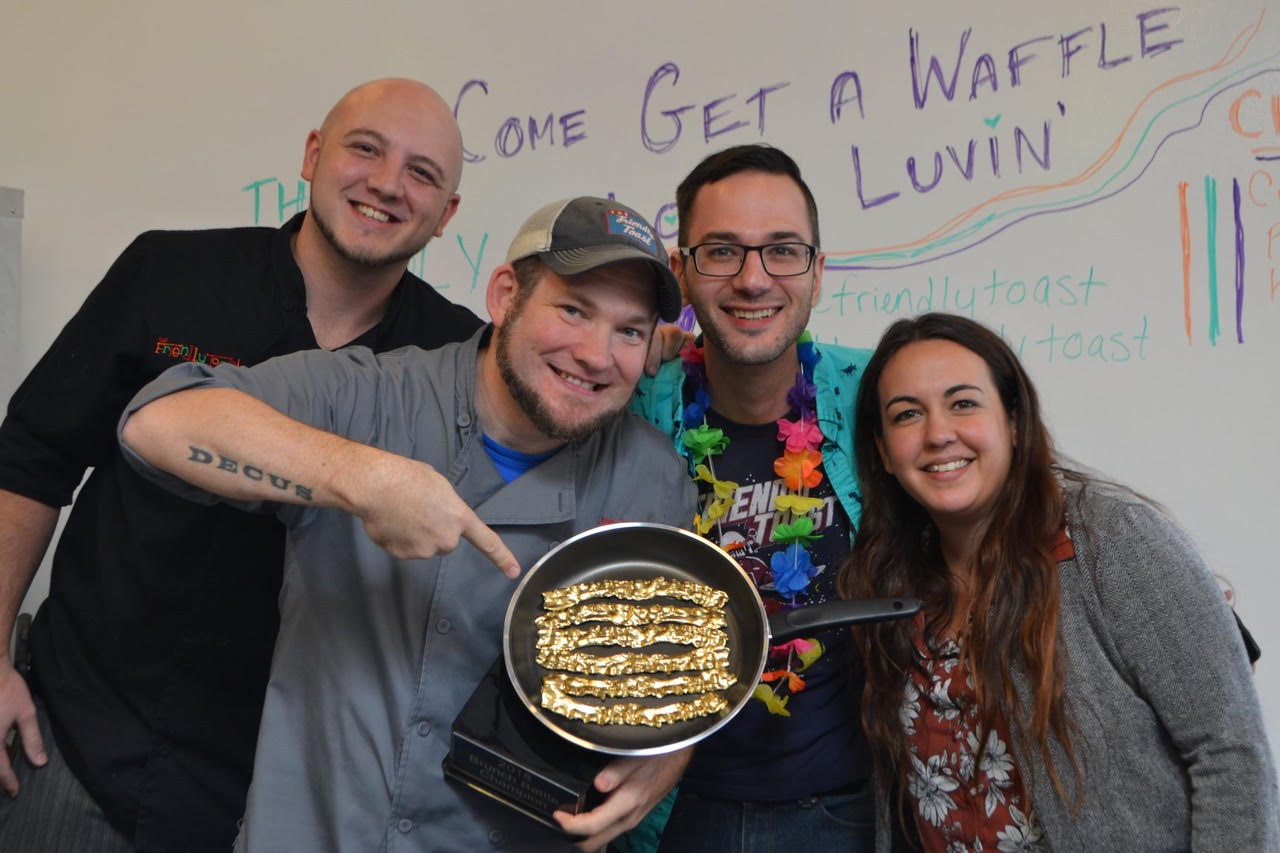 Eat, vote, and have a mimosa.
The fifth annual Brunch Battle at District Hall in the Seaport pitches nine local restaurants, all duking it out, or rather, cooking it up, in the hopes of being crowned this year's champion.
Proceeds from the event benefit Community Servings, a non-profit food and nutrition program that helps Massachusetts and Rhode Island residents living with food insecurity.
This year's competitors include Gather, District Hall's next door neighbor, the Seaport's Tuscan Kitchen and Rosa Mexicano, Back Bay's Brownstone and Atlantic Fish Co., South End's Metropolis, Southie's The Broadway, Paris Creperie, which inhabits Coolidge Corner and the Seaport, and last year's winner, The Friendly Toast, which has locations in Kendall Square and Back Bay.
Dishes will be served buffet-style from the nine participating restaurants to include rancheros spring rolls, churro French toast, pumpkin pancakes, pancake tacos, breakfast pizza, smoke stack sandwiches, "great eggspectations" crepes, garbage plate hash, and shrimp and cheese grits.
We asked chef Jarred Bailey, head of last year's winning team and director of culinary operations at the Friendly Toast, to break down what it takes to win the competition, and how to best eat your way through the buffet and vote on a winner.
How did you come to join the Brunch Battle?
Last year was our first year. We had done a charity event with Community Servings and they chose us to be a part of the Brunch Battle. These events are always fun. We get the chance to mingle with people and also see what the other restaurants are doing.
How fierce is the competition?
There are a lot of good restaurants and lots of good dishes, so there's some competition to worry about. When you are competing with good restaurants it makes it all the sweeter when you win.
Brunch seems to be everyone's favorite meal, is it yours?
People like to eat brunch. You don't have to get up early, but you can still eat breakfast-style dishes. Personally, I like brunch, too, because it gives both options: it mixes breakfast and lunch dishes and melds it altogether. Then you don't have to think about eating again until dinner.
Do you have any advice for this year's competitors?
I'm not going to share my secrets! I'm in it to win it, again. You do need to be quick and be prepared. People don't want to wait around and you can't run out. Also, be flexible. If someone asks for no bacon, don't give them bacon. You want them to like your dish and vote for you.
Do you have advice for the attendees who have to try all nine restaurants' dishes?
They are sample sizes, not full plates, but they do have to try them all, otherwise they can't vote for the best. So you have to pace yourself. Eat a little, and then take a break… Have a mimosa in Gather's bar. Get there early enough so you can do it at a leisurely pace. It's set up buffet style, so you can try a little before going to the next one.
Was your win last year beginner's luck or do you make truly scintillating chicken and waffles?
We make truly scintillating chicken and waffles.
Brunch Battle; Saturday, Oct. 19 from 12 p.m. to 2 p.m.; District Hall, 75 Northern Ave., Boston; $25; 21+