Food
Get in the spooky spirit with these festive Halloween food events in Boston
Murder mysteries, Halloween dinner kits, and ghoulish pop-ups abound this year.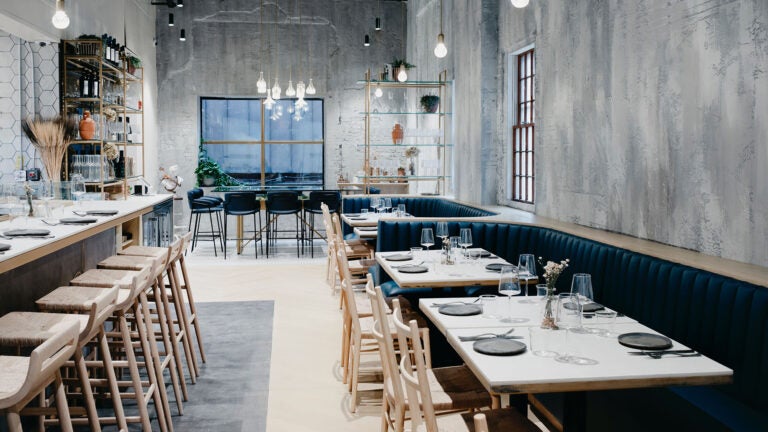 It may seem like a broken record, but it's worth repeating: This year's Halloween celebrations will be different, especially when it comes to festive parties at restaurants and bars. Dining rooms won't be crammed with elaborately costumed patrons vying for a prize, and there definitely won't be an apple bobbing station.
Instead, there are Halloween dinner kits available for pick up, socially distanced cocktail classes, and, in the case of Somerville's Juliet, a virtual murder mystery.
"It's kind of like everyone who is eating is also an actor in a play," said Nora Connolly, a Juliet staff member who came up with the idea of a virtual murder mystery dinner, which takes place on Saturday. Attendees will pick up a three-course meal kit, then return to the confines of their home where they will virtually join other murder mystery guests, who have all been assigned characters.
"The premise is that it's taking place at a restaurant called Miranda, and they're all attending the opening of this restaurant for different reasons," Connolly said. "They all have a motive for wanting the chef dead." Cue the ominous music.
Whether you're hoping to play a role this weekend or simply pick up candy-inspired doughnuts, here are a handful of Halloween food events to get you in a spooky spirit.
Thursday, 10/29
Chick or Treat at Hojoko
Fenway hot spot Hojoko has a full lineup of Halloween events planned, including wasabi roulette on Friday and a costume contest on Saturday. Most enticing? Its Chick or Treat event on Thursday, which pits Hojoko against the wildly popular Hot Chix in a chicken sandwich showdown for the ages. Diners can either make a reservation or plan to pick up their sandwiches between 5 and 9 p.m. on Thursday (or until sold out), then settle in to try the fiery sandwiches side-by-side: Hojoko's spicy chicken thigh with bacon, lettuce, tomato, dashi pickles, and nori buttermilk ranch; and Hot Chix's Nashville hot chicken sandwich. May the best chicken sando win.
Friday, 10/30
Sweet Cheeks Q x OddFellows Halloween Dinner Kit
When Sweet Cheeks Q chef Tiffani Faison teams up with ice cream all-stars OddFellows, you know you're in for a good time. To celebrate Concord Cream Pie, Faison's new collaboration with OddFellows, the Chestnut Hill ice cream outpost has put together a Halloween dinner kit for two ($75-$80), featuring either a barbecue or vegetable menu, plus a bottle of wine and a pint of Concord Cream Pie: Concord grape ice cream with chunks of yellow cake, vanilla custard, and Concord grape jelly. Pre-order for pick-up at OddFellows on Friday between 1 p.m. and 8 p.m.
Halloween Feast at Bully Boy Distillers
Bully Boy Distillers and M & M BBQ teamed up this year to create a Halloween feast, complete with Halloween-themed cocktails and stand-out barbecue. Each $30 ticket includes loaded tortilla chips with pulled chicken, smoked cheese sauce, and house barbecue sauces, bratwursts topped with pickled red cabbage sauerkraut, smoked barbecue wings, and homemade banana pudding. Dinner sessions, held at Bully Boy in Roxbury, will be available from 5:30 to 7:30 p.m. and 8 to 10 p.m. Reservations can be made here.
Negroni Flight or Fright Night at Time Out Market
Gather your coven — er, your crew — for a night of mixology magic at Time Out Market in the Fenway. From 6:30 p.m. to 7:30 p.m., bartender Patrick Gaggiano will be on hand to lead attendees through four special Negroni recipes, with take-home bar kits that include skull ice molds. Tickets are $25 and can be purchased here.
Saturday, 10/31
Basic Witches brunch at City Tap House
Don your Uggs and your Lululemon leggings: City Tap's Basic Witches Halloween brunch is back for a second year, this time with dishes and drinks like the "Mean Girls"-inspired "I'm a Mousse, duh" French toast, "Not-So-Basic Avocado Toast," and "You're a Fresh Witch," a spicy cucumber margarita. Reservations are required for the brunch, which runs from 11 a.m. to 3 p.m., and can be made here.
Gods & Goddesses Halloween Toga Party at Krasi
The Halloween toga party lives on this year in the form of brunch at Krasi, the Back Bay's buzzy Greek newcomer. From 10 a.m. to 3 p.m., guests are encouraged to dress the part of gods and goddesses while sipping on Aphrodite's Bellini and enjoying bites of koulouri (house made honey sesame bread with Greek honey butter). Grab one of the many props on hand, snap a Polaroid, and feast like the gods.
Halloweekend at Brass Lodge (Brass Union)
Get out your best "Twin Peaks"-inspired attire and head over to Brass Union on Saturday. The Somerville spot recently transformed its outdoor patio into Brass Lodge on Friday and Saturday nights, and this Halloween weekend, they'll be doing it again from 5 p.m. to midnight. Dress up like Agent Cooper and sip on cocktails inspired by the cult TV show, like The Log Lady and Jacoby's Coconut.
Halloween doughnut pop-up at Harvest
Consume your Halloween candy in doughnut form this year. Harvest pastry chef Josh Livsey has created a box of four Halloween doughnuts with flavors inspired by candy that you might find in a trick-or-treat haul: Peanut Butter Cup, Skittles, Twix, and candy apple. Orders for the $13 box can be placed at 617-868-2255 until October 29, and pick-up is at Harvest on October 31.
A Nightmare on Charles Street
The Halloween spirit will be alive and well at the Liberty Hotel on Saturday with A Nightmare on Charles Street, a ghoulish evening featuring a three-course dinner from chef Daniel Kenney. Wear your creepiest costume and settle into a table at Clink, Liberty Bar, or the Catwalk starting at 6 p.m. (reservations required). The $65 dinner will be accompanied by a live DJ — fingers crossed Freddy Krueger doesn't make an appearance.
Murder mystery at Juliet
Play investigator for an evening at Juliet's Halloween murder mystery dinner ($45), a virtual event that includes a dinner kit, an original murder mystery, and an optional costume contest; owner Josh Lewin recommends "embellishing from the shoulders up" since guests' costumes will be viewed on a computer screen. The special "Restaurant Without Walls" edition features a three-course meal that can be picked up at Somerville's Juliet between 4 and 6 p.m. Saturday, with the actual murder mystery dinner taking place in two waves: 6 p.m and 8:15 p.m. Come for the pumpkin cake with candy corn, stay to find out if the murder was … you. Reservations can be made here.
Halloween & Dia De Muertos at Barra
It's a double-header at Barra in Somerville: On Saturday, the Mexican eatery will celebrate Halloween from 4 to 10 p.m., while Sunday will be dedicated to Día De Muertos, or Day of the Dead, from 11 a.m. to 3 p.m. Expect food and drink specials like chilpachole (crab stew), pipian (seed-based green mole) with chicken and vegetables, and cinnamon-infused libations, all of which you can enjoy while decked out in your finest costumes on Barra's patio. Reservations are encouraged.
Get Boston.com's browser alerts:
Enable breaking news notifications straight to your internet browser.