Movies
The City of Boston is hosting a free drive-in movie series in July
Catch films like "Frozen II" and "Jurassic Park" every Wednesday.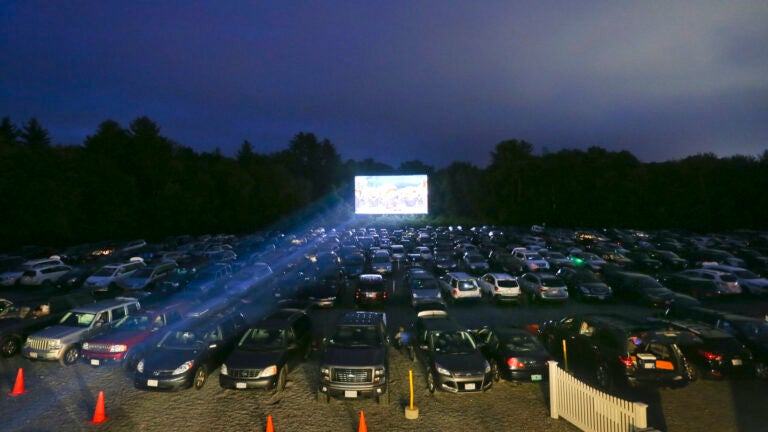 Coming soon to a City of Boston parking near you: Drive-in movies.
A joint effort from Mayor Marty Walsh, Boston Parks and Recreation, and the Mayor's Office of Tourism, Sports, and Entertainment will bring a free drive-in movie series to city parking lots every Wednesday this month starting July 8.
Walsh announced the initiative on Twitter Wednesday afternoon with a video edited to resemble the beginning of a feature film, complete with a Dreamworks-inspired logo.
"This public health crisis has changed our lives in extraordinary ways, and this summer is certainly shaping up to look a lot different," Walsh said. "I know we're all missing the traditions and summer activities that we usually do and love, but even during these difficult times we're still finding ways to come together, and that's what we're here doing tonight."
Coming soon to a theater near you🎥🍿… The @CityofBoston and @BostonParksDept are proud to offer free, family-friendly entertainment for the people of Boston through the July Drive-in Movie Series. https://t.co/7juJaPlCJM pic.twitter.com/1Y12GRB6Va

— Mayor Marty Walsh (@marty_walsh) July 1, 2020
The first two nights of the drive-in series will take place in the Boston Convention and Exhibition Center parking lot. On July 8 you can watch a double feature of "Moana" and "Yesterday" at 6 p.m. and 8:30 p.m., respectively, while July 15 brings a double billing of "Frozen" and "Jurassic Park" at 6 p.m. and 8:30 p.m., respectively.
For July 22 and 29, the fun moves to the parking lot at 121 Halleck St. in Roxbury, with a 6 p.m. screening of "Coco" on July 22 and a double feature of "Trolls" and "Harriet" on July 29 at 6 p.m. and 8:30 p.m., respectively.
Similar to other drive-in movie theaters in Massachusetts that have opened during the coronavirus pandemic, Boston's drive-in requires guests to park cars at least six feet apart and wear masks any time they are outside their own vehicle. Guests must also wear face coverings while in line for concessions or restrooms, which will be cleaned regularly.
All movies are free and open to Boston residents, but guests must pre-register for the show on Eventbrite. Guests will be asked to show a printed RSVP or an e-mail confirmation upon arrival. To mitigate traffic, the city is asking residents not to arrive before the scheduled gate open time.
Here is the full schedule for Boston's summer drive-in series, with registration links for each screening.
"Moana" (PG): Wednesday, July 8 at 6 p.m.; Boston Convention and Exhibition Center, South Boston; Register here
"Yesterday" (PG-13):Wednesday, July 8 at 8:30 p.m.; Boston Convention and Exhibition Center, South Boston; Register here
"Frozen II" (PG): Wednesday, July 15 at 6 p.m.; Boston Convention and Exhibition Center, South Boston; Register here
"Jurassic Park" (PG-13): Wednesday, July 15 at 8:30 p.m.; Boston Convention and Exhibition Center, South Boston; Register here
"Coco" (PG): Wednesday, July 22 at 6 p.m.; 121 Halleck St., Roxbury; Register here
"Trolls" (PG): Wednesday, July 29 at 6 p.m.; 121 Halleck St., Roxbury; Register here
"Harriet" (PG-13): Wednesday, July 29 at 8:30 p.m.; 121 Halleck St., Roxbury; Register here