Restaurants
These are the most popular seafood restaurants in Boston, according to check-in data
Go ahead and check out one (or more!) of these Boston seafood restaurants.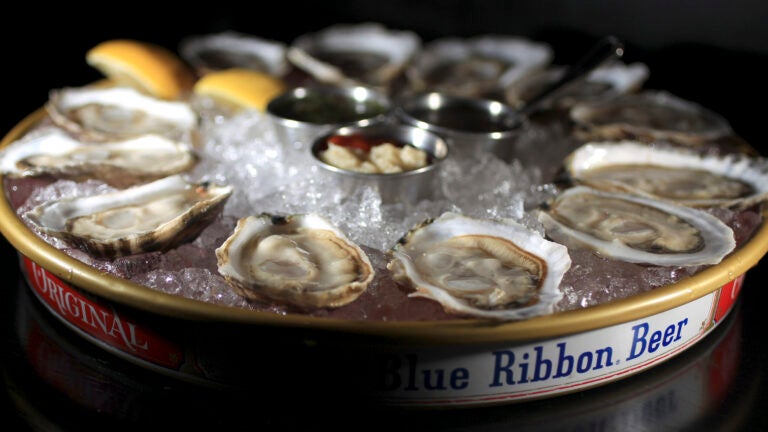 From the Seaport District to Back Bay, Boston has plenty of seafood restaurants where you can enjoy a bowl of clam chowder, a warm, cold, or sometimes deep-fried lobster roll, or the fresh catch of the day.
Thanks to check-in data from Foursquare Swarm, we found the most popular seafood restaurants in Boston from March 8-15, 2017. Here they are:
1. Row 34
383 Congress St., Fort Point
This chic Fort Point restaurant offers simple yet flavorful entrees like roasted cod as well as house-made bucatini topped with shrimp. The main attraction, though, is the raw bar, where the oysters come primarily from the chilly Atlantic waters. Wash down a dozen or so with a pint from the robust craft beer line-up (and a lobster roll stuffed with claw meat, too). 
2. James Hook & Company
15 Northern Ave., Financial District
James Hook is a Financial District destination for a quick lunch or post-work bite. This hole-in-the-wall right along the Greenway is known for its lobster rolls, which come slathered with just the right amount of mayo. Sit inside at a cozy table next to the lobster tanks, or set up outside at a picnic table — weather permitting, of course.
3. Neptune Oyster
63 Salem St., North End
Tucked in between a neighborhood of places slinging pasta and filling cannoli, this upscale, intimate eatery showcases some pretty stellar seafood. The word's out, too: Boston magazine named it the city's top oyster bar in 2016 and best seafood restaurant in 2015. The time and perseverance generally involved in snagging a table or bar seat make the briny bivalves taste that much sweeter. 
4. Legal Test Kitchen
225 Pier Four Blvd., Seaport
Legal Test Kitchen is the more experimental cousin of all the outposts in the Legal Sea Foods chain, offering a menu of classics like fish and chips alongside new creations like wok-seared shrimp and lobster lo mein. Travel + Leisure recommends trying something "… less traditional like the spicy lobster fra diavolo or hoisin-glazed salmon on a bed of vegetable pad Thai."
5. Atlantic Fish Company
761 Boylston St., Back Bay
A standby among well-heeled business clientele, Atlantic Fish Company serves coastal cuisine in an urbane environment featuring white tablecloths and an expansive wine list. The menu includes whole lobsters, surf and turf, and entrees like pan-seared Atlantic cod and crab-crusted haddock. Especially in the warmer months, it's a bustling spot highlighting Boylston Street as a backdrop. 
6. Island Creek Oyster Bar
500 Commonwealth Ave., Fenway
Two bestsellers at this upscale raw bar and seafood restaurant are the crispy oyster sliders and the lobster roe noodles with braised short rib and grilled lobster, according to a spokesperson — but the oysters are always the star of the show. Island Creek also operates its own oyster farm in Duxbury, Mass., as well as a non-profit foundation dedicated to sustainable food production. 
7. Union Oyster House
41 Union St., Downtown
Nestled among the skinny cobblestone streets near Faneuil Hall, Union Oyster House has been shucking oysters since John Quincy Adams was president. Since then, it's operated as a quaint destination for patrons to take a trip back through Boston's history. Most of the fish is locally sourced, and the rotating specials of Italian, Spanish, and even Thai dishes are very popular, according to Joseph Milano, the restaurant's president.
8. Legal Sea Foods
255 State St., Waterfront
Just a short walk from the New England Aquarium is Legal Sea Foods' Long Wharf restaurant. It may be part of a chain — with locations in Cambridge, Chestnut Hill, Copley Place, Somerville, and more — but the Long Wharf location's offering includes expansive views of the Boston Harbor.  
9. Yankee Lobster
300 Northern Ave., Seaport
Yankee Lobster is a destination for New England classics: whole lobster dinners, lobster rolls, chowder, and more. "The lobster here is extra fresh especially because the water for the aquariums is pumped directly from the ocean," according to The Food Network. A fresh market featuring live lobsters, shellfish, fish fillets, and prepared foods offers ample opportunity for cooking at home, too.
10. Summer Shack
149 Alewife Brook Parkway, Cambridge
This casual seafood joint — and its sibling in the Back Bay — trade pristine dining conditions for a laid-back vibe with funky decor, picnic tables, and music. Try Jasper's pan-roasted lobster, made with bourbon, chervil, and chives, or go with one of general manager Vincent Lombardi's picks: a classic steamed lobster or the crabcakes.