Music
Attendees are complaining about Boston Calling's long lines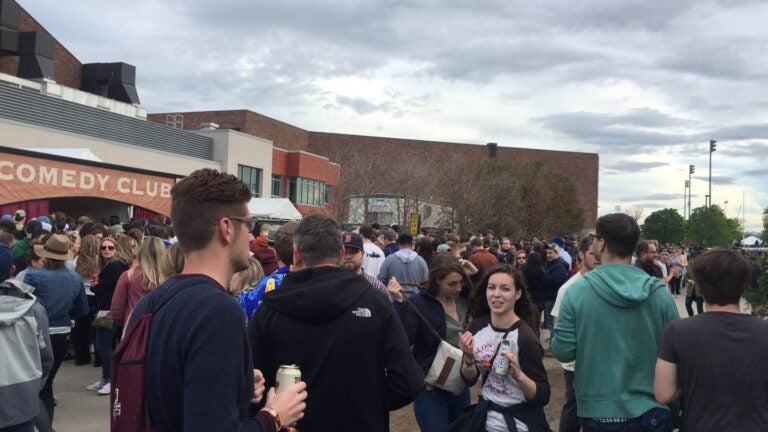 Boston Calling's first festival held at the Harvard Athletic Complex has had its high points. A gorgeous Saturday let concertgoers take great photos from atop the festival's Ferris wheel. High-profile acts like Chance the Rapper, Mumford & Sons, and Sigur Ros delivered electrifying sets. And the food vendors offered a fun mix of dishes, including lobster rolls, steak, and the outrageous BBQ Bomb.
But the festival has had a few problems with long lines, whether it be waiting for bathrooms, food, or simply getting into the festival itself.
On day one of the festival, the major culprit was the long lines to get into the festival grounds, which peaked as the Friday after-work crowd made their way to lower Allston.
Waiting in line for an hour to GET IN. #BostonCalling pic.twitter.com/xC2ycdJayJ

— Matt Tytel (@matttytel) May 26, 2017
So far #BostonCalling is a complete disaster logistically. Apparently no plan for any kind of crowd attending.

— Douglas O'Reagan (@D_OReagan) May 26, 2017
Sooooo is #bostoncalling fyre festival jr.?

— Jackie[z] Gonzalez (@mmm_jackiez) May 27, 2017
Spent 3 hours standing in lines at #BostonCalling tonight. Thank you for the experience.

— Scott McLaughlin (@DaMacandCheese) May 27, 2017
Appropriately, @Boston_Calling is the Green Line of concerts this year #BostonCalling

— John Costello (@CostelloJohnD) May 26, 2017
Shame on #BostonCalling for continuing to sell Saturday and Sunday tickets when today was clearly more than they could handle

— Adrienne Epstein (@adriennepstein) May 27, 2017
#bostoncalling there better be some free tacos or beers when I get to this damn entrance gate – seriously – how poor is this planning?!

— Megan (@MrsMegLG) May 26, 2017
People reported waiting anywhere from 60 to 90 minutes to get in, prompting the festival to announce that it was "making adjustments" Saturday morning, and that they would "learn from Day one."
We heard you & are making adjustments to improve lines and flow today. We appreciate your feedback as we learn from day one. #BostonCalling

— Boston Calling (@Boston_Calling) May 27, 2017
The lines were universally better on Saturday, especially in terms of getting into the festival. But the lines to try the festival's numerous food vendors were uncomfortably long starting at around 5 p.m., with users on social media reporting waiting for more than an hour, and sometimes finding out as they approached the front of the line that the restaurant they were waiting for was out of food.
Number 89 in line for some nourishment at this fake festival. #terribleplanning #notchella #BostonCalling pic.twitter.com/xSiEze8Br7

— Emma Finlay (@Emma_Finlay) May 27, 2017
If someone throws out half their grilled cheese when there's an hour line for food, is it socially acceptable to eat it? #BostonCalling

— Martin Richard (@martintense) May 27, 2017
When the hour and a half wait for a grilled cheese was longer than any of the sets I saw today #BostonCalling

— Megan (@ohhaimegan) May 28, 2017
@Boston_Calling @RuthsChris @joro24 waited for an hour & all we got were these sad chips. At least Fyre had sandwiches. #BostonCalling pic.twitter.com/bHscP4wjcZ

— Adam Krauss (@AFKrauss) May 28, 2017
Wtf #bostoncalling can you seriously get more food vendors! This is ridiculous

— Abel (@xigotbassx) May 27, 2017
@boston_calling #Bostoncalling your food and bathroom lines are inhumane. get more food stands and bathrooms so people can enjoy music.

— Teenage Witch (@NuvaEarrings) May 27, 2017
Others complained about the sanitary state of the festival, citing overflowing piles of trash and unsanitary bathrooms.
I think my fav #BostonCalling memory was when staff pushed 3 huge trash bins through a crazy crowd/bathroom line while I was missing the XX.

— first edition Iliad (@wkatie) May 28, 2017
There's no toilet paper anywhere?? Just waited in line for ages only to not be able to take a piss @Boston_Calling #BostonCalling

— lily (@lilrottenfilth) May 27, 2017
@Boston_Calling – for two nights in a row, 9 out of 10 toilets checked at 9pm – ATROCIOUS! Health and safety violation? #BostonCalling pic.twitter.com/og6oowghkS

— Kirsten Cooper (@klcoop0721) May 28, 2017
#BostonCalling #Bostontrashparty This is the first and last time I will attend due to inability to stay green nor ability to manage trash. pic.twitter.com/MyoBmpdaPe

— Derek Wilson (@DTheoneAndonlyW) May 28, 2017
Festival organizers tried to remedy some of these problems as well, tweeting out the locations of bathrooms farther away from the main thoroughfare and recommending people sync their concert wristbands with their credit or debit cards for a quick, cashless experience at food and drink vendors.
There are multiple bathrooms across the grounds. Please refer to this map and get through quicker! #BostonCalling pic.twitter.com/jGCLD1dAZ7

— Boston Calling (@Boston_Calling) May 27, 2017
We also recommend visiting the RFID/Cashless booth onsite in the same complex as our merch booth to help speed up payments and lines.

— Boston Calling (@Boston_Calling) May 27, 2017
With tens of thousands of attendees, it's natural that Boston Calling — or any other major music festival — might some issues with long lines. Concertgoers who made an effort to buy food at non-peak hours and visit less busy bathrooms probably had a relatively hassle-free festival. But for those who didn't, the Boston Calling experience left something to be desired.
As an event planner by trade, the vast amount of trash & lack of food & bathrooms needs…uh… improvement at #bostoncalling.

— William Holbrook (@wholbrook) May 27, 2017
#BostonCalling by far the worst organized festival I have ever attended. Absolutely terrible @Boston_Calling

— Steve Graves (@slimstevie111) May 27, 2017
I hate @Boston_Calling. Been to 8 festivals and this is BY FAR the WORST!!!! ?

— Kayte Lewis (@xokayte) May 28, 2017
[bdc-gallery id="3581743″]