Cocktail Club
'My way to bring paradise to you': How to mix a tropical Old Fashioned
Six West bartender John E. Rodríguez shares an inventive spin on one of the most well-known cocktails.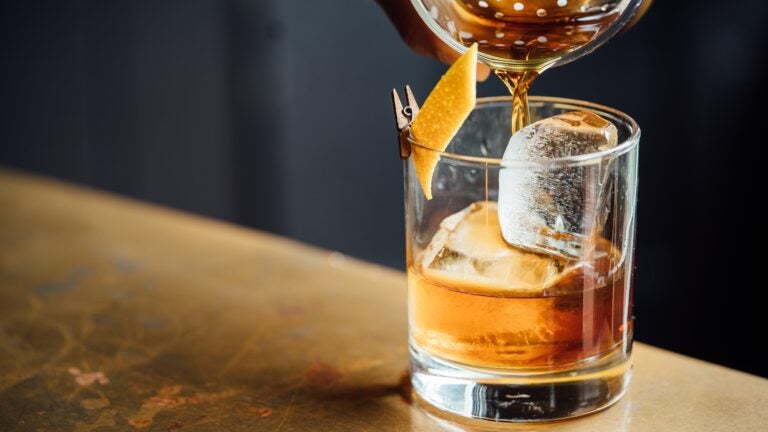 When that 90-degree summer weather hits, you have vacation on your mind and your body asks you to quench your thirst with a cold, refreshing drink. You head to your local bar, or maybe you craft something at home. You're thinking a daiquiri, whiskey smash, gin and tonic, rosé, or maybe even a spiked fresh lemonade might please you.
Born and raised in Puerto Rico, an island where you can expect average temperatures of 80 degrees, the tropical vibes are always set. Aiming to keep drinks cold for longer led to the birth of smaller-sized beers and frozen drinks, like the noteworthy, the immortal, the never-goes-without-mentioning, piña colada – rum, pineapple, and coconut cream.
When the Puerto Rican cocktail scene started circa 2009, we followed some of the trends happening in the U.S., most of them from New York, and started trying some of those classic, seasonal cocktails. The Manhattan, Old Fashioned, and Negroni were a bit shocking to our tropical palate. The spirit-forward cocktails, the bitter ingredients, not having any citrus component, or even refreshing soda water for long drinks — they are hard to swallow while dipping your toes in the hot sand. We weren't used to that.
Soon after we started incorporating fruits we could find in the local market or the ones we had too much of on our patio. Acerolas (Caribbean cherries), guayabas (guava), quenepas (Spanish limes), carambola (star fruit), soursop, mango, papaya — all these fruits became part of our regular menu ingredients. Playing with these ingredients gave us the opportunity to put our spin on classic cocktailing.
When I moved to Boston, I started to look for ways to express my Caribbean roots in my cocktail making. Going to the local bodega, I found tropical juices to work with, different spices, and even different types of sugars changed the end result. It was easier in the summer, because that's what I've always known, but then as the seasons changed, I started learning more about warm concoctions. Hot toddys, hot buttered rum, and the Tom and Jerry to name a few. On those crisp fall days, warm cocktails turn into orders of the day. When it's snowing non-stop and you're trying to stay warm, nothing brings comfort like warmth and booze. In those moments, all I could think about was how badly I wanted to be drinking a piña colada to help my mind travel the beaches of Puerto Rico, albeit wearing many more layers. In comes the tropical Old Fashioned, a variation of this famous cocktail, as my way to bring paradise to you, regardless of weather.
The Old Fashioned is one of the most well-known cocktails. By definition, the Old Fashioned is composed of a spirit, a sweetener, bitters and water, and ice – for dilution and temperature. Using aged rum as our main spirit, we'll be making our own coconut and pineapple syrup and dropping some aromatic bitters, mixing those tropical notes into a lighter, yet delicious modification of the piña colada.
What you'll need
Tropical Old Fashioned
Tools
Ingredients
2 oz. aged rum
¾ oz. pineapple and coconut syrup (see recipe below)
1 dash bitters
Instructions
Stir over ice and serve into a big cube of ice.
Garnish with a lime peel.
Pineapple and coconut syrup
4 oz. pineapple juice
4 oz. coconut water
4 oz. fine sugar
Mix all ingredients in the blender for 30 seconds.
---
Join our next virtual cocktail class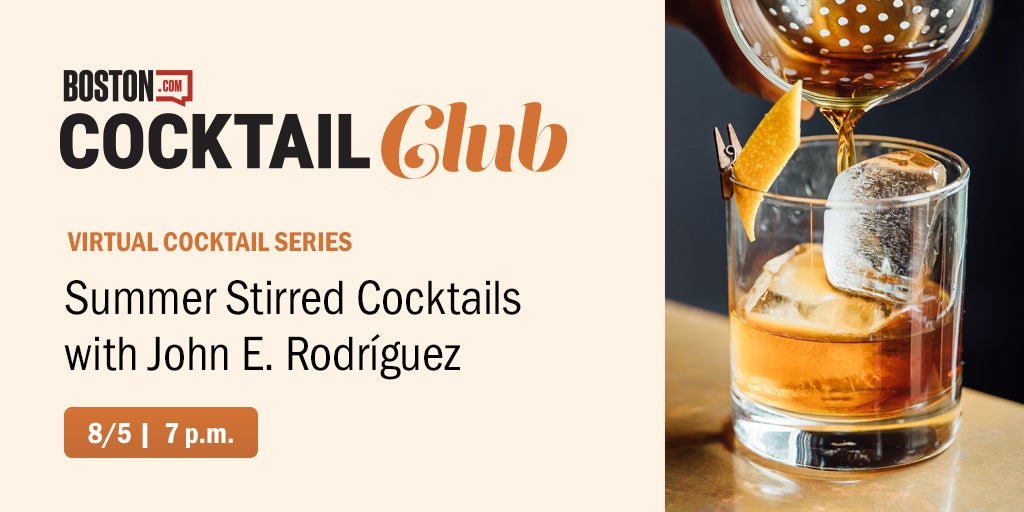 Join us Thursday, August 5, at 7 p.m. for Boston.com's Cocktail Club with host Jackson Cannon and special guest John E. Rodríguez, bartender at Six West in South Boston. This week they'll be making summer stirred cocktails, catching up about the Boston restaurant and bar scene, and sharing tips the pros use to make great drinks at home. Everything you need is in the shopping list here.
John E. Rodríguez is a bartender at Six West in South Boston.
Newsletter Signup
Stay up to date on all the latest news from Boston.com