Beer
Trillium's new Boston winter beer garden opens today
The towering brick structure features 34-foot ceilings, 18-foot copper clad doors, and two-story windows.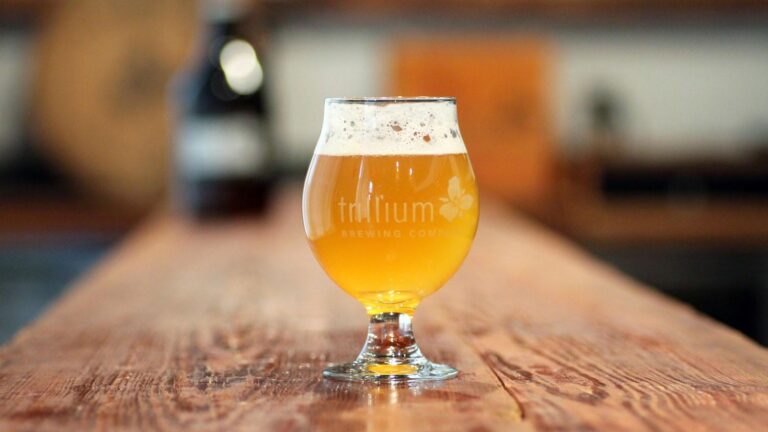 Trillium's new beer garden will open its doors to customers Thursday at 4 p.m. Trillium made the announcement about its new winter beer garden, located in the historic Roslindale Substation Building, via email and social media Thursday afternoon.
After a busy month transforming the Roslindale Substation from a big, beautiful empty building into a big, beautiful beer garden, we're finally ready for service. We open to the public today (12/7) at 4pm. Join us! Hours, draft list, & more: https://t.co/lFRPZIylnG pic.twitter.com/UCRJGDr4Qk

— Trillium Garden (@trilliumgarden) December 7, 2017
According to a press release issued back in November when the brewery first announced its plans, the indoor beer garden will be open five days a week through the winter season, providing beer drinkers in Boston a public setting to drink Trillium's signature juicy drafts nearly year-round. The brewery's outdoor beer garden on the Greenway closed for the season at the end of October after debuting this summer.
"We had a killer time with the Garden on the Greenway this summer so we jumped at the chance to bring Trillium to another Boston neighborhood," Trillium co-owner Esther Tetreault said in a statement. The quickly-growing company also operates breweries in Fort Point and Canton.
"The Substation is such a unique and iconic space, in a welcoming neighborhood, making Roslindale a perfect winter home for the Trillium Garden," Tetreault added.
According to Trillium's web and social media manager Quin McKinley, the brewery will seek to partner with as many local food trucks and restaurants as possible, and will also let customers bring their own food.
McKinley also said that the brewery will have have a regular selection of rotating draft options, available to view on the brewery's website. Current brews on tap include Peach Super Soak American Sour Wheat Ale, Vicinity Double IPA, and Mosaic Dry Hopped Fort Point Pale Ale.
Built in 1911 in the center of Roslindale Village, the Roslindale electrical substation used to convert electrical currents for use by Boston's trolley system, but was discontinued in 1971. After decades of disuse, it was renovated in a $4.8 million project in 2014. The towering, brick building, which is listed on the National Register of Historic Places, ended 46 years of vacancy earlier this year with the opening of a Craft Beer Cellar location on its lower level.
Trillium's new beer garden will occupy "a prominent corner" within the building's main floor.
"Beer aficionados will have the unique opportunity to drink Trillium's award-winning beer in the Substation's awe-inspiring space, with its 34-foot ceilings, 18-foot copper clad doors, 250-ton capacity gantry crane, and six two-story windows," said Alia Hamada Forrest, the executive director of Roslindale Village Main Street, which was one of the groups involved in the substation's renovation.
The nonprofit, which aims to promote Roslindale Village, partnered with Trillium for the new beer garden. Forrest was confident that it would draw eager beer-drinkers to the Boston neighborhood.
"Where Trillium goes, its fans follow," she said.