Beer
Dunkin' Donuts is releasing a coffee-inspired beer with a Massachusetts brewery
The collaboration brew is getting a special winter solstice launch.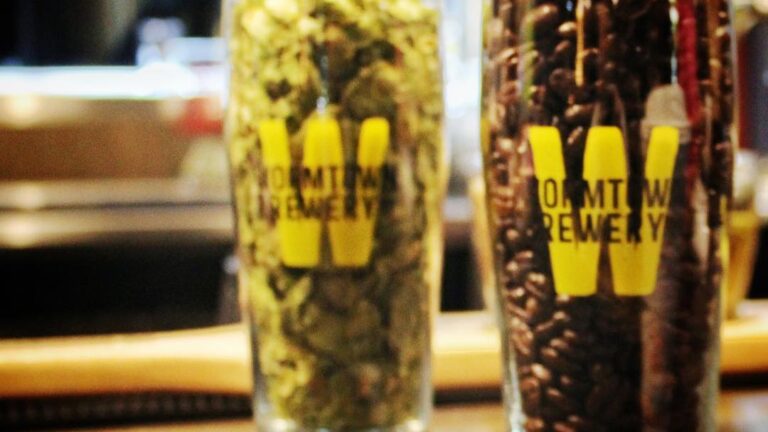 Dunkin' Donuts isn't just brewing coffee.
After teasing the news last week, the Canton-based company announced Monday morning that it had teamed up with Wormtown Brewery in Worcester to release a limited edition beer called DDark Roasted Brew.
Described as a "decadent stout-style beer," DDark Roasted Brew is the first beer to be brewed with Dunkin' Donuts Dark Roast coffee beans, according to a press release. It features a "full-roasted coffee flavor" and a "creamy mouthfeel," the release said.
The beer will be sold exclusively on draught at Wormtown's taproom, beginning with a ceremonial keg tapping at precisely 11:28 a.m. Thursday, the winter solstice.
"This partnership with Wormtown continues to drive innovation in Worcester and we are excited to brew up something extra bold to help our loyal guests to celebrate the darkest day of the year," Rob Branca, a local Dunkin' Donuts franchise owner in Worcester, said in a statement.
The keg tapping Thursday is open to the public and will include the opportunity for guests to pair the new beer with Dunkin' Donuts' Double Chocolate Cake Donut.
Branca and Wormtown Brewery are also celebrating the release by donating $11,500 to the Worcester Food Bank.
"The fact that we're able to give back to Worcester-area families through this partnership just makes it that much better," Scott Drake, Wormtown's head brewer, said in a statement.
We're unwrapping something special for the official start of winter. ??Keep an eye out for updates on when you'll be able to get a taste! pic.twitter.com/mM5EqVHHry

— Wormtown Brewery (@WormtownBrewery) December 14, 2017
This isn't the first time that Dunkin' has collaborated with a craft brewery to launch a coffee-inspired beer.
In September, the national coffee chain partnered with Catawba Brewing Company, a North Carolina-based brewery, for a limited release of a cold brew, pumpkin-flavored beer called Dunkin' Punkin' Brown Ale.
Wormtown Brewery Taproom, 72 Shrewsbury St., Worcester; wormtownbrewery.com