Beer
Here are the Row 34 beer director's favorite Boston-area tasting rooms
Suzanne Hays appreciates the bounty of good local beer.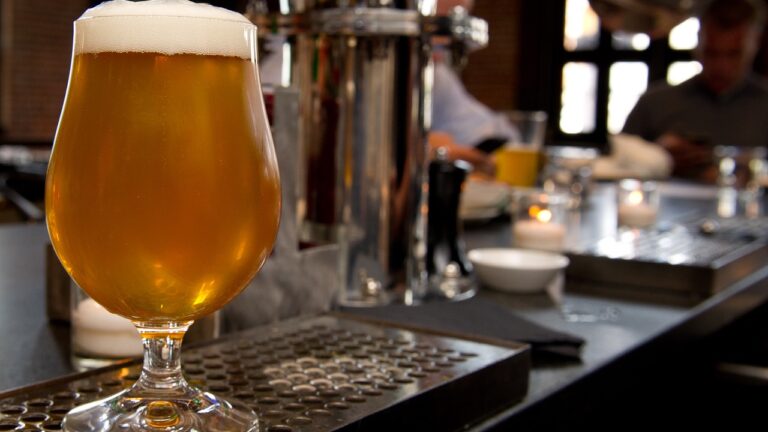 For an essential guide to the city, sign up for How to Boston, Boston.com's weekly culture and lifestyle newsletter.
Suzanne Hays oversees the award-winning beer program at seafood restaurant Row 34, and takes pride in the esoteric quality of her brew list.
"I love getting people to try something new," she said.
Her program's selections ship in from around the world, but Hays is also passionate about the Boston beer scene, which she has watched evolve since she first started learning about beer as a server at iconic beer haven Bukowski Tavern in the Back Bay.
Hays points to standby companies like Samuel Adams and Harpoon as examples of Boston's beer origins, but she said it was the rising popularity of the New England India Pale Ale, a strongly hopped and often hazy version of a classic IPA, that pushed Boston's brewing scene to flourish.
"Nowadays it seems like a new brewery is opening every week," she said. "Boston has kind of become a destination for beer lovers, which is very cool to see."
That said, Hays said she would like the craze for the New England IPA to subside and make room in the market for more variety.
"My hope is to see a shift away from hazy IPAs and more of a focus on lighter styles," she said. "Think lagers, farmhouses, and the like."
Hays also said she thinks people care more about the quality of the beer they drink now than they did in the past, and she predicted that the brewery boom will slow down in the future, leaving behind only the breweries making the best beer.
For now, Hays is spending her time stocking Row 34's bar with as many interesting and hard-to-find beers as she can, and enjoying the plethora of Boston-area breweries at her fingertips.
"I love that we have a great variety of brewers within the city," she said. "It will be interesting to see how the landscape changes in these next few years."
Check out how you can visit some of Hays's favorite award-winning Boston-area breweries.
Mystic Brewing
Hays loves the rustic, "uncomplicated" space that houses this Chelsea brewery as much as she loves the IPAs and "heavy-hitting stouts."
"I've been a fan of Mystic since the beginning, and their farmhouse styles are a staple in my home," she said.
Mystic's taproom is open for visitors seven days a week, and the brewery's current draft list is available on its website.
Notch Brewing
This Salem brewery specializes in "session" beers, a low-alcohol style that's grown in popularity recently.
"Notch is special in that they focus on some styles that not all brewers are brave enough to venture [into]," Hays said.
Beyond sessionable Czech and German-inspired brews, Hays recommended checking out Notch's patio and vintage Skee-Ball machine, as well as its tap tower.
"[It was] imported from the Czech Republic, and it features some unique hardware that you're not going to find at many U.S. bars," she said.
Notch has both a taproom and a year-round outdoor biergarten with an ocean view. It's open Wednesday through Sunday, and dogs are welcome in the biergarten.
Night Shift Brewing
Night Shift hosts a rotating cast of food trucks in its colorful and family-friendly industrial space in Everett.
"There's always something to do at Night Shift," Hays said.
Night Shift's food truck calendar is available on its website, and its two taprooms are open daily.
Jack's Abby made its name brewing lagers in Framingham since 2011, and its experimental barrel brewery, Springdale, opened its doors in the same building in 2016.
"Another family-friendly beer hall with awesome beer and food," Hays said. "If lagers aren't your thing, Springdale is just upstairs. I'd suggest grabbing a bite at Jack's and then heading to Springdale for old-school arcade games. I love the versatility of both spaces, and their beers are great too."
Jack's Abby and Springdale are open Tuesday through Sunday, and both spaces host a variety of events — from yoga to trivia — which you can view online.