Beer
Samuel Adams is releasing a Red Sox-themed IPA, and it's only available this week
Meet the Damage Done Double IPA.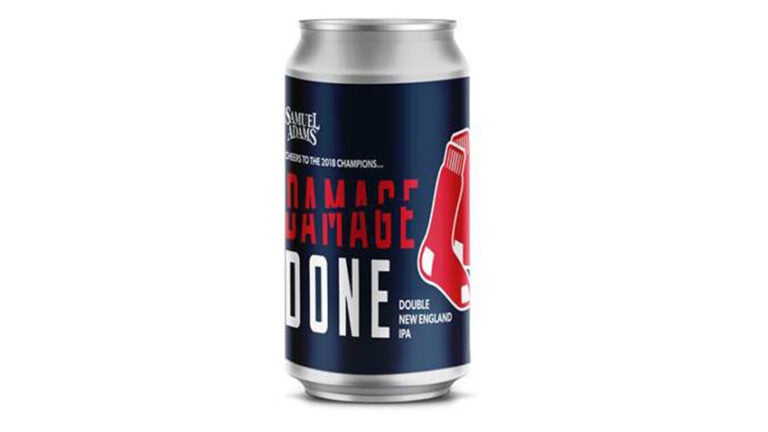 Boston may be throwing a giant parade for the Red Sox — aka, your 2018 World Series champions — on Wednesday, but Samuel Adams isn't waiting for that celebration in order to toast the historic team. On Tuesday at 5 p.m., the Jamaica Plain brewery will release Damage Done Double IPA, an ode to the team that got it done in five games.
According to a Samuel Adams press release, the double New England IPA, which comes in at a solid 7.3% ABV, is "aged on vanilla beans with guava, mango and lactose added for as much fun and flavor as the Sox themselves." It's Red Sox in a can, essentially.
Damage Done will be available at the brewery both on tap and in crowlers for $16 until the end of the week. You'll also be able to nab commemorative Red Sox posters, and the first 100 people will get team koozies.
"As the official beer of the Red Sox, the best way we could think to cheer on our team throughout the season was to shout at the TV with a beer in hand," the brewery told Boston.com in a statement. "When the team kept winning, of course we were hopeful for a championship win, but didn't wanted to jinx it! In anticipation of the post-season, we decided to brew a Double New England IPA to commemorate the team in hopes we'd make it all the way. … We look forward to seeing fans at the tap room tomorrow to toast to the Red Sox with us before the parade on Wednesday."
This is the first year that Samuel Adams served as the official beer of the Red Sox, and the company has been actively involved in the successes of the team. In September, the brewery released a limited-edition Red Seat IPA to honor late Sox player Ted Williams and his historic 502-foot home run into Fenway's bleachers in 1946. In October, a playoff bet was made between Samuel Adams and Brooklyn Brewery; the New York company lost and had to toast to the Boston brewery, in addition to temporarily renaming one of its pale lagers "This Sox Pale Lager."
Samuel Adams Brewery, 30 Germania St.; Mondays–Saturdays from 11 a.m. to 8 p.m.; samueladams.com
Correction 10/30/2018: A previous version of this story incorrectly stated that the commemorative koozies and posters will be for sale, rather than a giveaway. Boston.com regrets the error.